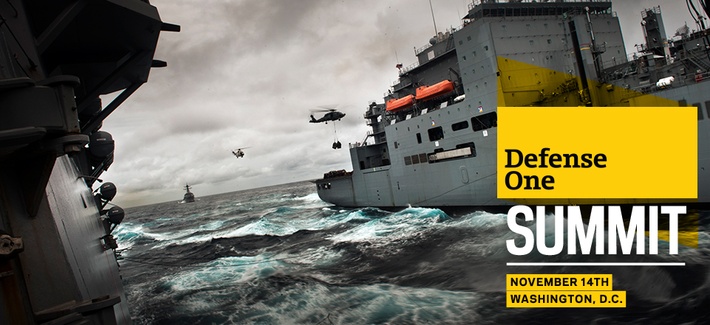 Defense One Summit Live Streaming Video
Welcome to the Defense One Summit!
Please join the summit via the live streaming video below. Also be sure to follow the conversation on Twitter at @DefenseOne, and contribute to the debate by using the hashtag #DefOneSummit. Twitter handles for many of our speakers and moderators are linked below.
(Update: you can find all of the videos from Defense One Summit here)
8:30-8:35 AM: Opening Remarks by Tim Hartman, President, Government Executive Media Group
8:35-9:00 AM: Dr. Arati Prabhakar, Director of the Defense Advanced Research Projects Agency, in conversation with CNN Pentagon Correspondent Barbara Starr
9:05-9:35 AM: Air Force Acting Secretary Eric Fanning in conversation with Stephanie Gaskell, Associate Editor of Defense One
9:40-10:00 AM: Remarks by Elizabeth McGrath, Deputy Chief Management Officer, Department of Defense
11:10-11:40 AM: Members of Congress Roundtable Discussion featuring Rep. Adam Kinzinger (R-IL), Rep. Duncan Hunter (R-CA) and  Rep. Tulsi Gabbard (D-HI), moderated by Major Garrett, CBS News
11:45 AM-12:05 PM: Remarks by Lt. Gen. Keith Walker, Deputy Commanding General, Futures/Director, Army Capabilities Integration Center, Army Training and Doctrine Command
12:10-12:35 PM: Lt. Gen. Terry Wolff, Director, Strategic Plans & Policy, Joint Staff, in conversation with James Kitfield, Senior Correspondent, National Journal
12:35-1:35 PM: Lunch Break
2:30-3:00 PM: Under Secretary of Defense (Comptroller) Robert Hale in conversation with Tom Shoop, Editor in Chief, Government Executive
3:05-3:30 PM: Secretary of Defense Chuck Hagel in conversation with Kevin Baron, Executive Editor, Defense One
3:35-4:00 PM: Ambassador James Dobbins, State Department Special Representative for Afghanistan and Pakistan, in conversation with Gayle Tzemach Lemmon, Senior Fellow, Council on Foreign Relations
4:05-4:20 PM: Rear Adm. John Kirby, Chief of Information for the Navy, in conversation with Jamie Tarabay, Senior Writer, Al Jazeera America
4:25-4:55 PM: Assistant Secretary of Defense for International Security Affairs Derek Chollet in conversation with Kevin Baron
4:55-5:00 PM: Closing Remarks by Kevin Baron