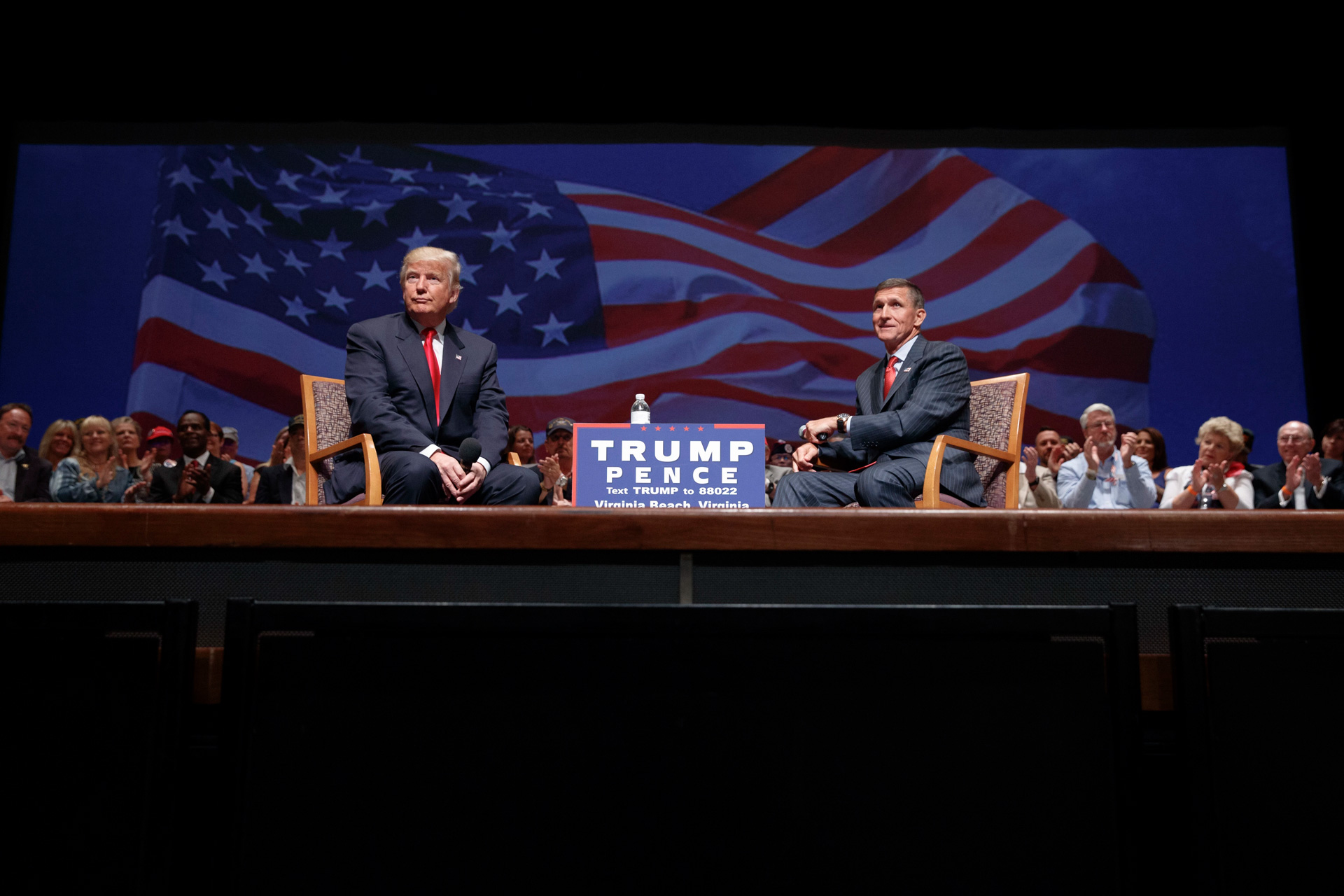 Introduction by Kevin Baron
You voted for Commander in Chief Donald Trump, so now you get to see him and his national security platform in action. Know what it is? Neither do we. Not very fully, at least. It's hard to find anyone in Washington who can remember an incoming president with so few foreign policy positions clearly articulated. Or, in Trump's case, so many possibilities based on the presidential candidate's often contradictory policy statements.
Start with ISIS in Iraq and Syria. Trump has promised to ramp up the fight but stop Middle East nation-building and regime change. It's hard to know what that means for the Pentagon's orders for the war room at U.S. Central Command, U.S. Special Operations Command, and Joint Special Operations Command. The incoming president said he knows more than "the generals," and then said he'd order them to write a new ISIS war plan within 60 days of taking office. Many commanders and operators hope it means the gloves to come off — at least regarding the pace of some missions. But good luck finding any generals willing to send in Army divisions and Marine expeditionary units to occupy cities like Mosul, only to sit and wait for Iraqi and Syrian forces and politics to catch up. It's not happening. Already Trump's likely defense secretary, retired Gen. Jim Mattis, gave similarly unclear statements to Congress in his confirmation hearing. He wants to get "aggressive" with ISIS, but in Syria said he wants a clearer picture of the end game before committing additional U.S. forces. (Sure, so would we.) Maybe we'll finally see no-fly zones or "safe passage" zones, whatever you want to call them, but more ops means likelier confrontation with Russia in the skies, with ISIS and Assad on the ground, at the cost of a lot more money and — undoubtedly — lives of elite American military and intelligence operators.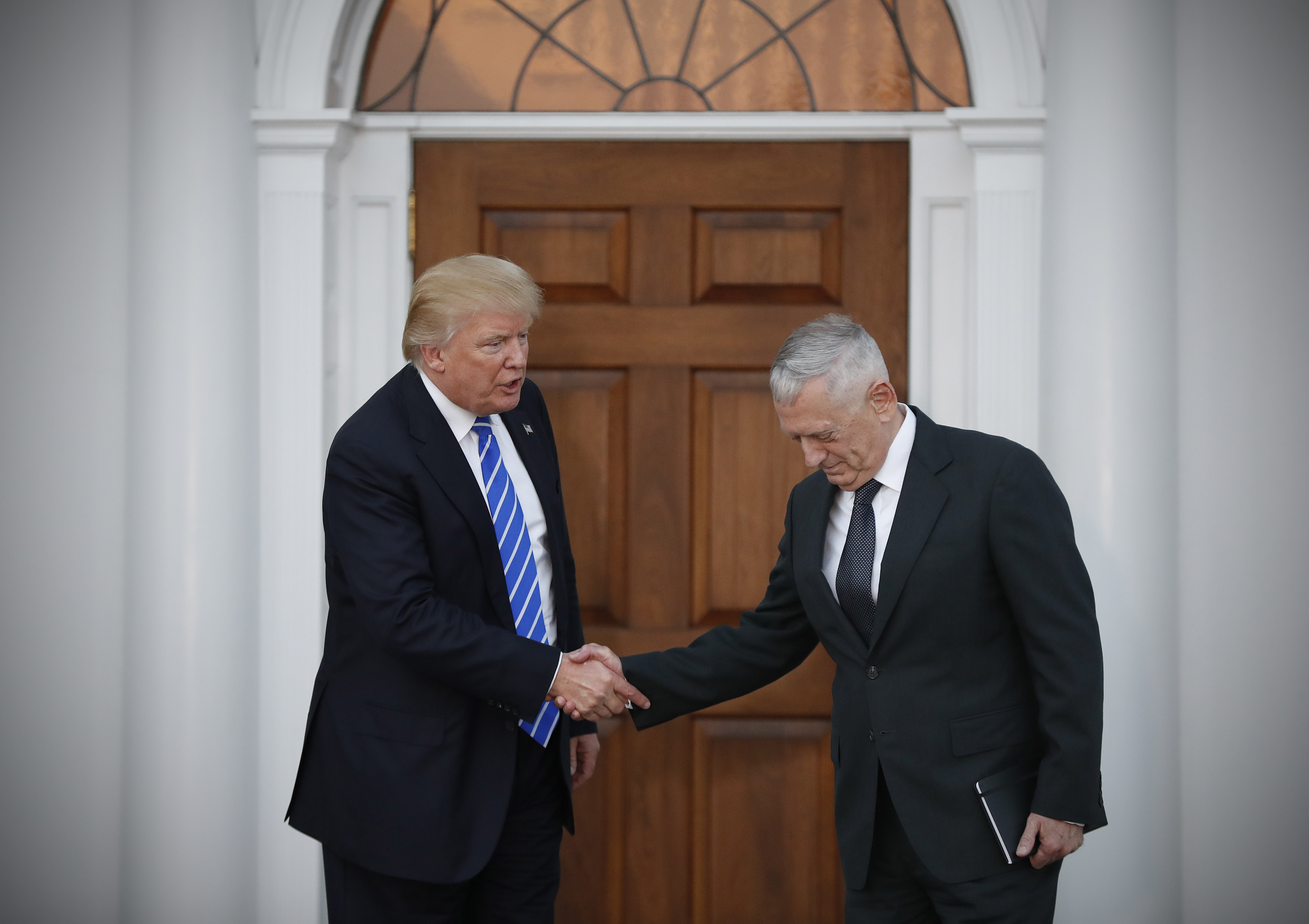 President-elect Donald Trump shakes hands with retired Marine Corps Gen. James Mattis at Trump National Golf Club Bedminster clubhouse in Bedminster, N.J., Saturday, Nov. 19, 2016.
Don't forget just how much the battlefield has dramatically changed in the past year. ISIS holds far less territory and is a fraction in number and capability of what it was; while Iraqi, Kurdish, and Syrian coalition forces have kicked ass from Ramadi to the ring around Raqqa, backed by thousands of American airstrikes, elite force raids, and advise-and-assist help. So what comes next? Last week, CENTCOM's Gen. Joe Votel posted a think tank paper that looks beyond that battlefield to worry about the "virtual caliphate" — the idea of ISIS — spreading elsewhere. Across northern Africa, Americans have engaged terrorist groups and helped local forces and also could be asked to crank up the dial on all of it. So, who will get deployed in 2017? How many American KIAs will Tampa mourn this year? Check back about 60 days after the inauguration.
And NATO. The weekend before becoming president, Trump once again called the 60-year alliance "obsolete," repeating a line many thought had been left behind on the campaign trail. He'd walked that back last year, though he said that he would press NATO members to pay their pledged contributions, or else maybe they shouldn't expect a defense from the United States. Then his people walked that back, saying he would honor America's Article V treaty obligation. (Though Trump's history suggests he may view a treaty as little more than a deal he can break and re-negotiate at will.) In almost the same breath, he said NATO was "important." It's not clear that he knows that NATO has shifted its focus since 2001 to engage terror organizations — that it was the backbone of Afghanistan operations, and that more recently it has stiffened defenses against Vladimir Putin's Russia.
Trump's sloppy talk had real effects. It has angered allies and completely changed the way 4-star generals and Pentagon leaders communicated with the American people. Last year, when Defense One asked Joint Chiefs Chairman Gen. Joseph Dunford if NATO was indeed "obsolete," he tore apart the notion as ridiculous. After all, NATO was essential in the Afghanistan War he led as its commanding general. But Dunford didn't know the comment came from his potential future boss, and he was livid for feeling he'd been duped. But the public deserves as much as the president to know what the U.S. military leaders think of NATO. There's too wide a gap from Trump's dismissive backhands to the total admiration and respect of NATO from the military and intelligence communities working through it to defend the alliance.
Nobody predicted how large Putin would loom over Washington. Like an oversized moon, everyone's talking about him, but again, what will Trump do? In the runup to his inauguration, reports surfaced that Trump's first foreign visit would be with Putin, and that he may offer to reduce sanctions if Moscow reduced nuclear weapons — changing previous policy that tried to keep those two issues separate. What does it all mean for you groundpounders, flyers, and sailors? Obama has surged American forces to NATO's Eastern front. We're all wondering if Trump will pull U.S. troops back from NATO's Russia border. Military communities like Fort Carson, Colo., are already keeping a very high tempo of deployments as forces rotate to Europe. Will they continue? Trump said he'd be tough on Russia, but his soft approach to Putin is well-chronicled. Again, we'll see.  
In Asia, all that's clear is Trump wants to deal tough with Beijing on economics, and that he blasted Obama for allowing China to build islands into military bases in the South China Sea. So what's Trump going to do about it? Blow them out of the water? Shake a harder first? Shift the already-stretched Navy from Europe and the Mediterranean over to Asia? Nobody knows.
The very size and composition of entire U.S. military and Defense Department is in the air as well. Trump repeatedly claimed the military had been "decimated" under Obama and pledged to "rebuild" it. Do you know what that means? We don't. We have heard a lot of speculation, most of it just saying there'll be more: more soldiers, more Marines, more ships, more fighters, more drones, more intelligence. But those are medium and long-term ideas that require massive amounts of deliberation, planning — and committee votes. Where will the money come from? The Defense Department already is bound to a spending cap, thanks to the Budget Control Act, so it's all bluster unless Congress eliminates those restrictions (via some mega-budget deal on taxes and spending well beyond national security strategy needs).
Still, the GOP-controlled Congress seems eager to oblige. Before Trump even made it to town, Senate Armed Services Committee Chairman John McCain, R-Ariz., introduced a bill to increase defense spending, almost daring House Speaker Paul Ryan to block it.
Besides what Trump brings, technologists are wondering if he'll continue the Obama administration's aggressive push to draw the private sector and Silicon Valley into the national security business. Aviation geeks are aghast at Trump's tweets insisting he'll drive down the F-35 Joint Strike Fighter's cost (temporarily wiping billions from Lockheed Martin's stock prices) and reconsider the use of F/A-18 Super Hornets. It all means no program is safe, no contract, no piece of hardware and, seriously, nobody's job in the entire defense industry. Trump clearly wants to be involved in those decisions. How much will the reality of the Oval Office permit it? Again, we'll see.
The President Trump era is about to begin. Much of what happens will depend on him. But there's a good chance, knowing how hard it is to change anything in the Defense Department, that 2017 will be year of big changes or more of the same — which, with this much uncertainty in the air, might not be such a bad thing. The State of Defense is one big wait-and-see.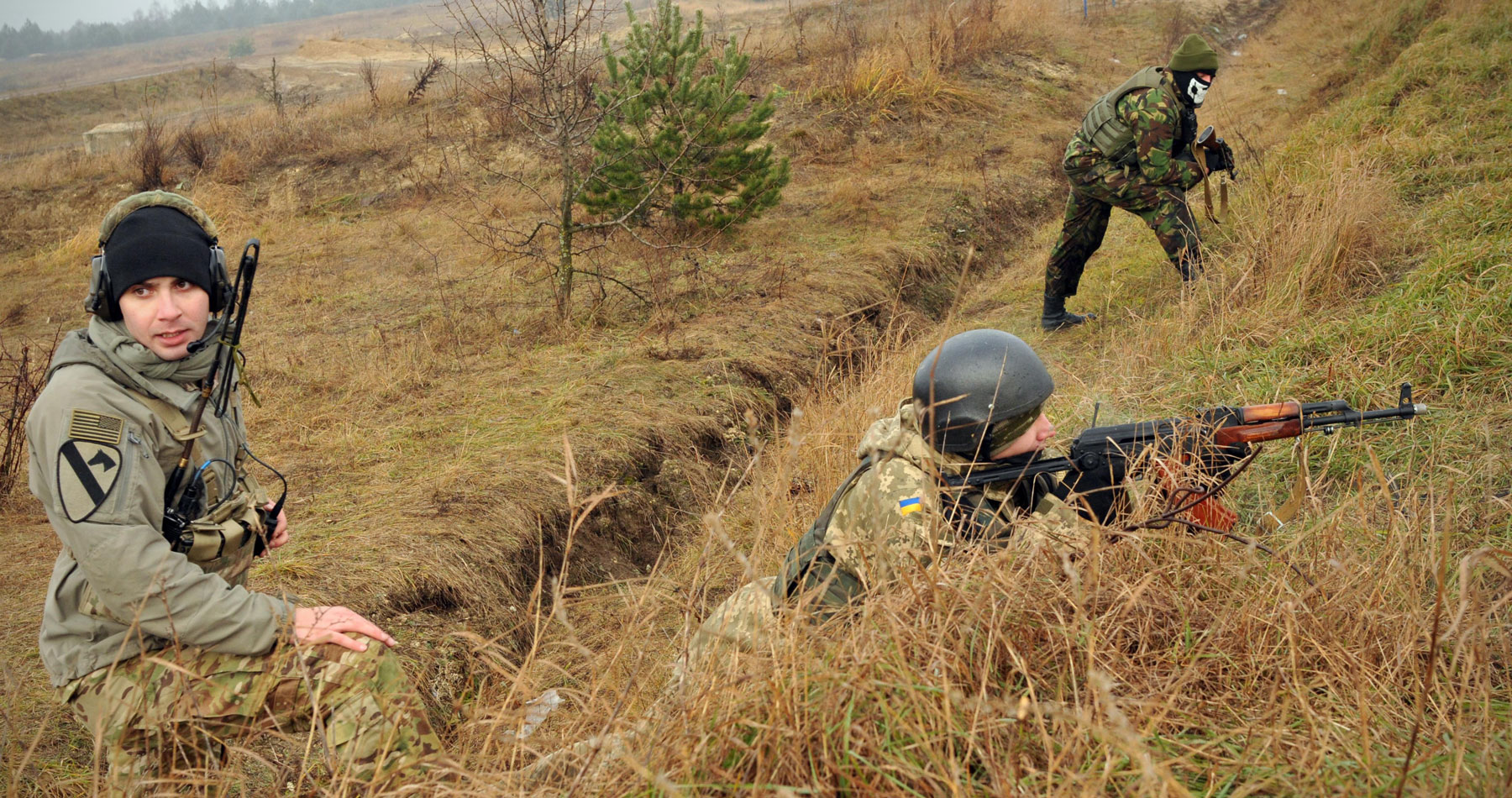 President Trump is no fan of foreign military entanglements.
But he is a fan of American power.

Can he finish the country's fights with the nearly 30,000 new soldiers coming in 2017?
President-elect Donald Trump will take over a U.S. Army that's adding 28,000 soldiers over the next nine months, including 16,000 active duty troops. There's no shortage of places or hotspots to put those extra soldiers. More than ten thousand troops are already deployed to combat zones around the world, most in Iraq and Afghanistan.
But there are other big questions facing the Army in the year ahead: Will Trump send thousands of soldiers to Syria to help establish and protect the safe zones he promised to create? Will he send more troops to join the nearly 5,000 already in Iraq to enact his promised quick victory over the Islamic State? Will the 7,000-soldier presence in Afghanistan (a topic Trump has largely avoided) decline in 2017? And with Russia's military still operating from annexed Crimea, how long will American soldiers continue to train troops in non-NATO member Ukraine?
The Army began the year with its customary global presence: at least 100 troops are stationed in more than 20 countries across the world (see map below), and there's at least one American soldier in nearly 175 countries. More than 35,000 are stationed in South Korea and Germany, as has been the case for decades.
But U.S. soldiers rotating throughout Central and Eastern Europe—many on Russia's doorstep—could pose one of the more defining questions for the Army in 2017.  
"Things very much resemble the early '60s right now," one U.S. military official said. "Russia is being belligerent and we are going down a lot of the same paths. We don't have symbolic cities like Berlin anymore, but we are in Poland and Ukraine."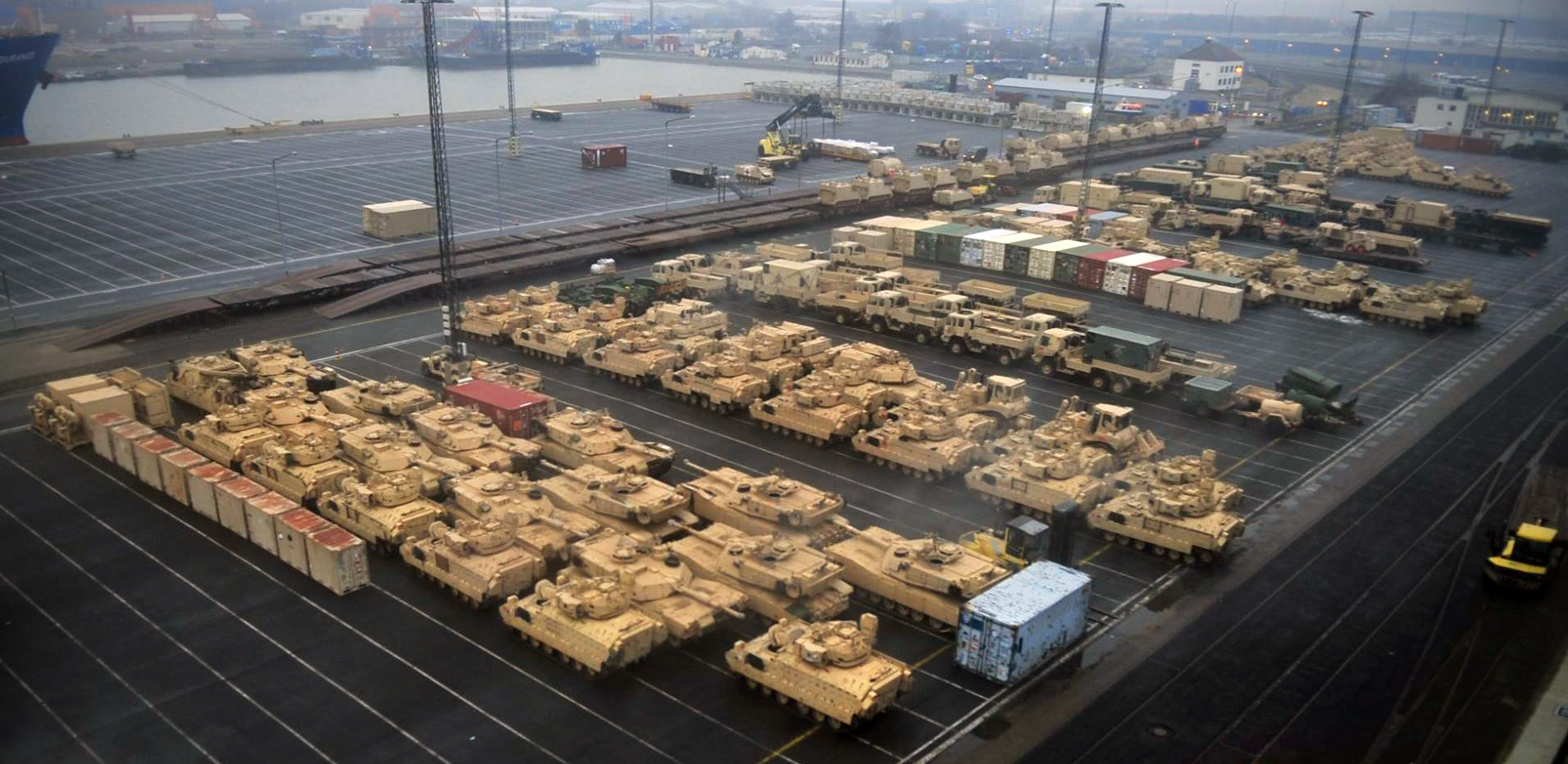 Vehicles and equipment from 3rd Armored Brigade Combat Team, 4th Infantry Division are staged for transport to Poland after being offloaded from the first of three ships, Jan. 7, 2016.
Some 4,000 troops from Fort Carson, Colorado — the 4th Infantry Division's 3rd Brigade — began routing hundreds of tanks and heavy equipment from Germany to points east in early January for the Army's Atlantic Resolve mission. The unit spent a year training for "full-spectrum operations" and will soon be training near the Polish and NATO air bases at Wrocław. The rest of their nine-month rotation in Europe will see them train with the armies of Bulgaria, Estonia, Hungary, Latvia, Lithuania, Romania, and Slovakia.
"The arrival of [the 4th Infantry Division] in Europe is a strong statement of our recognition of the seriousness of the current state of affairs," the military official said. "We are sending troops and equipment not to fight, but to enhance readiness with our NATO members and partner nations."
Others in the Army have wider concerns as well. "I'm concerned with the alliances we've had and strengthened around the world" including "the U.S.-Republic of Korea partnership," one first sergeant said. "Comments by the U.S. president-elect don't help the [U.S.-Korean] alliance. Koreans are not quick to forget slights by others, and I doubt Mr. Trump's statements will be forgotten anytime soon."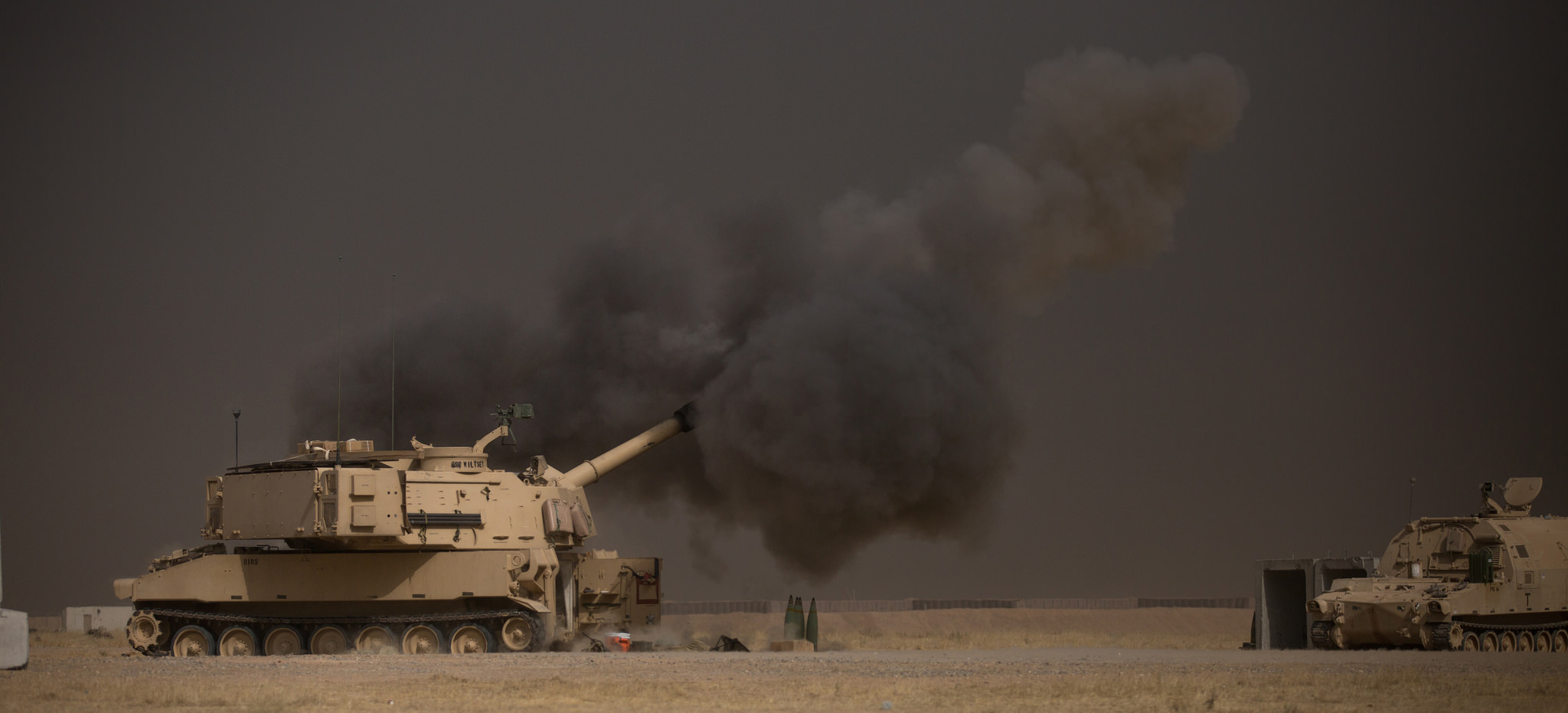 A U.S. Army M109A6 Paladin during a fire mission at Qayyarah West, Iraq, in support of the Iraqi security forces' push toward Mosul, Oct. 17, 2016.
Europe. Iraq. Afghanistan. South Korea. And another 2,000 or so troops are rotating throughout Africa again this year. "History continues to repeat itself with the fights we are in," one senior NCO said. "We pull an armored division and corps headquarters from Europe only to find a few years later we need to now start deploying armored units on rotation to fill that void. We get rid of a permanent party brigade in Korea only to deploy a stateside brigade to Korea on a rotational basis. The 'rotational' concept may sound good in the theory of readiness, but in actuality, it's gross mismanagement of resources and puts an additional strain on families and soldiers."
And back stateside with those soldiers, the extra 16,000 active duty troops due to be added in this fiscal year are actually more a trick of math. The service will retain 15,000 billets that had been slated to be cut, and add just 1,000 new recruits. And that means the "strain" on personnel from yesteryear isn't likely to go away very soon.
"Commanders are expecting the same level of mission accomplishment from a force roughly 15 percent smaller than what it was in 2014, with some units or sections or offices in particular [Military Occupational Specialties] taking 40 percent or more in cuts," one senior NCO said. "Although the president-elect's platform of bolstering the military is somewhat heartening, for those of us who have been around a while, the changes from having just cut the forces haven't fully sunk in and aren't complete yet. Now we want to reverse that course? Change can be and is good for organizational and business culture. Constant change as we've had the last few years is tiring and puts a strain on all of us. The strain is just as profoundly seen in morale...People are working longer and harder to try and keep up and fill the void."
Elsewhere across units, Army NCOs can expect a mild shake-up of weight standards and possibly even the sight of beards on troops who aren't special operators. The bottom line there, another senior NCO said, is that the Army "has to grow by 28,000 no later than 30 September—a lot of work to do there. As of now, recruiting and retention policies are being looked at. Force structure is also being looked at."
Things very much resemble the early '60s right now. Russia is being belligerent and we are going down a lot of the same paths.
There may even be units that had been scheduled to fold ("casing their guide-ons," as it's called), but who could stay on for another year or more. Many of those details will be worked out in the months ahead as the services present their budgets for the next fiscal year—to say nothing of President Trump's hard-to-predict guidance for the military beyond 2017.
One change coming to the Army is already leaving soldiers with a number of questions. "I'm interested to see the actual accession of transgender soldiers this coming summer," the first sergeant said. "We just completed the Army-mandated training here in our unit and there were many, many questions. Some of these items could not be answered, mostly because they were 'what if' questions. I think most understand that we need to respect each other, but the policy change is no less repugnant to some within the ranks."
Looking ahead, soldiers are somewhat nervous about what 2017 holds. More than a few are concerned about, as one put it, "the lack of a cogent strategy and commitment in combating ISIS." And the president-elect's recent statements toward China have others anxious as well. "On one hand, we have U.S. Army images of soldiers working with the Chinese army in the name of partnership," a senior NCO said, "yet it seems we are hell bent on getting in a tussle with them."
"And," he continued, "we are still in Iraq and Afghanistan. I wish we could just—as has been proverbial said in a number of contexts—'finish the fight.'"
Here's Where at Least 100 U.S. Army Soldiers Are Stationed Across the World (as of Sept. 30, 2016)

Data via U.S. Defense Department
After decades of shrinking its ranks,
the Air Force is preparing to grow.
The U.S. Air Force turns 70 years old in 2017. It's smaller, its planes are older, and the force is less ready than it was in 1947 when the Army Air Corps separated to become its own service. But after years of personnel cuts, service leaders are once again preparing for growth.
"We had actually been cutting our forces for the better part of 20 years even though we were maintaining very heavy and very demanding combat missions and deployments on a worldwide basis during that same period," outgoing Air Force Secretary Deborah Lee James said at an Air Force Association-sponsored event earlier this month. "Our people … were showing some real strains."
The service is short of fighter pilots and experienced maintenance workers. It needs more tech experts for cybersecurity positions and drone pilots, too. Oh, and the average age of an Air Force aircraft is 27 years old.
As the eight years of the Obama administration shifts to the Trump administration, military leaders are laying the groundwork for the Air Force to add more than 36,500 airmen to the ranks. A year ago, James was calling for a halt to the downsizing. As of Dec. 31, 2016, the Air Force had 313,242 airmen in its active duty ranks. Now the goal is 350,000 by 2024.
"We absolutely need to stay on the path of growth to a larger Air Force," James said.
But a lot has to change in order to make it happen. Many expect the Trump administration to increase defense spending, but just how and where won't be clear until the White House sends a budget to Congress several months hence.
Then there's the recruiting side. Air Force leaders are hoping to induce more young Americans to join up by changing some admission rules. Last week, the service relaxed limits on the sizes of tattoos new recruits can have, and said it would grant more medical waivers to people who might have been barred from service by eczema, asthma and Attention Deficit Hyperactivity Disorder. In addition, recruiters will no longer question recruits about prior marijuana use.
James said these stops would "allow a wider pool of people to come into our Air Force in the future."
But there are other recruiting problems. Look no further than the Air National Guard, whose units are shouldering much of the military's increased deployments to Europe. The Air National Guard is planning to add 3,000 new cyber positions in 34 states by 2019, James said.
But the ANG already has too many people in certain jobs and not enough in others — 17,000 vacant positions in all, Guard officials said.
So Gen. David Goldfein, who became Air Force chief of staff in July, has launched a four-year effort to look at how the Air Force organizes its people.
"What, in fact, does a 21st-century squadron in the United States Air Force need to look like?" Goldfein said at the Defense One Summit in November. "It may look different than it was in the past, because the mission has changed."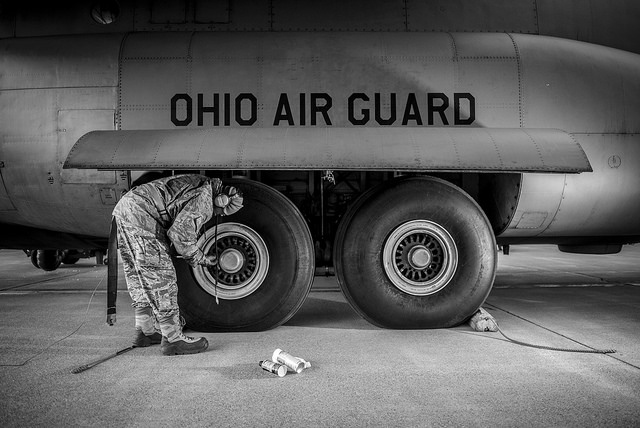 An Airman checks on the tires of a C-130H Hercules at the 179th Airlift Wing, Mansfield, Ohio, during routine morning maintenance on Dec. 28, 2016.
The chief notes that 15 years ago, the Air Force's drone, space and cyber missions didn't exist or were fundamentally different.
"That story has got to be told that we have gotten so small over time while we've grown enterprise and we've actually now increased mission over time," Goldfein said. "The question I'm asking as a new chief is: what's that done to the squadron over time, and are squadrons resourced for the mission that we've given them in the 21st century?"
The Air Force has been handling most of the strike, intelligence, and support sorties in the coalition airstrike campaign against the Islamic State in Iraq and Syria. While its leaders say the service is on good footing for the ISIS mission, it is unready for a large-scale war against a major world power.
"We're still certainly not where we need to be, and this is particularly true when it comes to full-spectrum readiness," James said. "Readiness for the high-end fight…starts and ends with training."
But training to what? James said the Air Force and the rest of the military need need better ways to measure just how ready they are.
"I think it is time that we now take a fresh look as the Department of Defense at how we measure and describe our readiness," she said. "I'm just not sure three years into this gig that it paints a complete picture of our readiness and it certainly does not answer the question for the American people, 'Are you ready for what?'"
At the same time, Goldfein is looking at how to give the Air Force a battlefield edge through networked warfare.
"What the air component brings to the joint team and brings to the joint force has really become like oxygen," he said. "Like oxygen, when you got it, you don't even think about it. But when you don't have it, that's all you think about."
Why is the Air Force so short of people? In part, it's because service leaders shed airmen en masse over the past decade to pay for new weapons and the wars in Iraq and Afghanistan.
This approach has, at least, begun to replace older frontline aircraft and weapons with new ones that would be needed in high-end war.
The service's acquisition corps spent much of the last decade buying drones to support combat operations in the Middle East. But today, F-35 Lightning II combat aircraft are arriving in ever-larger numbers, while the new KC-46 tankers are supposed to begin arriving this year. New rescue helicopters and bombers are being built. Also in 2017, the Air Force plans to choose a company to build new pilot training jets and will solicit bids for new intelligence planes and missile field security helicopters.
The wild card in their modernization plans, Air Force leaders say, is buying new nuclear weapons — both ICBMs and cruise missiles. Collectively, the two projects could cost $90 billion, maybe more. The Air Force is now soliciting bids for both projects.
The big question is how will they pay for it.
"There's such a requirement across the board that there's not any one thing that sticks out," said David Deptula, a retired Air Force lieutenant general who now runs The Mitchell Institute for Aerospace Studies. "It's going to take money to fix it."
The price tag, Deptula says: "$20 billion a year extra to make the Air Force whole again."
"Part of the challenge that the Air Force and all the services have had are the increasing fiscal constraints and the mismatch between the restricted resources and what the expectations our national security strategy are," Deptula said.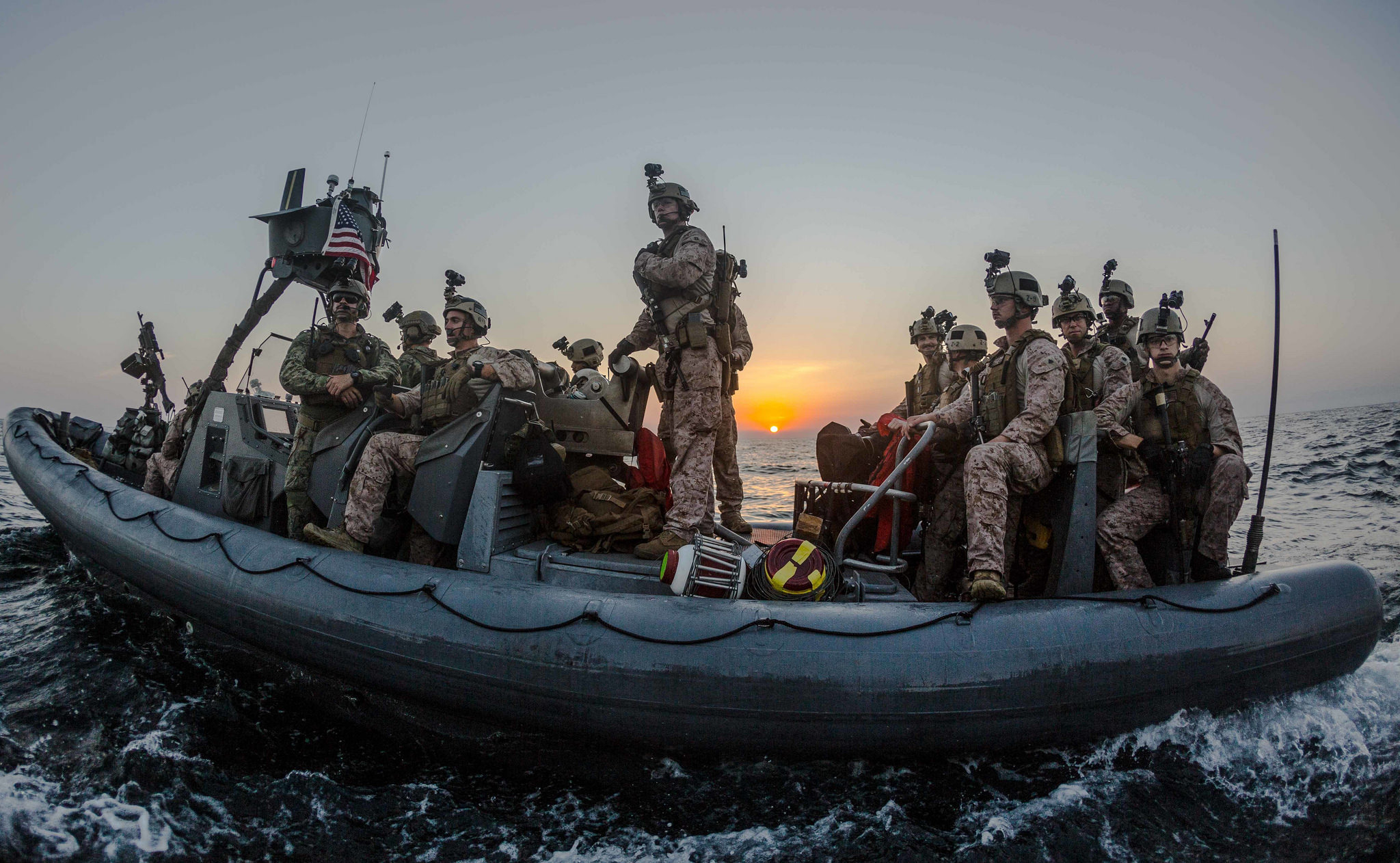 With fewer fighting,
but still in demand,

the Marines Corps hopes to expand.
What's a Marine Corps to do? When you're (mostly) not in the lead fighting a war, you're not part of major combat deployments, but you're sitting on accolades, with full recruitment and aging fleet of ships, aircraft, and vehicles? If you're the commandant, Gen. Robert Neller, you ask for the moon.
Neller has spent much of the past year telling the world the U.S. Marine Corps was not going to sit around and navel-gaze, if that's what you think the Marines have been doing. He's pushing the Corps by restructuring its big-war years' composition to be ready for the more likely threats of tomorrow, including cyberspace and electronic warfare, and short, fast, responses to security crises in hotspots around the globe. Oh, and even though Marines aren't being called into combat, they're still on the move. The pace of deployments for Marines, he said in August, "is as great as it was at the height of Iraq and Afghanistan."
And he still wants that bigger Corps. By law, the service "end strength" currently is capped at 182,000 people in uniform, but is authorized to increase to 185,000 in fiscal 2017, if Congress approves the money. Neller already said he'd welcome President-elect Donald Trump's proposal (courtesy of Washington's big-defense loving conservative think tanks) of adding 30,000 more Marines. But turning civilians into Marines takes time.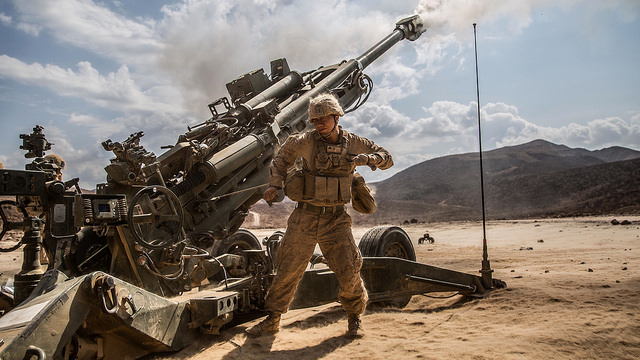 Marines fire their M777 Lightweight 155mm Howitzer during Exercise Alligator Dagger in Arta Beach, Djibouti, Dec. 18.
While that growth is expected to happen, the new Corps won't look like the old Corps. This month the first three women were allowed to enlist in operational infantry units. Others will continue trying to pass the Infantry Officer Course. So far, 30 women have tried. All have failed. The old debate over standards doesn't seem to die, and don't forget Trump threw doubt on his support for women in combat at all. But retired Marine Corps Gen. Jim Mattis (Trump's nominee for defense secretary), in his confirmation hearing, showed he would not favor reinstating gender-based restrictions. "I have no plan to oppose women in any aspect of our military," he said. The Marines also want to create cyber career fields and give more attention to electronic warfare expertise, Neller has said.
Neller also is asking for more equipment to cover the global threats and combatant commander requests to which they are expected to respond. He insists they need a minimum of 38 amphibious ships to meet the requirement that says the service should maintain the ability to insert two Marine Expeditionary Brigades from the sea. Only 30 amphib ships are operating and there are plans to build just four more. The U.S. Naval Institute had a good interview with Neller about his wishlist and thinking, here. The Marine Corps aging aircraft are increasingly showing up in maintenance, too, he said.
In the fight against extremism and after the infamous Benghazi attack, Marines were sent across the Atlantic to pre-position as a rapid-response force for Africa. But in 2016, they announced they were sending half of their V-22 Osprey's back, leaving just six for the entire continent. If that force is to be taken seriously, it needs more than six Ospreys. Joint Chiefs Chairman Gen. Joseph Dunford, also a Marine, wasn't happy with the cut. All signs point toward U.S. special operators being asked to do at least as much (and likely more) fighting in the future. Look for a reassessment of Special Purpose Marine Air Ground Task Force-Crisis Response-Africa in 2017.
When the Marine Corps commandant spoke at January's Surface Navy Association conference, the granular headlines were pretty diverse. The Marines want more cyber forces. The fleet has to get "balanced," and not just about how many more amphibious assault vehicles they'll buy. The Marines want to recruit for things other than infantry. In other words, the Marines want the Pentagon, Congress, and public to think of them as more than just beach-storming — or Afghan door-kicking — assault forces.
Yet, this month Pentagon officials announced 300 Marines were heading back to Helmand. Those are replacement forces for Army soldiers, not add-ons. But just reading that U.S. Marines were heading back to Helmand jarred many critics of the war and President Barack Obama's legacy there. Marines have their own history in Afghanistan, so critics, including veterans, demanded political leaders explain why the U.S. is still sending Marines to Afghanistan — to what end. The 300 are going as advisors. "Are we going to change the game? I don't know," Neller said. How many more Marines will follow is up to Trump.
MV-22B Osprey tiltrotor aircraft return after a long-range raid from Combined Arms Training Center, Camp Fuji, Japan to Marine Corps Air Station Futenma, Okinawa as part of Blue Chromite 2017, Nov. 4, 2016.