 By Kevin Baron, Tara Copp, Elizabeth Howe, Patrick Tucker, Bradley Peniston, and Ben Watson
Introduction by Kevin Baron
President Joe Biden won office on a promise to return America to its standing as respected global leader through stronger alliances and less bullying, and through reduced military interventions and greater cooperation. Now comes the hard part: the details.
The White House has ballyhooed Biden's order to withdraw the relatively small remaining force of 2,500 U.S. troops from Afghanistan, while also promising that the United States would still fight the exact same counterterrorism missions there from nearby, as needed. And they will be needed, by most predictions. Exactly where and how those forces will be positioned is likely to remain undecided for a few weeks as Defense Secretary Lloyd Austin awaits recommendations from U.S. Central Command. But when Biden gave his first speech to a joint session of Congress on April 28, it was clear that Democrats in the House chamber loudly cheered his invocation of ending forever wars. Republicans, not as much.
We will maintain an over-the-horizon capacity to suppress future threats to the homeland," Biden said, reassuring skeptical lawmakers. "And make no mistake: In 20 years, terrorism has metastasized. The threat has evolved way beyond Afghanistan. And those of you in the intelligence committees, the foreign relations committee, the defense committees, you know well: We have to remain vigilant against the threats to the United States wherever they come from. Al Qaeda and ISIS are in Yemen, Syria, Somalia, other places in Africa, the Middle East, and beyond."
What does this really change for service branch planners? Administration message-makers have spun the Afghanistan decision as a major shift in resources to free up personnel and power to fight terrorism elsewhere and gird for a great-power showdown with China and Russia. But it's really not. No major line-item changes — from end strength to the nuclear modernization plan — are expected in the White House's first budget request, due next month.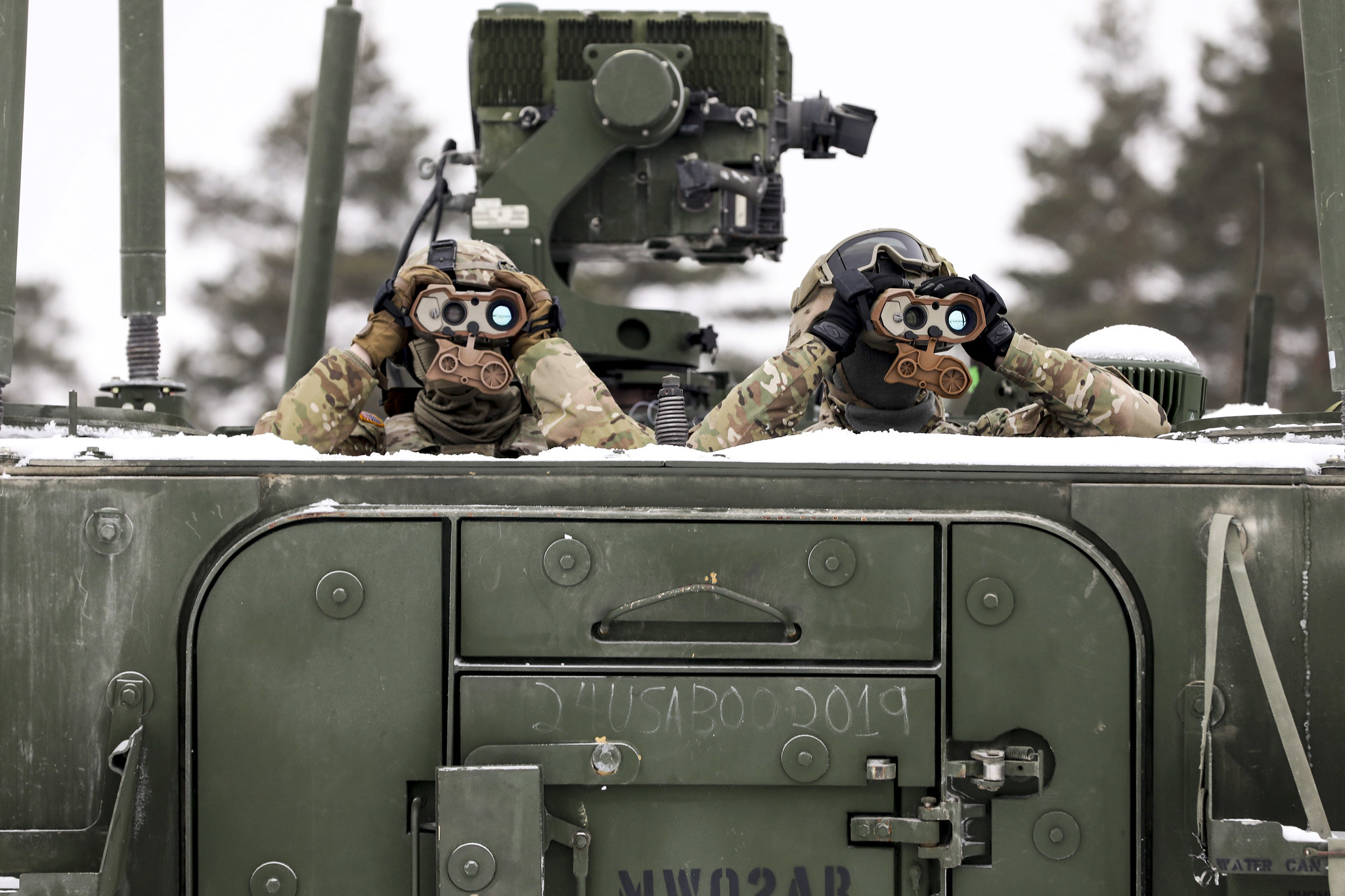 Soldiers watch during an exercise at Poland's Bemowo Piskie Training Area on Feb. 2, 2021.
Nor is the public demanding the Pentagon reduce its global footprint. Polls show most Americans support the forward-deployment of U.S. troops worldwide to fight terrorists and deter threats. And so the Biden administration has already added troops back into Germany and is engaged in various ways across the Middle East and North Africa.
In the Pentagon, military leaders and Biden's growing civilian policy team (whose members so far are bringing far more experience than their Trump administration predecessors) are studying, preparing, and shifting U.S military power to face China and Russia with more robust and flexible postures yet unseen. Outside the building, former officials and influencers are eagerly offering advice and warnings. Service branch leaders have the mission of keeping up, catching up, and doing their best to get what resources they can to fulfill the mission and lessen risk. They must field the best and most ready and available forces and weapons to carry out the commander in chief's foreign policies. Some of those polices are external: defend NATO, deter nuclear war, deter and respond to terrorism, protect economic and security interests like sea lanes and computer networks, assist with border security, and more. Other concerns Biden is elevating as threats to U.S. security are less conventional, and the military's role in them is unsettled, yet.  
In his address to Congress, Biden began his list of threats to the nation with the fight to get COVID-19 vaccines to the world. It's a global fight, he said. So is the one against climate change. So are other interests meant to illustrate Biden's self-proclaimed "foreign policy that benefits the middle class." After the pandemic and climate, Biden listed China and Russia, and only then mentioned Afghanistan. It's remarkable that the country to which the U.S. military has given the most attention in the past 20 years has become the fifth-ranked item in a presidential address. And it reflects the changed priorities of the American people and their elected political leaders. Biden did not utter the word "Iraq" once. Expect changes to reflect these priorities in Biden's first budget request of Congress, for fiscal 2023. It's release is anticipated for next week. 
The last threat to the nation that Biden listed was the most pressing of all, he said. "We won't ignore what our intelligence agencies have determined to be the most lethal terrorist threat to the homeland today: White supremacy is terrorism. We're not going to ignore that either." 
The service branches, like American society, are in the early days of what are likely historic shifts in attitudes and policies affecting equality and equity across race to gender and sexual orientation. Confederate flags and base names, extremist symbols and hate speech, diversity policies, women and minorities in the ranks, the military justice system — everything is under review. It's the outcome of years of frustrations meeting the 2020 nationwide protests and riots, and the Jan. 6 insurrection on the Capitol Building by white supremacists and separatists, many who were military veterans. Extra numbers of National Guard troops still protect lawmakers there. 
It's already shaping up to be a year of extraordinary changes. Eras will end.
The Army is on a public-relations campaign to convince Americans, Congress, and anyone willing to listen that it is more than merely relevant, that it has a key role to play in great power competition and that its requested weapons are worth buying and modernizing. Chief of Staff Gen. James McConville has been saying since last year that he is willing to trade soldiers for modernization dollars, if that's what the budget request Biden makes requires it of him. No general wants fewer soldiers, but bottom lines must be obeyed. 
To that end, Army leaders are making a lot of noise in support of long-range fires, weapons they insist will be in high demand should the United States and allies find themselves in a land conflict with Russia or China, and therefore one that should be bought and field as a tool for deterrence. Not everyone is buying it. (Is the U.S. Army ever really going to invade China? Defend Taiwan, man-for-man? Will cannon shells ever fly between Washington and Moscow before nuclear ones, really?) But that's atop the Army's agenda that falls to incoming nominee Christine Wormuth. The first woman who would be Army secretary is an Obama-era Pentagon veteran. That means, despite howls from the far-right, nobody expects this administration to make massive spending cuts, rather they do expect course correction of historic proportions on equity, equality, racism and extremism. Nominating a woman to lead that charge is one thing. Changing the culture of a service branch, and getting the generals, the ranks, and Congress to go along with it, is yet to be seen.
Meanwhile, Navy leaders have an easier argument to make that their fleets are insufficient to their tasks, and they're making it. China's naval shipyards are pouring out new warships of increasing capability. Many of Beijing's most provocative actions of the past few years have been maritime in nature. Most of the world's commerce still depends on safe passage in the world's oceans. And yet the service branch is still awaiting a Biden-nominated secretary to oversee it and the Marine Corps. Trump went through six acting or confirmed SecNavs. Whomever is seated, they will work with Chief of Naval Operations Adm. Mike Gilday, who has been warning the Navy is being made to do more with less. The last Trump plan called for an increase from 300 to 400 ships. Gilday wants 355. The Biden administration and Congress will decide, but new ships and submarines, manned or not, have become incredibly expensive and better maintenance and more weapons atop the current fleet can only do so much. 
All this is why you're starting to see ever-more-strident arguments for a larger Navy, even at the expense of the Army and Air Force, if necessary.  
But the Air Force feels the same way. Asked this month about the future of the service, a civilian spokeswoman said bluntly, "The U.S. Air Force is too small for what our nation is asking us to do." Blame China or Russia, if you like, but that's a blunt political statement as was ever aimed at the White House and Congress. You may remember just two years ago the service printed up mugs saying "386," hoping for that expanded number of squadrons. Now, the service knows it will have to live with less, thanks also to the new Space Force swallowing some of its capabilities. 
In reality, finding a more effective blend of aircraft, rather than the bottom line number, is the new coin of the realm. But what's the right blend? Few are worried about counterterrorism sorties in the Middle East as much as they're eyeballing wargames showing needs for massive cyber, missile, space, and air capabilities in Asia. 
Has the F-35's fate finally come? The new Democratic-led Congress is warning the Pentagon its patience and checkbook for the exquisite and troubled aircraft is almost worn out. We've heard premature epitaphs before, but Gen. CQ Brown says he wants an ongoing tactical air study to inform a major pending decision. "I want to actually have a starting point." 
Brown also has the honor, and challenge, of becoming the first Black chief of the service right in the middle of an American reckoning with its own systemic racial injustice and inequities. He already has addressed those hot-rail issues head on, and is expected to remain a visible leader of whatever new findings, policies, and programs the Defense Department enacts. 
Space Force, meanwhile, has grown from one general to thousands of Guardians, and is rapidly creating the organizational structure and authorities it needs. It feels we're past the days when we all made fun of the service branch, its name, uniforms, rank structure, logo, and insignia, even though Netflix has renewed the comedy series. Any hope that Biden would scrap the force was dashed when the White House made clear (after a small gaffe) they are giving full-throated support to the service branch Trump created. Over the next year, Chief of Space Operations Gen. Jay Raymond will seek more public support in addition to more satellites, partnerships with the rapidly growing private space industry, and more Guardians.
And in the Marine Corps, Commandant Gen. David Berger's plans for major changes in force structure, platforms, and purpose are closer to becoming realities. A 180-page plan released in February contains new details of how the Corps will improve its ability to move expeditionary forces more quickly by 2023, Berger's target date. The corps also just issued an update to his larger 2030 plan this month, which calls for shifting $12 billion to update plans and platforms. They are just 18 months into that 10-year plan, Berger said, with a long way to go. In the near term, more Marines — nearly 40 percent — are declining to take the COVID vaccine than any other service, which is a readiness issue.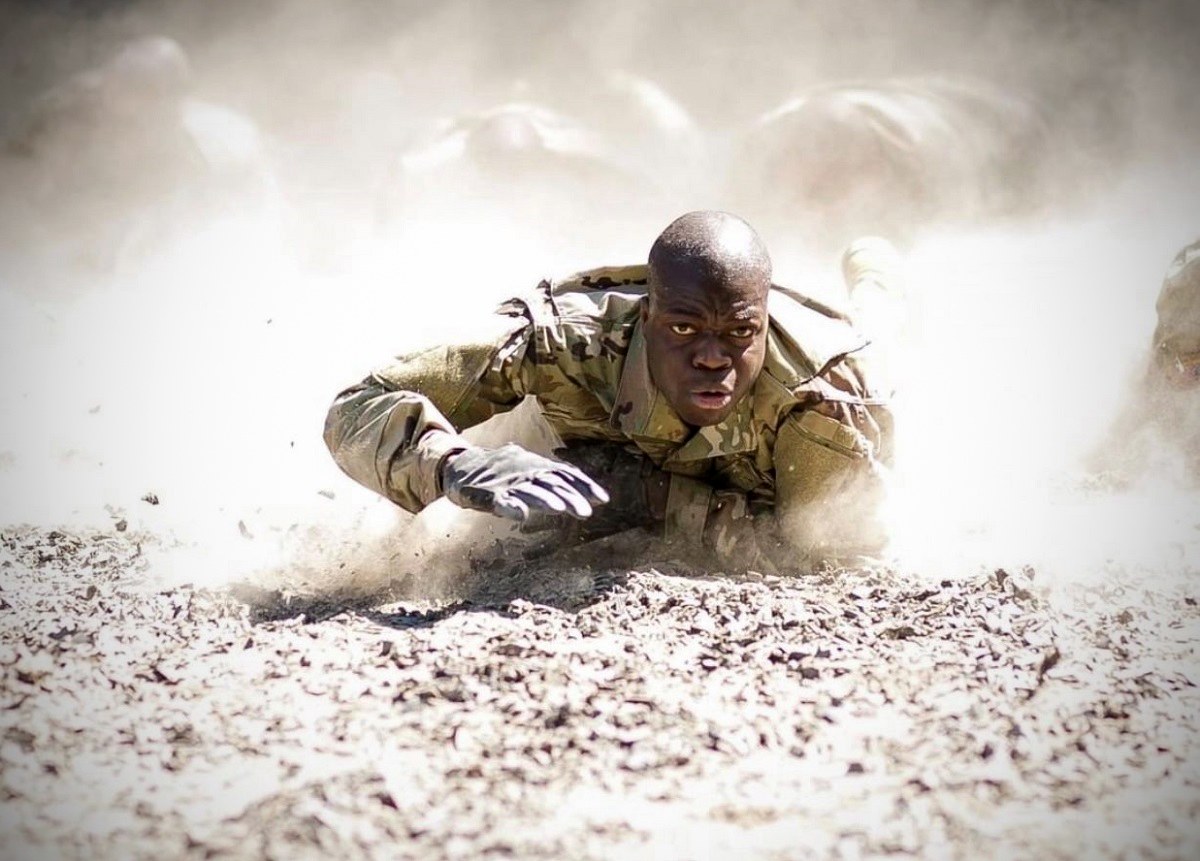 Army leaders are looking to the Pacific as the service tries to link new weapons and new systems in preparation for much faster future conflicts. By Ben Watson, Kevin Baron, and Patrick Tucker
Like the world outside its garrisons, the past 13 months have been an unusually concerning and uncertain time for U.S. Army leaders. The challenges of a global pandemic altered nearly every officer's risk assessment, shuffled priorities around the globe, and changed training schedules, work shifts, and daily lives at every fort, camp, arsenal and depot. 
Now with one quarter of its force vaccinated for COVID-19, the Army is anticipating a return to normalcy. But what lies ahead for the service of more than one million people is nearly as uncertain as the twists and turns of 2020. Much depends on when vaccinations rates will rise to a level that leaders can return to the old familiar training cycles and annual requirements. It could be sooner than later. Already, 75 percent of the Army's 68 garrisons have dropped COVID-related travel restrictions. And Lt. Gen. Ronald Place, director of the Defense Health Agency, said last month that the entire force could be vaccinated by the middle of July. 
The nomination of Christine Wormuth to be the Army's first female secretary has given hope to advocates seeking changes for how the service handles sexual assault and other issues in the ranks. Wormuth had previously been President Barack Obama's senior director for defense policy, and would return to the Pentagon along with several former Obama-era policy officials. She's expected to have significant influence on possible cultural changes as the results and recommendations emerge from force-wide reviews of extremism and racism in the ranks.
We're talking about the ability to do large-scale, ground combat operations where we will be contested not only in the land, but in the sea, in the air, and cyber, and space. U.S. Army Chief of Staff Gen. James McConville
America's Afghanistan withdrawal, now underway, is another of the Army's most consequential items of business for the year. While there were only 2,500 troops to pull out, the Pentagon is sending an additional 650 in to protect the redeployment effort. 
That doesn't mean that the lessons from two-decades of fighting insurgents will go to waste, said Army Chief of Staff Gen. James McConville at a Center for a New American Security event this month. "Counter-insurgency and irregular warfare, that's not going away. In fact as we look around the world there's many places that could be incubators for potential terrorism." The Army's Security Force Assistance Brigades will play a role in more settings, helping partner militaries better step up their ability to fight terrorists and irregular forces. 
"We don't know what the future is exactly going to be like, but I can almost guarantee there's going to be some kind of violent extremist threat out there and we will need to keep those skill sets that we've developed over the last 20 years."
While the Pentagon sorts out a new counterterrorism force laydown located outside of Afghanistan, removing that deployment opportunity from the minds of Army planners will allow the service to more fully pivot to its No. 1 strategic priority for the years ahead: countering China. 
"What we're recognizing is there is great power competition that's different from what we've been doing for the last 20 years," McConville said in March, at the Brookings Institution. "The pacing country is China, and we're certainly concerned with Russia." That competition has forced the Army to change its entire approach to warfare.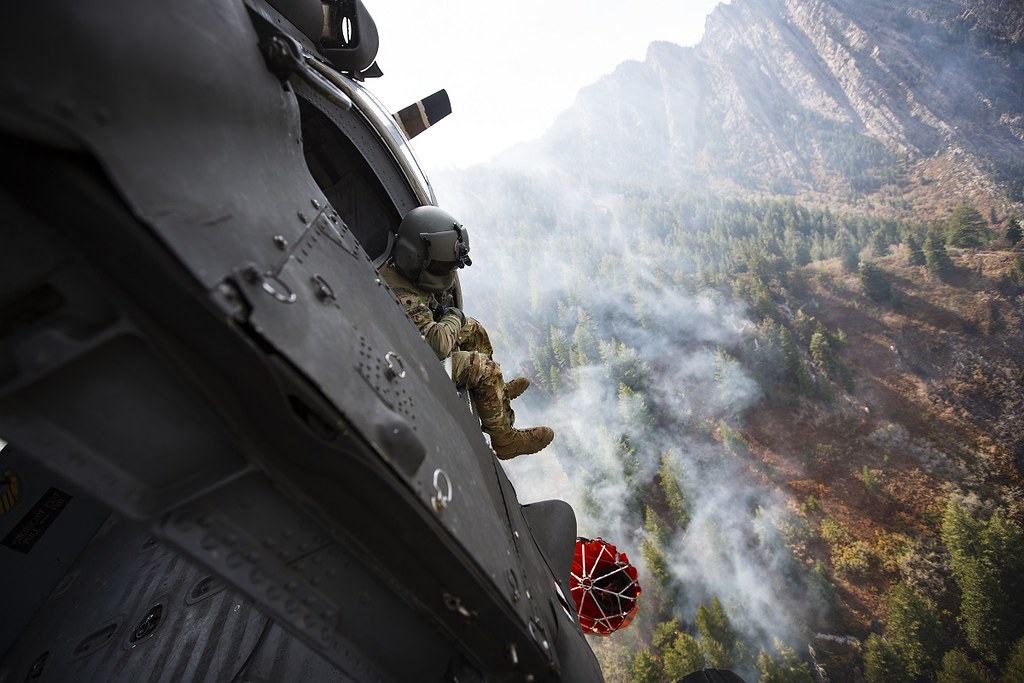 Soldiers from the 211th Aviation Regiment conduct air support over the Neffs Canyon fire in Salt Lake City, Utah, Sept. 20, 2020.
"We're talking about the ability to do large-scale, ground combat operations where we will be contested not only in the land, but in the sea, in the air, and cyber, and space," McConville told Defense One in an interview last October. "And so as we train our troops to do this, we go out to combat training centers [and] we present them with multiple dilemmas that are going to allow them to operate in these types of environments."
It's a plan that involves all of the services and all of the military's weapons systems in an effort to link everything the U.S. military brings to a battlefield. That still-evolving concept is known as Joint All-Domain Command and Control, or JADC2. The Army is sorting out its place in that concept.
"This idea of convergence is really going to fundamentally change the way we fight," McConville said. "And what I mean by that — it's going to change the ranges that we fight at, [it] is going to change the speed that we fight at, it's going to bring all the sensors that we have together, and then allow us to pick the right shooter, if you will, to engage the targets that we anticipate on the future battlefield. And we're going to do it in a very quick manner, from minutes to seconds, which is really going to make a difference."
Already several proof-of-concept exercises have been held; the most recent Army demonstration, dubbed Project Convergence, this past fall in Arizona. But how the Army will integrate with the other services for the future of JADC2 — including exactly how they will all share data — remains unknown.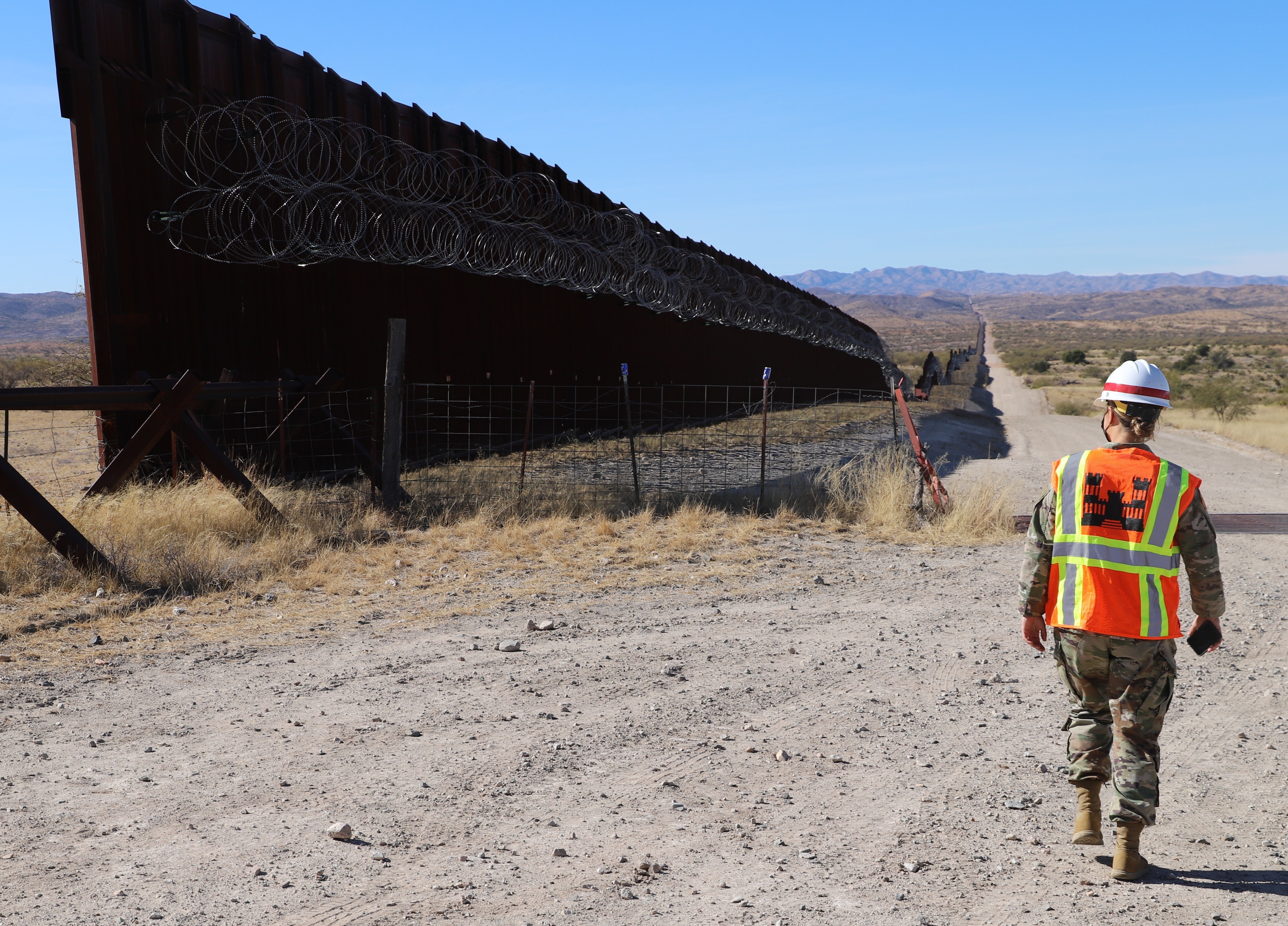 U.S. Army Corps of Engineers contractors prepare for a border barrier installation near Nogales, Arizona, Dec. 17, 2020.
This year's Project Convergence demonstration will look toward the Pacific and connect soldiers and weapons digitally across large distances and under much more difficult circumstances. It scales up the number of adversaries and players, and will focus much more on how operators like the Army's 82 Airborne Division, actually use the technology. This year's event will also involve the Air Force and Navy to a much greater degree, in order to better test out emerging JADC2 concepts. 
Staying relevant after 20 years of major land war operations seems front and center on the minds of Army leaders. Case in point: the Army extended the range of its big XN1299 cannon this past year, which is a significant part of its role counter China's military in the Pacific. That long-range cannon is also the main modernization goal for the service, giving the U.S. another response to Russian and Chinese coastal air defense systems in places like Kaliningrad for Moscow's military, and in the South China Sea for Beijing. Big Army's claims that long-range fires are the weapon of the future have drawn skeptics — one Air Force general called it "stupid" — but it has the support of the Joint Chiefs. 
Some big questions from the past year have been answered. President Joe Biden is reducing air defense units deployed to Saudi Arabia. Biden already has halted Trump administration-ordered troop withdrawals from Germany and eased pressure on South Korea to pay more protection costs for U.S. troops stationed there.
Some 500 soldiers and their family members are headed to Germany as part of a new Multidomain Task Force and an associated Theater Fires Command. The idea is to help link various Army elements during exercises across Europe and Africa. One of those exercises, the largest of its kind in more than 25 years, is presently underway. More than 16 nations across Europe are participating, and 28,000 troops will practice coming to the aid of an ally under attack along the Balkans and the Black Sea. Ukraine is not one of the participants, but Russia's 2014 invasion still casts a long shadow across the continent. Indeed, Russia just ended a series of attention-grabbing exercises of its own on the border with Ukraine. And its upcoming ZAPAD exercises will play out across Belarus and western Russia later in September.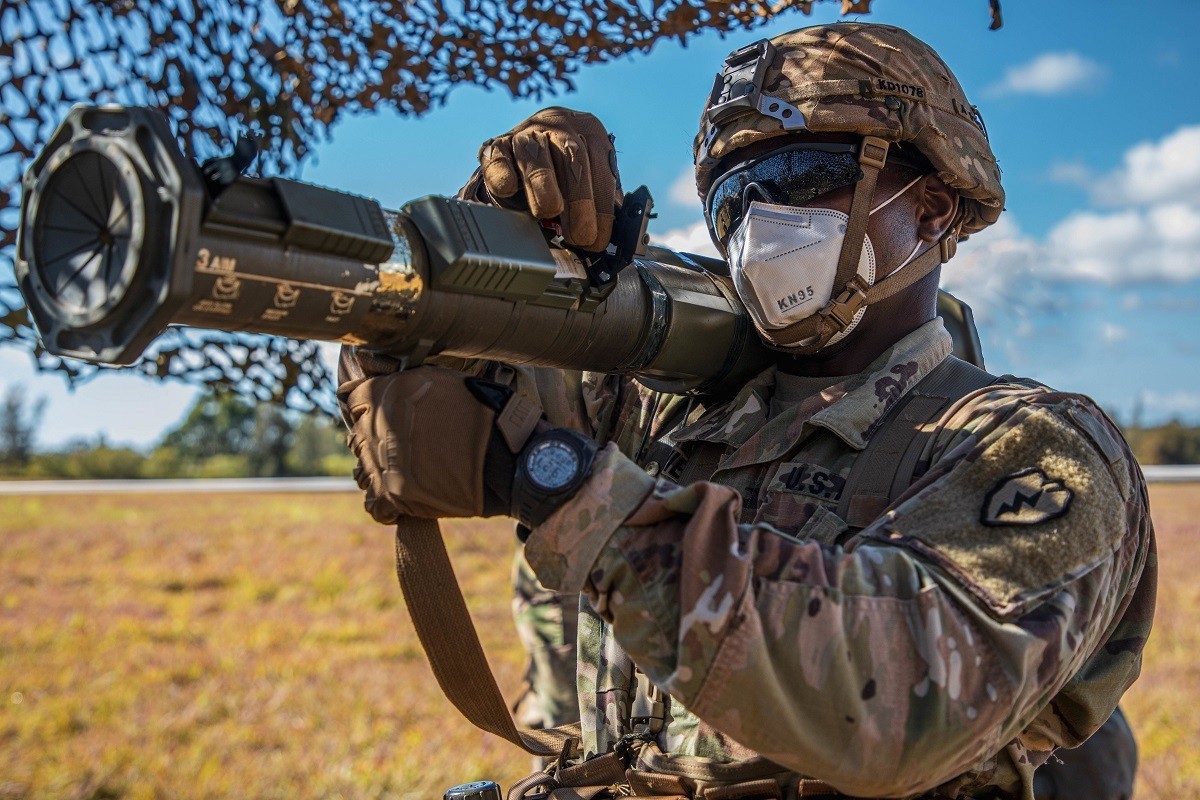 A soldier checks the sight of a shoulder-fired rocket system on Sept. 16, 2020 at Schofield Barracks, Hawaii.
It's unclear how the U.S. Army's future in Africa, even after a consolidation in November, will shape up in the months ahead. Former President Donald Trump had ordered U.S. troops out of Somalia in 2020, but he did not end U.S. military operations in that country, or any of the others — Niger, Libya, e.g. — across the continent. 
"Our understanding of what's happening in Somalia is less now than it was when we were there on the ground, physically located with our partners," AFRICOM's Army Gen. Stephen Townsend told lawmakers last week. "We work virtually with our partners from our bases in the region. And then we fly in to conduct training, and to advise and assist our partners. We've done four such operations in the last roughly 90 days. One of them is ongoing right now," he said.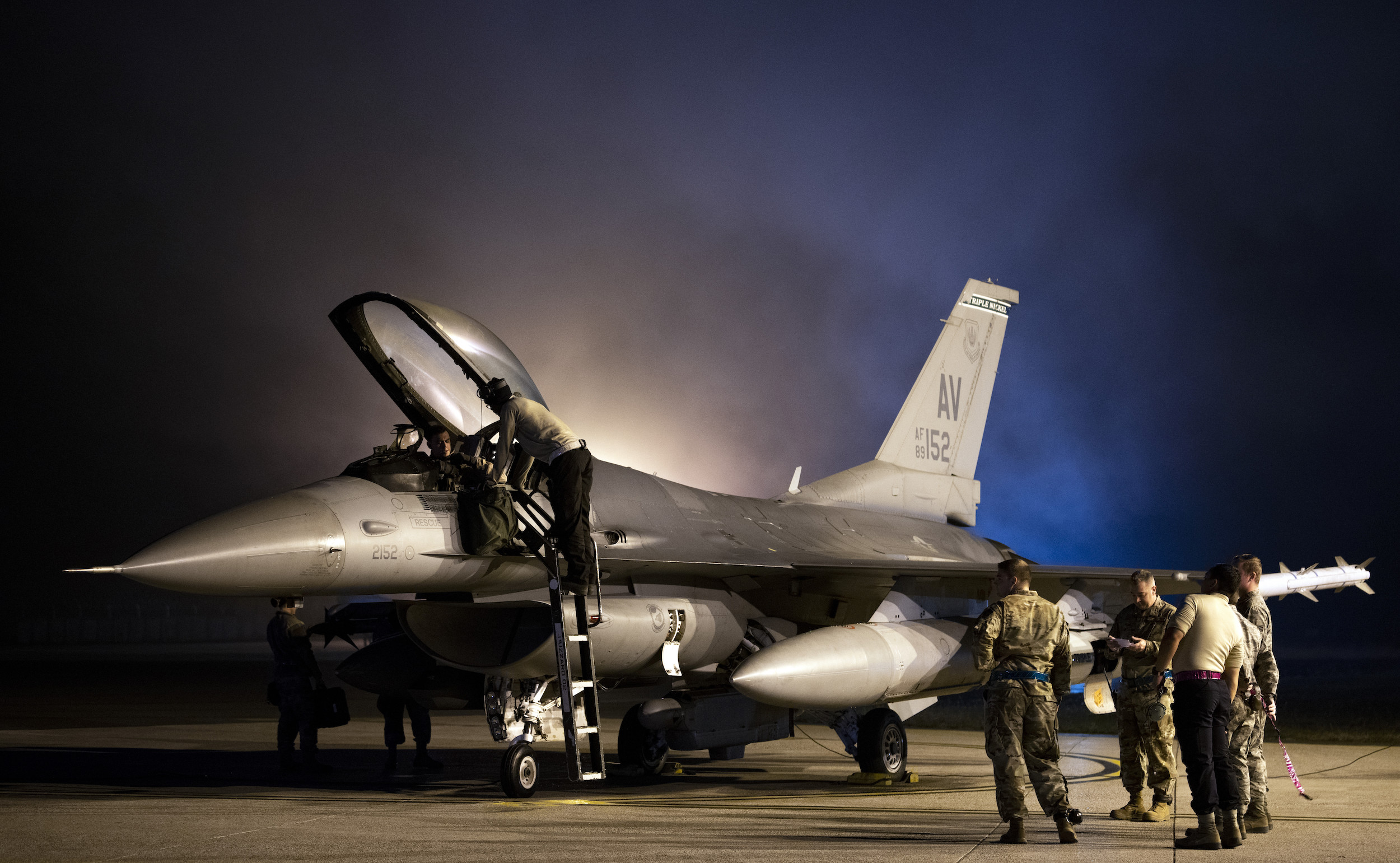 From scrubbing the 386-squadron goal and facing the reality of smaller budgets to a shakedown of racism in the ranks, Chief of Staff Brown faces a pivotal moment in the Air Force. Gen. CQ Brown would have had a full plate with just the perennial challenges of balancing Air Force modernization with readiness. Instead, the service's first Black chief of staff has taken charge amid a much deeper shift. 
External security challenges from China and Russiahave pushed the service to speed its plans to ensure a "right mix" of fighter and long-range capabilities precisely as federal budget increases needed to pay for them are pulled by domestic needs, such as COVID-19 relief. 
Internal pressures are driving change too. Brown was sworn in as the nation began to bluntly address the consequences of institutional racism following the murder of George Floyd. 
"I can't fix centuries of racism in our country, nor can I fix decades of discrimination that may have impacted members of our Air Force," Brown said in a video message days after George Floyd's death. "I'm thinking about how I can make improvements, personally, professionally and institutionally, so that all airmen … can serve in an environment where they can reach their full potential."
Goodbye, 386
Two years ago, the Air Force announced it would need a large increase, from 312 to 386 operational squadrons, and 40,000 additional airmen to meet then-President Donald Trump's national defense strategy. They even printed "386" coffee mugs. 
That thinking has shifted to finding a mix of aircraft that could deliver the same level of capability, but likely with fewer squadrons, Brown told reporters in a February Defense Writers Group event. 
"I want to get as close as I can to 386 capability, with the force size I have, with the dollars we have available," Brown said. 
The lower number also reflects the change underway at the Air Force as it continues to transition missions to the Space Force. 
"Our original goal of 386 squadrons included many space elements that are now part of the U.S. Space Force," Air Force spokeswoman Ann Stefanek said in a statement to Defense One. "The U.S. Air Force is too small for what our nation is asking us to do. Growing is important, but even more critical is achieving the necessary capability to drive down risk," Stefanek said. 
What number or mix of aircraft will be the goal is still getting shaped by several key reviews: a joint Tactical Air Study the service is working in conjunction with the Pentagon's Cost Assessment and Program Evaluation office, or CAPE; an internal fighter force mix study; and ultimately, the Global Posture Review directed by Defense Secretary Lloyd Austin. 
It's also unavoidably being shaped by the reality that all of the services will need to operate within curtailed budgets.
On Tuesday, the White House announced the president's intent to nominate Frank Kendall to be Air Force secretary, a role that now has purview over the Air Force and Space Force. Kendall comes to the position after serving as the under secretary of defense for acquisition, technology and logistics during the Obama administration, and is known for his role in identifying what key threats the military must prepare for moving forward. 
It's a needed fit for this particular point in time for the service, according to multiple former defense officials and the current chairman of the House Armed Services Committee, Rep. Adam Smith, D-Wash. 
"Kendall is exactly the kind of public servant we need at the helm of the Air Force at a time when the service is navigating so many unique challenges, including effective acquisition to meet our nation's future threats," Smith said in a statement following Kendall's nomination.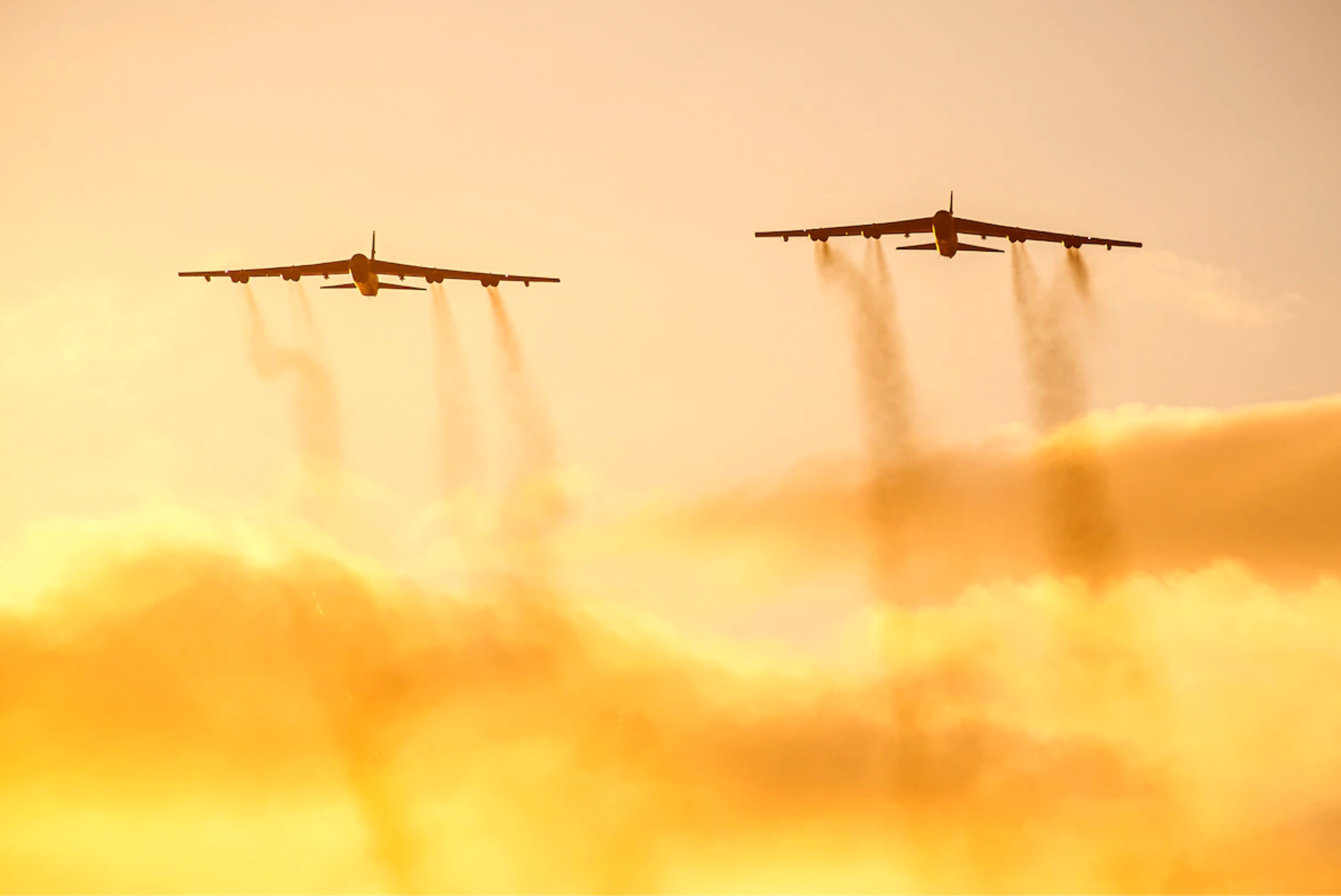 Two Air Force B-52 Stratofortresses fly over RAF Fairford, England, Aug. 22, 2020.
Many of the Air Force's top modernization programs, such as the KC-46 tanker replacement and B-21 stealth bomber, will hit their peak spending needs in the next few years, known as the "modernization bow wave." 
"When you listen to the testimony of the various combatant commanders and services, you hear them grappling with that in the testimony," said former CAPE director Jamie Morin, who monitored the Air Force's major modernization programs during the Obama administration. "Are they focused on a healthy deterrence posture with China today? In 2025? In 2030? In 2035? When they talk to those things, and throw years out there, what they're really doing is they're communicating where they think those risks are most acute, and whether they think we need to ... rebalance for today, or for the more distant future." 
Travis Sharp, a research fellow at the Center for Strategic and Budgetary Assessments, said the Air Force budget will need to grow about 20 percent over the next four years in order to be able to afford all of those programs, based on current Congressional Budget Office estimates. 
"When overall defense spending stagnates, a service has to squeeze all its modernization camels through a smaller eye of the funding needle," Sharp said. "Some of the camels might not fit and get left behind."
The tough funding choices could lead to the retirement of some legacy aircraft, including some A-10 Warthogs. 
"We need to transition from where we are today to the relevant future capabilities," Stefanek said. "We're continuing to modernize the A-10 aircraft and expect at least a portion of the fleet will continue to provide effective close air support for the counter violent extremist organization fight into the 2030s." 
It's also likely to lead to continued debate over whether the Air Force should invest in additional, enhanced 4th-generation aircraft to bridge the distance between the current aging F-16 and F-15 fleet and when its full complement of F-35s come online.
"As we start to build FY23, this [tactical air study] will help inform the decisions that I think I have, that I need to make," Brown said. "I don't think that everybody's gonna exactly agree with what I say. But I want to actually have a starting point."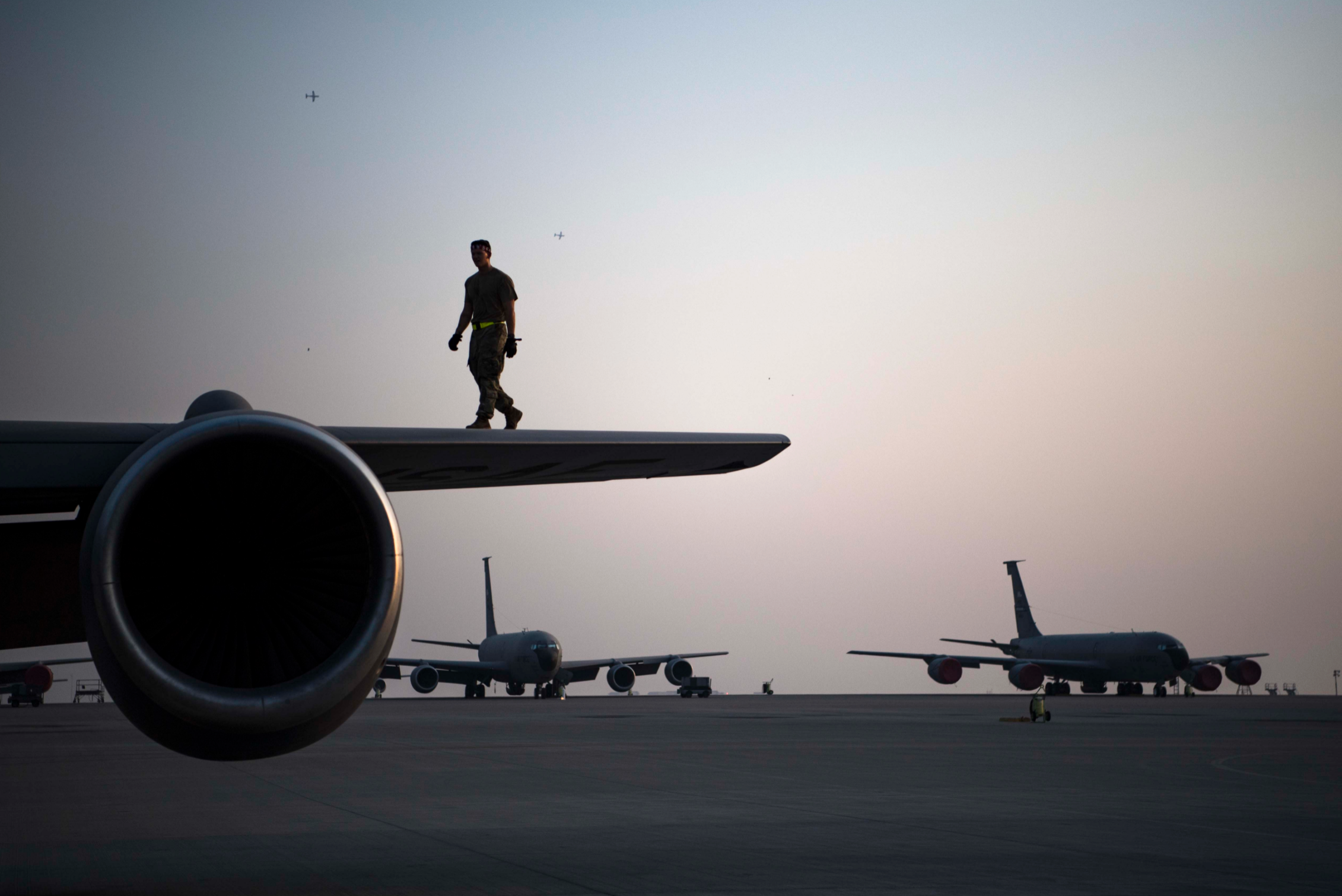 An Airman inspects a KC-135 Stratotanker at Al Udeid Air Base, Qatar, on Sept. 24, 2019.
One point of departure between the Air Force and some key members of Congress is just how much of a role the F-35 should have in the future force mix. 
Brown has likened the F-35 to a "Ferrari" and cautioned it should only be used in limited form now, so it's ready for fights down the road. 
But the program's current level of aircraft availability and challenges with sustainment and cost have led to additional calls for its curtailment. 
"We can hope this might be a turning point for the Air Force," said Dan Grazier, a military fellow at the Center for Defense Information at the Project on Government Oversight. "Its largest-ever aircraft program is against the ropes, as evidenced by the volume and tone of the questions the program's leaders are facing on Capitol Hill at this very moment."  
In March, HASC chairman Rep. Adam Smith, D-Wash., criticized the F-35 program as a "rathole" and called for a budget scrub of the program. At an April 22 hearing, Rep. Jim Garamendi, D-N.J., the chairman of the readiness subcommittee, warned F-35 program leaders that there will be no additional money in this year's budget to address overruns. 
"The easy days of the past are over," Garamendi said.
But the Air Force is sticking with the program, Stefanek said. 
"We are fully committed to the F-35 and its 5th-gen capabilities," she said. 
Dave Deptula, a retired Air Force three-star who now heads the Mitchell Institute, said criticism over the F-35 fails to take into account the tough position the Air Force has been put in. 
"The Air Force must make the programs it has work," Deputa said. "It does not have the time or money to seek alternate options."
Morin said that in a balance between numbers of aircraft and having modern systems, "we have to prioritize capability over capacity." 
"This is true in a lot of areas of war. It's not true in all areas of war," Morin said. "But in a lot of areas of war, and in many of the areas surrounding airpower."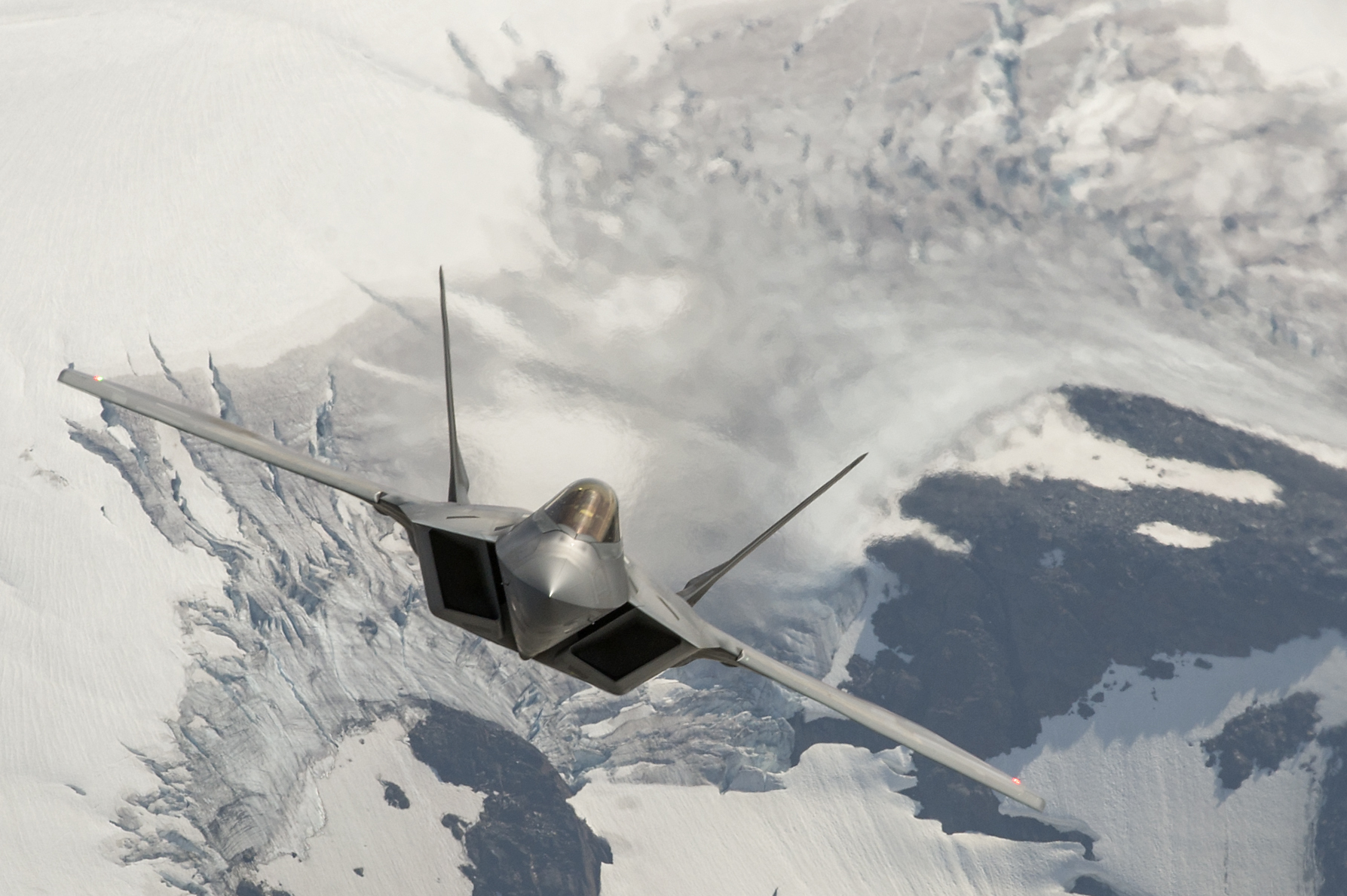 An F-22 Raptor flies over the Joint Pacific Alaska Range Complex on July 18, 2019.
Internal reform
Floyd's death spurred a far-reaching review across DOD to address inclusivity and diversity in the ranks. It prompted the Air Force to go even farther, ordering an Inspector General review that found wide disparities between how Black airmen are punished, retained, and promoted compared to their white peers.   
Days after the murder, Brown released a frank assessment of the impact Floyd's death had on him in the viral video "What I am thinking about." 
"I'm thinking about wearing the same flight suit, with the same wings on my chest as my peers, and then being questioned by another military member: 'Are you a pilot?' " Brown said. 
The inspector general's review collected "a large volume of firsthand accounts of experiences with bias, as well as individual acts of racism," and gathered data on promotion, retention, and disciplinary rates, finding disparities between races in each case.
The report directed a 60-day response to look at root causes in each area of disparity, "and then every six months we're going to go into a deeper dive to assess where we are at," Brown told reporters in February. A second disparity review is now looking at similar disparities experienced by Hispanics, Asians, American Indians and other minority groups. 
The awareness of racial disparity in the service and the effort to eliminate it has "got to be something that we just don't do for a little while," Brown said. "It's gonna be something we just make part of the way we do business across the Air Force."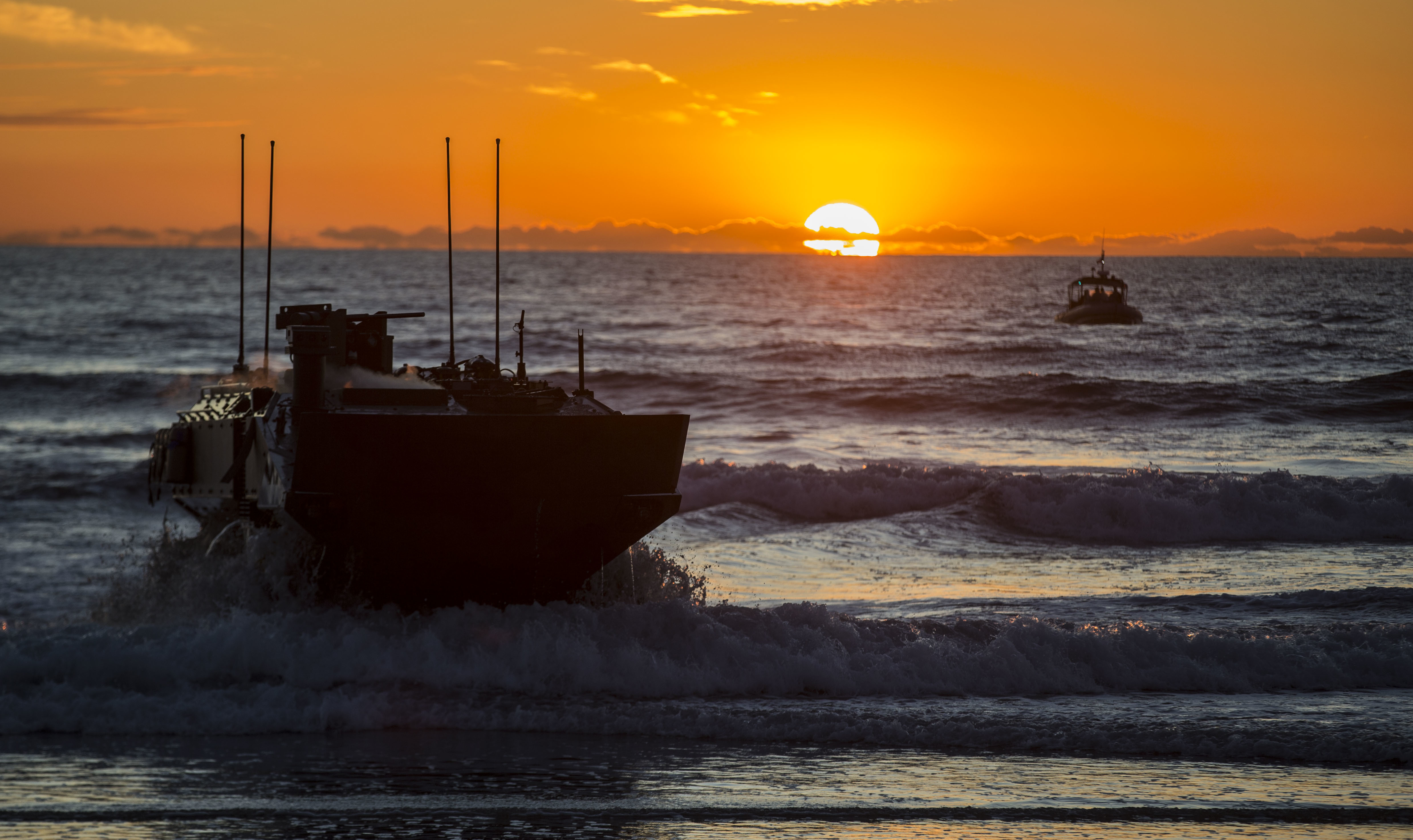 The Marine Corps continues efforts to revamp its force over the past year, as older vehicles and equipment led to tragedy. No U.S. military branch is transforming more dramatically than the Marine Corps, and Commandant Gen. David Berger is keeping his foot on the accelerator.
In February, the Corps released its newest Tentative Manual for Expeditionary Advanced Base Operations, or EABO. The 180-page document is a physical manifestation of the future force Berger has been pushing for — not just during the past year but for several years now. 
What's new? The most recent EABO puts deadlines on the changes Berger introduced in his 2019 Commandant's Planning Guidance report. After years of serving primarily in the Middle East, he wrote, Marines need a redirecting and a restructuring in order to face the future's enemies — like China. 
"The impending challenge is significant and cannot be met by merely refining current methods and capabilities," the new manual reads.
The refined methods on the table for several years include spreading Marines across large maritime domains at expeditionary advanced bases — hence the manual's title. The Corps needs to be able to move personnel and weaponry between those bases efficiently and quietly at a moment's notice, operating both at sea and at remote bases. These are maritime operations that the Marine Corps, after decades in the desert, was no longer adept at performing.
Berger has now set a hard deadline. By 2023, the commandant wants these force concepts to achieve initial operational capability. Field experimentation has already begun and is expected to continue at a "near-constant" pace for the next two years. Berger wants the concept fully operational by 2030. The Force Design 2030 report, released a year ago, wants to redirect some $12 billion from existing programs to newer ones. 
With sweeping warfighting advancements comes equally ambitious weaponry and vehicular advancements. By 2030, the Marines will leave a lot behind. On the chopping block are tanks, amphibious armored vehicles, and helicopter squadrons. But the $12 billion in funding expected to come from those cuts are to fund entire fleets of new equipment and vessels, including 100 Long Range Unmanned Surface Vessels, Light Amphibious Warships, 14 new precision strike batteries, 252 unmanned missile launchers, and hundreds of Naval Strike Missiles.
The two-year turnaround target has created a sense of urgency within the Corps to do away with the old and make the new operationally capable. But the amphibious assault vehicle accident that killed eight Marines in July 2020 thrust the Corps's need for new equipment into the national spotlight the way Berger's memos and manuals had not.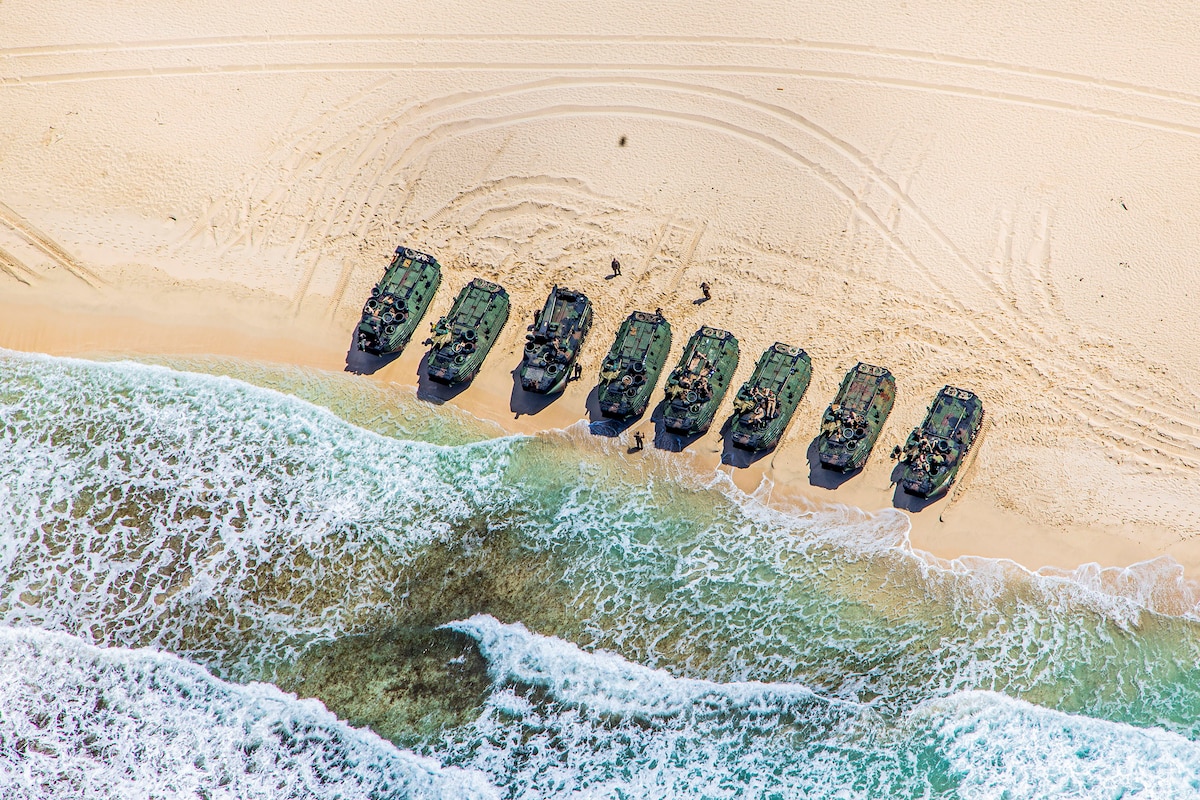 Marines stage assault amphibious vehicles during around-the-clock training operations at Marine Corps Base Hawaii, May 28, 2020.
On April 2, the Marine Corps announced it would launch a third investigation into the AAV accident last July 30. Eight Marines and one sailor on board died in an AAV conducting an exercise off the coast of California. It was one of several that experienced mechanical issues during the exercise. 
The Marine Corps' initial, 8-month investigation into the incident pointed towards mechanical failures and insufficient maintenance as key factors. For months before the fatal accident, Marines with the 15th Marine Expeditionary Unit — the unit of all eight Marines killed — worked to keep the AAVs operational despite being delivered to the unit in "poor condition." 
The AAV that sank was leaking transmission fluid, had a number of poorly sealed components that allowed water to flood the vehicle too quickly for the Marines to escape, and lacked operational emergency lighting. As the vessel sank, Marines used their cell phones as flashlights. Lt. Gen. Steven Rudder said in the initial investigation that a "majority" of the Marine Corps's AAVs failed to meet inspection criteria.
"The Marine Corps is committed to making appropriate changes in response to the July 2020 AAV mishap to ensure the safety of our Marines and sailors," Marine Corps spokesperson Capt. Andrew Wood wrote in a statement to Defense One.
The amphibious assault vehicle accident that killed eight Marines in July 2020 thrust the Corps's need for new equipment into the national spotlight the way Berger's memos and manuals had not.
Berger has been called to testify before Congress to answer for the Corps' safety record and assure lawmakers that an accident of this magnitude will never occur again. The House Armed Services Subcommittee on Readiness is scheduled to discuss the results of that investigation with other Marine Corps leaders next week. In the meantime, some Marine Corps AAVs returned to water operations on April 18, nine months after the accident, but a large chunk of the fleet will have to wait for maintenance and validations by a general officer. .
On top of modernization efforts, the Marine Corps has faced the same COVID-related readiness issues as the rest of the force, albeit with lower infection numbers and higher vaccination declination rates. As of April 20, the Marine Corps reported 21,440 positive cases out of a total of 154,599 cases reported across the Army, Marine Corps, Navy, Air Force, National Guard, and DoD agencies. The Marine Corps accounts for around 13.9 percent of the total reported cases by branch — far below the Army's case allocation of 67,608, or 43.7 percent. These percentages, of course, do not account for the differing size of the force between branches. 
And while infection numbers have remained low, the Marine Corps has also reported a higher rate of vaccine declinations than the general Defense Department. In February, DOD reported that around 33 percent of troops offered the vaccine were declining. But more recently, CNN reported that the Marines are declining the vaccine at an even higher rate of 38.9 percent, or 48,000 Marines who turned down the vaccine. 
DOD has said repeatedly that it does not track reasons for declination, so it is unclear why more Marines are declining the vaccine than any other branch. The vaccine is voluntary regardless of pending deployments or concerns about impacts on readiness. COVID-19 has not derailed the commandant's reform efforts, Berger wrote in a memo to Defense Secretary Lloyd Austin at the beginning of March.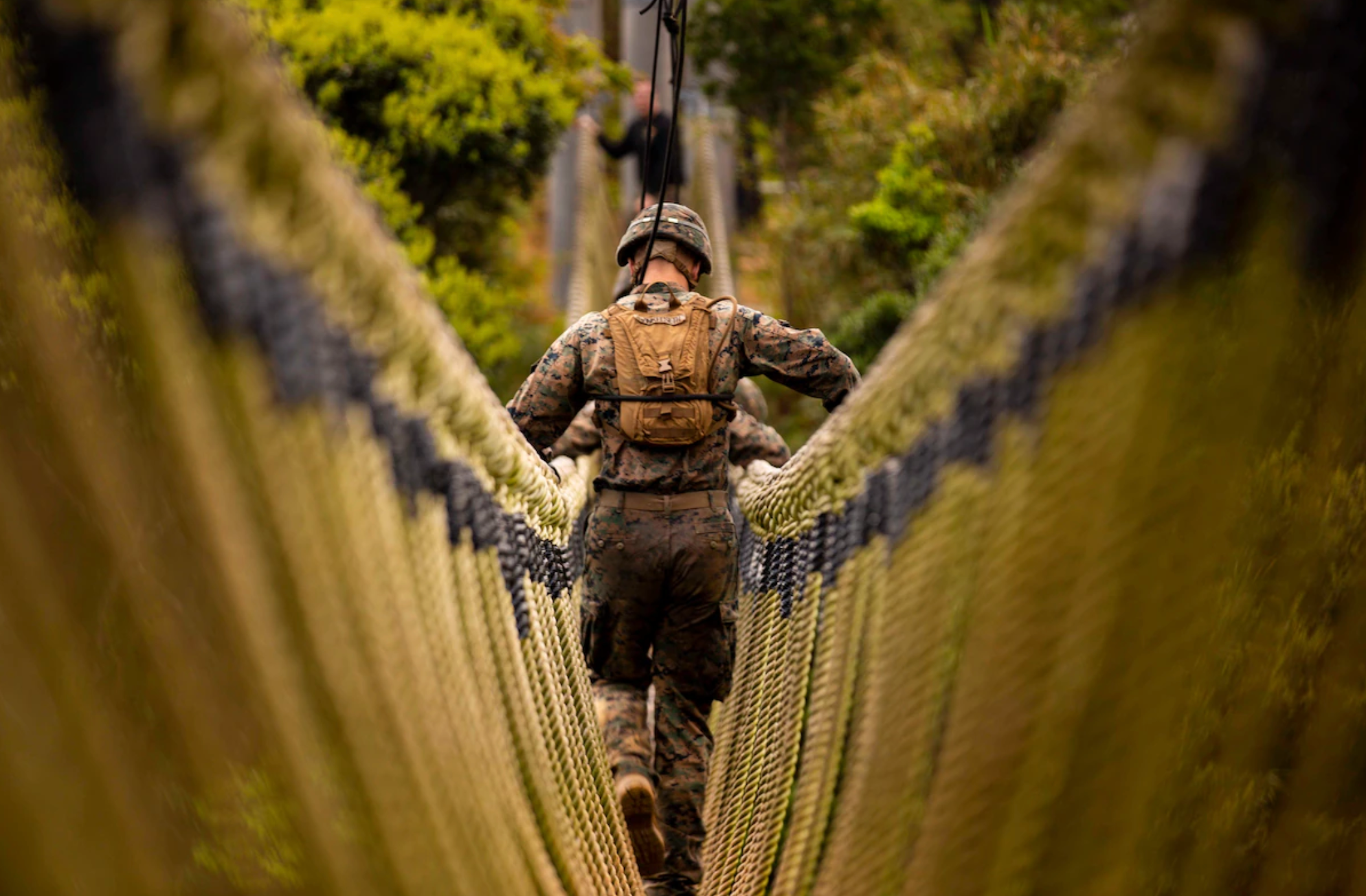 Marines cross a rope bridge during training at the Jungle Warfare Training Center in Okinawa, Japan, March 20, 2020.
"I have not asked for any topline increase for the Marine Corps — only that we be allowed to reinvest the savings we create by divesting of legacy capabilities and excess capacity," Berger wrote. 
An updated Force Design 2030 report released this week laid out in more detail the Marine Corps' next steps moving forward including accelerating experimentation with maritime multi-domain reconnaissance constructs and developing a "robust inventory" of traditional amphibious ships, new light ships, alternate platforms, and littoral connectors in order to "create a true naval expeditionary stand-in-force and force-in-readiness."
"We are 18 months into our 10-year Force Design 2030 modernization effort, and in some capability areas we have sufficient understanding to begin the transition from force design to force development," Berger wrote in the report. "However, our understanding in other areas remains incomplete and will need to be constantly improved upon and refreshed given that we live in a period during which the perceived steadiness of our way of war may be upset at any moment."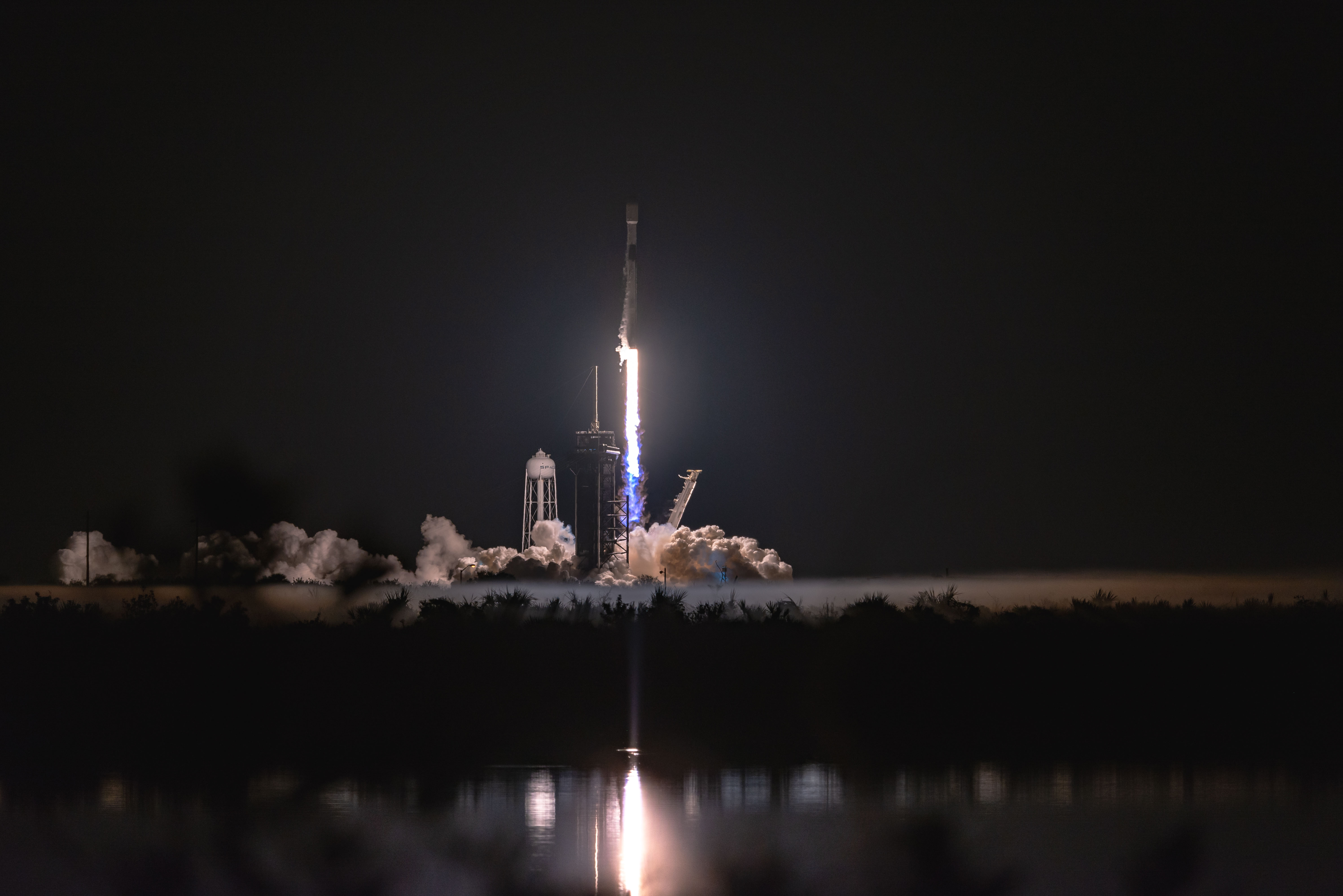 The newest branch of the military is no longer a Space Force of one. By Tara Copp and Patrick Tucker
Last year, the brand-new U.S. Space Force had an end strength of one: Chief of Space Operations Gen. Jay Raymond. A few things have changed since then.  
As of mid-April, the service had 5,011 military members—almost all from the Air Force—and 6,179 civilians. It has established three field commands: Space Training and Readiness Command; Space Systems Command, and Space Operations Command. Operations Command has primary responsibility for generating space personnel, now called Guardians.
Space Force also published its foundational doctrine, "Spacepower," which laid out its strategic concepts. While there is no direct mention of Russia or China within its 64 pages, their influence is everywhere, as Raymond establishes space as the new high ground U.S. forces must secure, dominate and operate in freely. 
"Our potential adversaries' actions have significantly increased the likelihood of warfare in the space domain," Raymond wrote. "Our destiny as a free country to strive even higher in space remains the same, but the need for security and defense — as only military force can provide — is the stark new reality of our mission."
In Congress and in public forums, leaders are much more direct.
"We have seen the activities by our competitors, both Russia and China as they've expanded their capabilities, in particular China, in the space domain," said Gen. James Dickinson, commander of U.S. Space Command, the combatant command for which U.S. Space Force generates personnel and capabilities.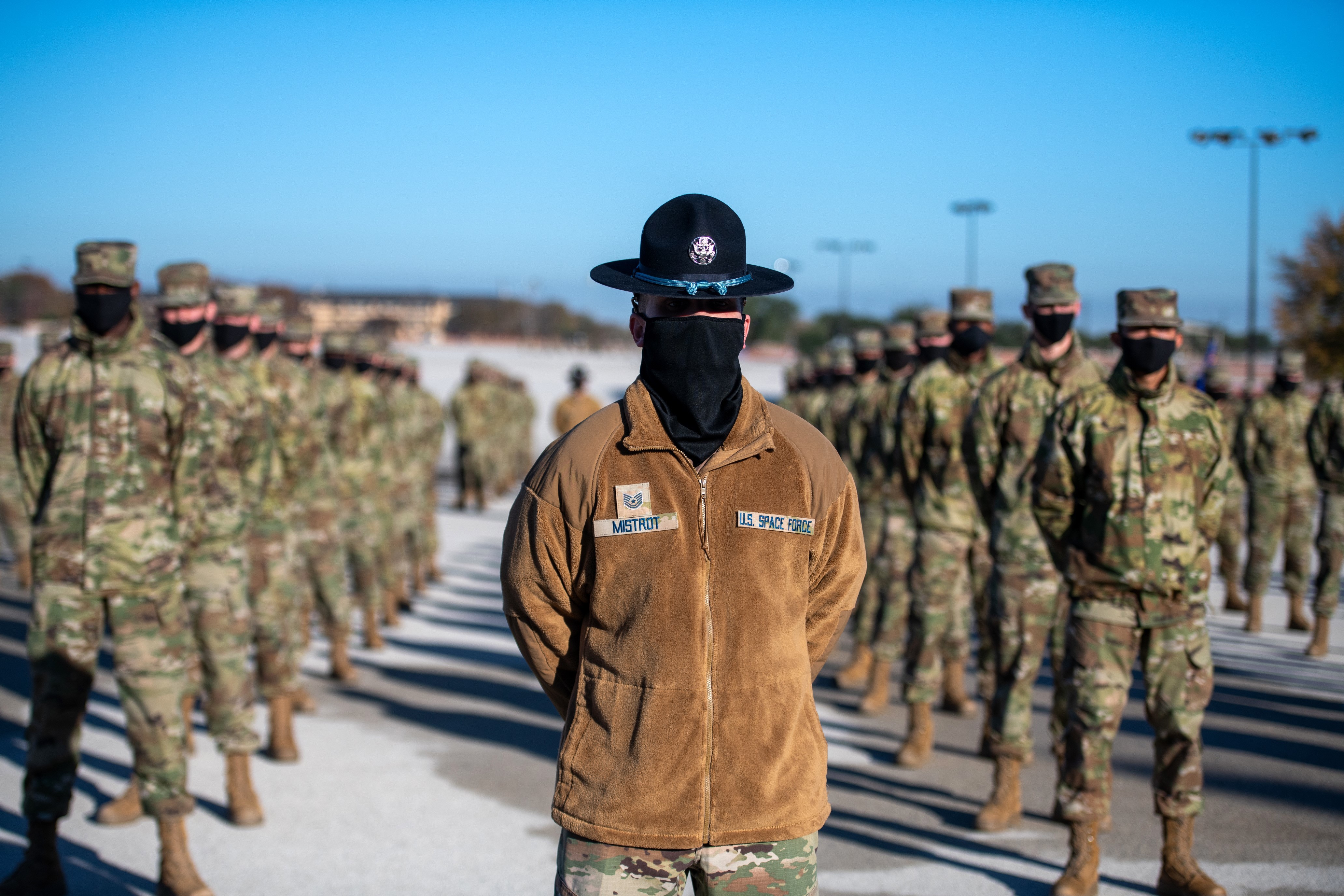 A U.S. Space Force training instructor attends a graduation ceremony on Dec. 10, 2020, at Joint Base San Antonio-Lackland, Texas.
"We see their capabilities, from direct-ascent ASAT anti-satellite capabilities, to on-orbit activity that they've done," Dickinson told the Senate Armed Services Committee last week. "We've seen the increase or proliferation of their directed energy efforts in terms of electronic warfare, and in terms of jamming, as well as laser technology. So I believe that it is absolutely a warfighting domain, that we need to continue to work very closely." 
Some of Space Force's next battles are closer to Earth, as it asserts its role and mission of generating trained personnel and space capabilities for the services, who have been independently grooming and procuring some of those same assets in-house for years. 
"If you look at [Department of Defense Directive] 5101.2, that document actually says the responsibility of building space systems, operating space systems, is the responsibility of the Air Force, the Army…all of the services have some role and responsibilities," said Todd Harrison, director of the Aerospace Security Project at the Center for Strategic and International Studies. 
"So one of the things that Space Force has got to do is, it's got to muscle its way in and say, 'We have one Space Force, not four Space Forces." 
For example, the Army's Space and Missile Defense Command has been experimenting with a low-orbit microsatellite named Kestrel Eye, and their space operators run the payloads on Wideband Global Satellite communications systems, Harrison said. 
"These services shouldn't be building and operating their own satellites," Harrison said. "That's the job of the Space Force. That's one area where they really need to step up in the next year or two." 
In the next year, the Space Force will focus on exactly that, and work to further integrate itself with the services and combatant commanders, Vice Chief of Space Operations Gen. David Thompson said in an email. 
Space Force is still the smallest of the services by a long shot, and will remain that way even when it reaches its full end strength of about 16,000 military and civilian personnel. 
For comparison, the Coast Guard has about 41,000 active duty personnel; the next-smallest service is the Marine Corps, with 181,000. The Space Force is also top-heavy, with a nearly 50-50 split between officers and enlisted, and at present, more civilians than military personnel in its ranks.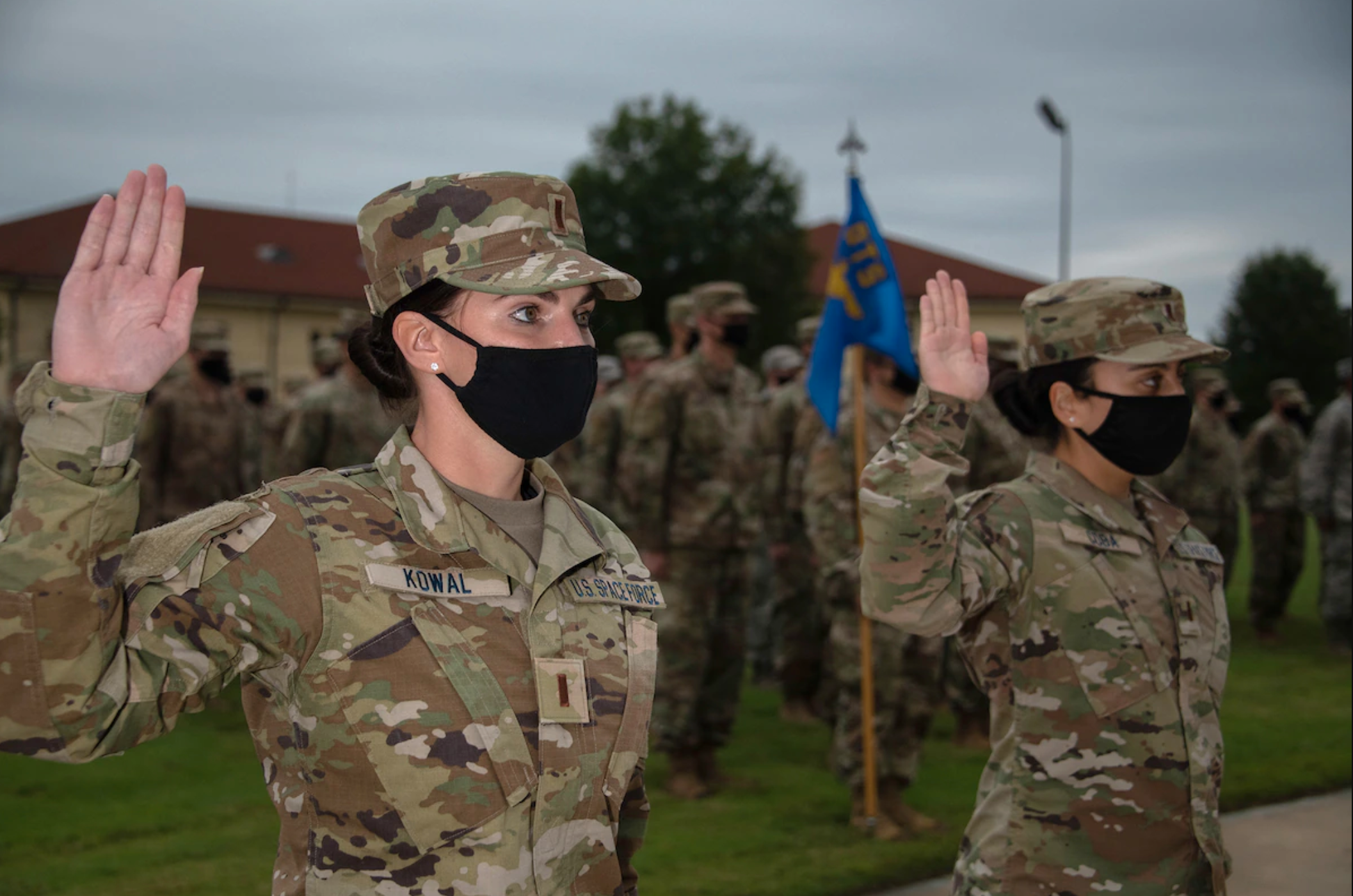 Space Force officers recite the Space Force oath of office at Maxwell Air Force Base, Ala., on Oct. 16, 2020.
A Space Force spokesman said the ratio of officers is due in part to the service's emphasis on engineering expertise, some of which is developed only in officer billets. 
Thompson said the service has taken a longer, "clean sheet" approach to finding future Guardians by building in diversity from day one, not only in gender and race, but in background as well. 
Because of the overall disparity among the number of women and minorities currently in STEM fields compared to white men, "our numbers reflect what was true for the Air Force in operational and STEM-focused career fields, which translates to underrepresentation for women and minorities," Thompson said. 
To try and address that, "when it came time to hold transfer boards for the common [Air Force Space Command] volunteers, we did so in two stages," Thompson said. "The first was an evaluation based on qualifications. The second was through the lens of diversity, and not just diversity of demographic, but diversity of assignments, education, and experience." 
The goal, Thompson said, is "being the first digital military service, as well as an organization that reflects the demographics of the country we serve."
The Space Force recently began offering transfers to space personnel in the Army and Navy, with plans to increase those accessions in the coming year, Thompson said. 
The Space Force will also focus on expanding its Space Training and Readiness Command, the Space Warfighting Analysis Center, and the National Space Intelligence Center, Thompson said. 
"Then we need some time to let this structure operate before assessing and adjusting with a version 2.0," Thompson said. 
The Space Force will add new research capabilities this year as the Air Force Research Lab, or AFRL, reorganizes to allow 720 of its 12,000 personnel—in the rocket propulsion and electro-optical divisions as well as in the space vehicles directorate—to realign with the Space Force, but stay under the larger lab structure. 
"Who goes into those positions is an Air Force matter," Thompson said in a separate interview. 
But more importantly, the new Space Systems Command will have a large role in working with AFRL leadership "to make sure that those organizations and the laboratory is focused on the science, technology and research activities that the Space Force needs," he said. 
A huge part of what the Space Force does is work with satellites, launch and other players in the private sector. Some of them, like SpaceX, are well known. Others less so. 
The Space Force is looking to expand both the number of low-Earth-orbit satellite communications owns as well as the amount it can buy from commercial service providers. Figuring out the right mix of what to own versus what to buy as a service is an ongoing discussion, Thompson said, one that changes and will change as companies start offering different products and services, like on-orbit servicing of satellites. 
The Space Force Commercial Satellites Communications Office, now part of Space Systems Command, has more than 40 contracts with a variety of commercial satellite communications providers for various services and capabilities, and the service is taking steps to expand its ability to reach new potential commercial partners, particularly those operating in low-earth orbit, Thompson said. 
"We're already working on a procurement approach to take all of those [companies or service providers] who meet our requirements… to put contracts in place so that we can buy commercial communications services from them. That certainly includes any provider who has capabilities we need who wants to enter a contract with us."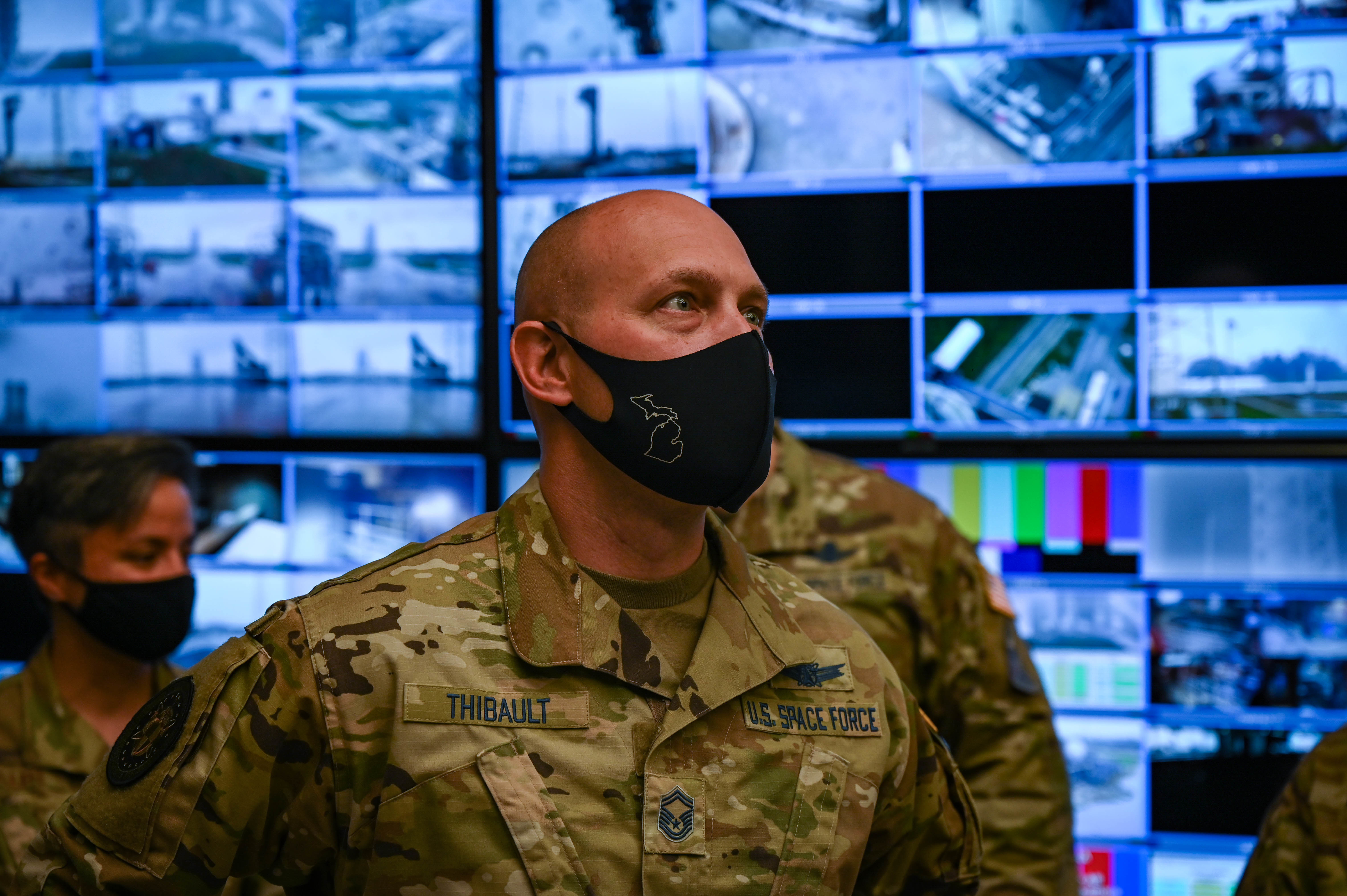 Senior Master Sgt. Lance Thibault, U.S. Space Command senior enlisted leader, attends a mission brief at Cape Canaveral Space Force Station, Fla., on April 20, 2021.
More so than other services, the Space Force is more comfortable with commercial enterprises playing a leading role in developing new capabilities and then buying those that are appropriate. 
Thompson likened the current state of the commercial space industry to automobile manufacturing at the start of the previous century. "There were a few manufacturers who built exquisite, high performance, wonderful cars. But there were very few of them. Only people with enough money could afford them." 
Then came the advent of the Henry Ford production line, which rapidly increased the scale of car production, creating new, much more affordable cars for mass audiences. The same thing is happening now with satellites, he said.
"We've been building military satellites in that coach-building mindset, very large, very capable, very expensive and very exquisite for a long time. SpaceX and many of the other commercial providers are building them small, fast and cheap on assembly lines. That's going to lead to a revolution in the way we all use space." 
But rapidly increasing commercial activity in space is as much a challenge as it is an opportunity for the Space Force. More objects in space means more objects to monitor. 
The U.S. Department of Commerce is going to take over more of that activity, allowing the Space Force to concentrate on developing "the more precise space domain awareness capabilities essential to characterizing threats in space and, in turn, enabling a whole-of-government response," Dickinson wrote in his testimony. 
Next year will see the Space Force continue its public messaging to build momentum in Congress and in public opinion. Since it was established in late 2019, Space Force has struggled to distance itself from the political legacy of former President Donald Trump, who directed its creation. It is a marquee program, along with the U.S.-Mexico border wall, that will define Trump's presidency, and for some critics had an uphill battle to be seen as anything other than an unnecessary vanity project that should have been dismantled after the election of President Joe Biden.  
In 2018, former NASA astronaut Sen. Mark Kelly, D-Ariz., was quick to slam the idea when Trump first announced he was going to create the sixth military service branch. 
"This is a dumb idea. The Air Force does this already. That is their job. What's next, we move submarines to the 7th branch and call it the 'under-the-sea force?' " Kelly tweeted at the time. 
Kelly's view has evolved. Since he was sworn in as a senator in December, Kelly has met twice with Raymond, according to his official schedule. 
Spokesman Jacob Peters said that "after speaking with USSF leaders including Gen. Raymond, Sen. Kelly is encouraged to hear they are taking an innovative and agile approach to meeting the current moment, and will work on the Senate Armed Services Committee to maintain our competitive edge in space, conduct careful oversight, and ensure that Space Force is successful as a service."
The Biden administration has also said the Space Force is here to stay, and with that support the service has pressed on to win hearts and minds.
It's a difficult mission for Raymond, who can't talk publicly about much of what the Space Force does due to the classified nature of the technology the service handles. It's also a challenge because defense of space, for many, is a hard-to-grasp idea—with its need to defend satellite radio wave transmissions and orbits, while defending against lasers, debris and non-orbital maneuvers. 
"Space doesn't have a mother, you know, you can't, you can't reach out and hug a satellite, you can't see it, you can't touch it," Raymond told journalists in February. "It's hard to understand that connection to space. And we'll keep working at it."


Sponsored by: