A slim plurality of Americans wants to cut military spending, according to a Gallup Poll released Thursday.
Thirty-seven percent said too much is spent on the military, compared with 28 percent who think the Pentagon is getting too little. Thirty-two percent of Americans say current spending levels are on target.
And those numbers have remained fairly consistent in recent years, even as the Pentagon's budget has been scaled back due to congressional spending caps.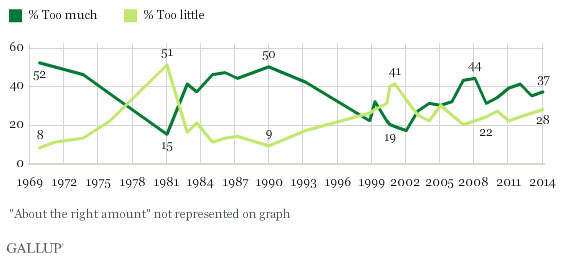 But there is a political gap on how much money the United States should put toward defense. Fifty-one percent of Democrats—but only 20 percent of Republicans and 37 percent of independents—believe too much is spent on the military.
Gallup's Poll was conducted from Feb. 6-9, with telephone interviews of 1,023 adults. The margin of error was plus or minus 4 percentage points.
The results come as the Pentagon prepares to unveil its fiscal 2015 budget request next week. Defense Secretary Chuck Hagel offered a preview Monday, and Pentagon officials have appeared at a handful of events around Washington to defend the proposal.
But members of Congress are already opposing a number of provisions in the budget, including a request for a round of base closures, the elimination of the A-10 fleet, and the scaling back of the active Army to 440,000 from 450,000.