sponsor content What's this?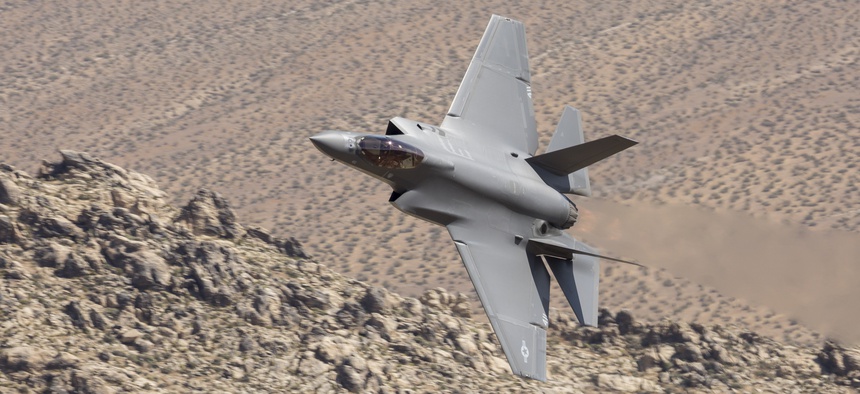 AI and Autonomy Promise to Be the Next 'Capability Multiplier' for the Defense Department
As autonomy and artificial intelligence evolve to improve human capabilities, Lockheed Martin calls on decades of innovative experience in flight to pave a path forward.
When it comes to achieving the mission, assembling the best team for the job is paramount to success. These days, assembling a team doesn't just include bringing in people with the right skills, it means leveraging the right machines as well.
"Sorting through data to find specific information in a limited timeframe is a task where machines outperform humans. Humans know the best way to use the data once it's compiled," explains George Hellstern, a Program Manager at Lockheed Martin, who has been with the company for more than 20 years.
Lockheed Martin has been developing trusted AI technologies to help humans maximize safety, performance and situational awareness across all domains for decades. In 1943, the company launched its Advanced Development Programs (ADP), also known as the Lockheed Martin Skunk Works® —  and ever since, it has been redefining what's possible.
"We do this through a focus on small teams, strong customer relationships and relentless innovation, while adhering to Kelly Johnson's motto: 'Be quick, be quiet, be on time,'" says Hellstern.
The company's Artificial Intelligence (AI) and Autonomy team (ADP-AI) is a part of the Mission Systems Roadmaps (MSR) organization and builds from a legacy of autonomy innovation with a suite of underlying tools to facilitate AI and autonomy development. Lockheed Martin's Enterprise Open System Architecture Mission Computer 2, Open Mission System, Universal Command and Control Initiative, and the Common Mission Software Baseline are hallmarks of the MSR team. And today, they're paving the way for future solutions.
While the ADP-AI team works on the innovation front, MSR's Demonstrations Team has been integrating autonomy technologies on manned and unmanned platforms. Recent demonstrations include the Have Raider I and II, where they pushed the boundaries of how autonomous systems adapt to increasingly complex operational environments — and enhance operations by teaming up with manned aircraft.
"To this broad set of technologies, MSR brings AI-enabled autonomy to bear on manned and unmanned platforms, enhancing and extending capabilities to the warfighter and inverting the pilot-machine ratio," Hellstern notes.
A History of Autonomy and Innovation
It's no surprise, then, that even while autonomy is introduced to operations in agencies across the public sector, it is something already integrated into Lockheed Martin's systems and factories.
"In its simplest form, autonomy is the replacement of routine manual processes with machines," explains Hellstern, noting that automation, a basic form of autonomy, is typically a very repeatable, frequently scripted implementation. "In aircraft, an example would be how the autopilot functions."
While automation might not be new, as Lockheed Martin continues to demonstrate, the world of autonomy is expanding and it will take careful innovation and know-how to vet and introduce novel capabilities safely to the warfighter.
"Automation helps people be more efficient and effective, and autonomous capabilities are required to deal with novel situations and dynamic environments," Hellstern says. "Moving to greater levels of autonomy requires new and expanded test and evaluation capabilities to make sure systems are performing within bounds."
That is why Lockheed Martin is working carefully to accelerate integration and adoption by using agile, iterative processes for development, modeling, testing and implementation. The company works alongside customers to understand and align goals as they develop new processes and capabilities. One such capability is a push to enhance operational effectiveness of the warfighter in denied communication environments, something Lockheed Martin recently demonstrated in partnership with the U.S. Air Force Test Pilot School.
Leveraging the power of artificial intelligence, an autonomous Intelligence, Surveillance, and Reconnaissance (ISR) system, integrated into an F-16 through a Lockheed Martin-developed pod solution, detected and identified the location of a target, automatically routed to the target, and captured an image to confirm the target classification in a simulated, denied communications environment.
"Using an autonomous ISR system to penetrate contested environments and gather critical intelligence for effective decision-making — when standard communication between systems is not an option —  keeps the warfighter out of harm's way while achieving mission objectives," Hellstern says.
The Human-Machine Dream Team
Even as AI and autonomous systems continue to enhance operations and capabilities, there is often the fear AI will replace human workers. What's clear, however, is that as AI and autonomy continue to enhance what humans are capable of, humans and machines will only continue to work more closely together.
A great example of this human-machine collaboration is the Auto Ground Collision Avoidance System (Auto GCAS), which aims to reduce incidents of controlled flight into terrain (CFIT). The Auto GCAS, developed jointly by Lockheed Martin Skunk Works®, the Air Force Research Laboratory and the National Aeronautics and Space Administration (NASA), is designed to reduce incidents of CFIT. According to U.S. Air Force statistics, G-induced Loss of Consciousness (GLOC), Spatial Disorientation and CFIT incidents account for 48 percent of aircraft losses and a staggering 75 percent of all historical F-16 pilot fatalities.
The system consists of a set of complex collision avoidance and autonomous decision-making algorithms that use precise navigation, aircraft performance and on-board digital terrain data to determine if a ground collision is imminent.
"If the system predicts an imminent collision, an autonomous avoidance maneuver is commanded to prevent ground impact. The Auto GCAS executes in the background and automatically provides protection whether the pilot is distracted, task-saturated, incapacitated or unconscious," says Ed Griffin, the Senior Manager for the Auto GCAS system.
While the system does feature a pilot override function, no action is required by the pilot to trigger this maneuver. And it works: It has been credited with nine saves — 10 pilots in nine F-16s — since it went into service in 2014.
This, says Hellstern, is the perfect example of how autonomy can enhance human capabilities, paving the way for further advancements with AI.
"The system is not designed to replace a human or human decision, but provides an added feature, enhancing safety and demonstrating how humans and machines can work together," he says.
Ultimately, as LM looks toward the future, the human-machine partnership will be crucial in continuing to improve operations, deliver on the mission and keep the warfighter safe in an ever-evolving battlespace.
"Our approach to implement autonomy and AI is to make it a capability multiplier," says Hellstern.
"We want to assemble the best team for the mission, and believe future teams will rely on the combined strengths of humans and machines."
This content is made possible by our sponsor Lockheed Martin; it is not written by and does not necessarily reflect the views of Defense One's editorial staff.