sponsor content What's this?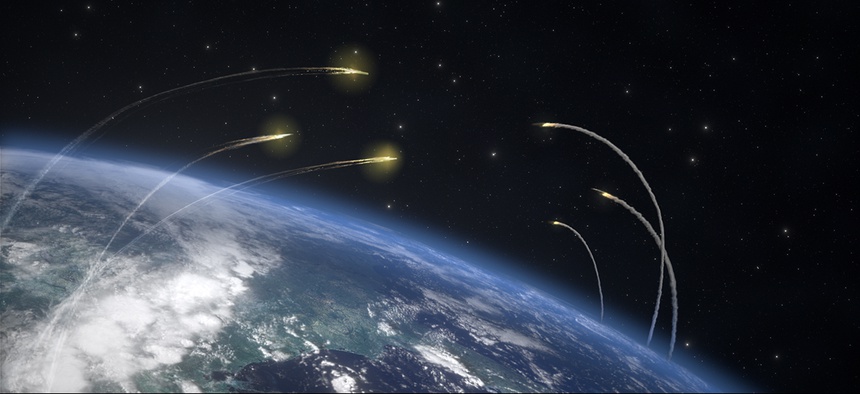 Next Generation Interceptor: The Nation's Next First Line of Defense Against Ballistic Missile Threats
Ballistic missiles in the inventories of our adversaries pose an existential threat to the United States. The homeland's fielded Ground Based Interceptor (GBI) fleet, based at Fort Greely and Vandenberg Air Force Base, provides our first line of defense against intercontinental ballistic missiles (ICBM). However, it is an aging, operational prototype system which is insufficient to meet the growing threat.  With the termination of Missile Defense Agency's (MDA) Redesigned Kill Vehicle (RKV) program and a replacement fielding in the late 2020s, the United States must invest now to field layered systems that will keep pace with the evolving missile capabilities of these adversaries.
The MDA, in consultation with United States Strategic Command, United States Northern Command and the Office of the Secretary of Defense, has initiated the Next Generation Interceptor (NGI) acquisition to combat this evolving threat. The MDA released a final request for proposal on April 24 highlighting the strategic importance of meeting mission objectives by establishing realistic and achievable technical, cost-oriented and scheduling goals. NGI will become the homeland's first line of defense against ballistic missiles and deliver on this critical mission. 
NGI is designed to be an operational weapon system that meets the current rogue nation ballistic missile threat with the capacity to outpace future evolving threats arrayed against our homeland. Previous programs were rushed into development resulting in missiles which required continuous, expensive upgrades and prevented the program from keeping pace with the threat. The RKV did not provide a substantial increase in the capability to meet the future threat. RKV's fielding was pushed beyond 2025 and was terminated after critical components failed to meet basic systems engineering requirements. 
Conversely, the NGI will embrace 21st century innovations such as multiple kill vehicle technology, digital engineering, DevSecOps and modular architectures.  NGI will ensure an unassailable modern strategic capability is provided to the military defending our nation.     
While we are confident in our nation's ability to defend our homeland, allies and partners from today's current rogue state missile threats, the future is far from certain. North Korea and Iran continue to advance their ballistic missile capabilities to threaten and undermine our resolve. The Department of Defense (DoD) must evolve a layered homeland missile defense architecture to defend against these threats. 
Improvements in the first layer, Ground Based Midcourse Defense (GMD) and NGI, are already underway. The DoD is ensuring the reliability of the 44 fielded ground-based interceptors (GBI) through regular testing and service life extension programs, providing an adequate defense while the NGI is under development. Interim-GBI solutions do not provide capability enhancements above and beyond the fielded GBI program and will only siphon funding for NGI, delaying the objective capability deemed by the JROC as required to defend the homeland for decades to come. 
The creation of a second layer provides an opportunity to add capability complimentary to NGI. The MDA is conducting an ICBM intercept test using Aegis Ballistic Missile Defense (ABMD) and a SM-3 Block IIA, designed for medium-range ballistic missiles (MRBM) and ICBMs, as a near term option to augment the GBIs. They are also evaluating the use of Terminal High Altitude Area Defense (THAAD) for homeland defense against incoming missiles in their terminal phase. A layered approach comprised of NGI, Aegis BMD and THAAD could be available in the mid to late-2020s, which strengthens our defense against a rogue state missile attack. Having spatially dispersed interceptors allows for multiple engagement windows against the same in-bound threat. This layered approach, provides defense-in-depth, increases reliability, resiliency and overall system effectiveness. The layered defense also acts as a deterrent, sowing uncertainty in an adversary's plans, allowing our leaders to negotiate from a position of strength. 
The rogue state threat will continue to evolve for the foreseeable future.  As such, the United States must field a layered homeland defense capable of countering our adversaries' advancements and this acquisition must be treated as a national priority.
The views expressed are those of Lockheed Martin and do not constitute an endorsement by the Missile Defense Agency (MDA).