sponsor content What's this?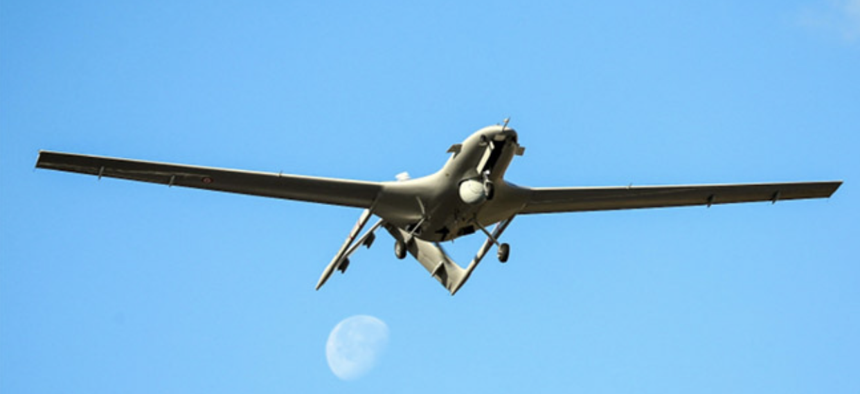 Building A Pentagon For The Digital Age
The ability to get information to front-line forces is becoming increasingly important in warfare, according to panelists at the Sea Air Space exhibition outside Washington, D.C., in early April. Above, is a Turkish Bayraktar TB2 drone, which Ukraine has successfully used against Russian forces. Kyiv has built a network connecting weapon systems such as the Bayraktar with sensors using cell phones and the Starlink satellite internet system.
Preparing for future threats is an ongoing process. While much public attention is focused on the latest technologies being pursued by armed forces around the world, greater attention may need to be paid to the behind-the-scenes processes and enablers needed for the effective employment of military power. This has been a recurring theme at service conferences in recent years and the Navy League's Sea-Air-Space show outside of Washington, D.C., earlier this month was no exception.
On April 4, a distinguished panel of former flag and general officers discussed where the Navy needs to go to keep up with adversaries and meet the challenges of the future. Retired Adm. Scott Swift, who commanded U.S. Pacific Fleet from 2015 to 2018, moderated the panel, which consisted of retired Air Force Brig. Gen. Richard Stapp, the vice president and chief technology officer for Northrop Grumman; retired Rear Adm. Danelle Barrett, who served as director of the Navy Cybersecurity Division; retired Rear Adm. C.J. Jaynes, the executive technical adviser for intelligence and space for Raytheon Technologies; retired Air Force Maj. Gen. Matt Molloy, the director of the National Security Group and DoD Program Management Office for Dell Technologies; and retired Rear Adm. David Welch, who last served as the commander of Carrier Strike Group 15.
Under the title "Understanding the Threat of Tomorrow, and the Capabilities Needed to Win," the panel discussed the rapidly changing technological environment and the threats posed as adversaries obtain new and advanced capabilities. The conversation quickly moved away from weapons and focused on the processes and capabilities needed to exploit new technology and how the Defense Dept. is struggling to keep up. Beyond the acquisition of new equipment, stovepipes that hinder information-sharing and over-classification of data were identified as key weaknesses.
A Changing World 
The panel identified several potential threats to the U.S. Navy in the technology sphere. These include transformations as a result of the ongoing acceleration and convergence of advanced technologies. Barrett, a former Navy cybersecurity official, noted that this is a two-way street, offering new ways for the U.S. to affect its adversaries as well as avenues for opponents to affect U.S. forces. She said that analysts must look for such general convergence points and think about their implications.
For example, satellite technology has become increasingly vital for U.S. military communications. At the same time, it has become a vulnerability that adversaries seek to exploit. In November, Russia tested an antisatellite weapon, a capability China demonstrated in 2007.
Alternative methods of communications, such as laser-based systems, will need to be developed and fielded. This is of particular concern as adversaries have become increasingly adept at finding and targeting electromagnetic signatures, said Barrett.
Hypersonic weapons, which travel at speeds greater than Mach 5, are a field of increasing competition between the U.S. and its adversaries. Russia has already debuted some of its hypersonic weapons during its unprovoked war in Ukraine, noted Molloy, the national security director at Dell. He emphasized that the U.S. has the technological capability to go after such threats but is often hindered by a slow and burdensome acquisition process. In the current digital era in which everything is moving quickly, from technological development to decision-making in war, speed is a growing asset.
Another concern identified by Barrett is China's digital strategy, a US$2.7 trillion program to build the infrastructure to become the technological leader for artificial intelligence and virtual ecosystems through 5G, large data centers and the necessary links. Meanwhile, the U.S. has no such coordinated national strategy, including programs to educate more data scientists and engineers. The U.S. is outnumbered by the Chinese, so optimizing the use of technology such as AI and machine learning is vital. In addition, the U.S. will need to mitigate quantum computing, which would allow adversaries to break its cryptology. Collaboration with industry and overcoming institutional resistance and inertia will be vital to meeting the challenge, she said.
Velocity Versus Speed
The moderator, Scott Swift, the former Pacific Fleet chief, expounded on the idea of velocity, as opposed to speed, as a factor for the Navy going into the future. It is not enough to go fast; the service needs to know where it is going. Accordingly, it must identify the most important areas it needs to navigate within as well as spaces it expects to be active in within three to four years.
While technology can be an enabler, it needs to be pointed in the right direction, Swift said. The Navy must figure out how to apply it in the areas from which it will gain the most benefit. This means understanding the problems it is facing and how technology can help solve them. Among these problems is getting the needed data to the right weapon. This means more system integration and fewer stovepipes or policy barriers among the military services, allies and other partners.
Open architecture is one way to take advantage of the rapid pace of technological development, said Jaynes, the Raytheon adviser. She used the Apple iPhone as an example, noting that app developers bring their products to the platform rather than having the platform-maker determine what applications can run on it. This is a boon to competition, which can lower costs and increase efficiency.
Getting Data Where It Needs To Be
Stapp, the Northrop Grumman VP, emphasized the need for open data standards to increase the availability and usability of information. The military is moving from a platform-centric to a data-centric paradigm, which requires information to move quickly and easily from collectors to operators. Weapons do not care where the data they use comes from, he said. It is more important to get the right information to the right user at the right time.
The problem of stovepipes and over-classification of information within the military is a policy issue, Stapp said. One way to overcome some of these problems is to mix information from various sources, including open sources, to obfuscate classified sources and lower the classification to enable wide use. The military needs to get more comfortable mixing data at the high end so that it can be pushed out at lower levels of classification, he said.
The importance of making it easier to share data was not only discussed at this panel. Lyston Lea II, the former principal adviser to the U.S. National Maritime Intelligence Integration Office, spoke about the need to make it easier to share and deliver unclassified data in a panel about Atlantic maritime security.
Another consideration is that any new or improved system of information transfer must be in place and trained on ahead of a conflict. It does no good to have a system that cannot be used seamlessly in a fight, said Stapp.
War Speeds Up
The numerous data formats in use are also a concern. Barrett called this a leadership problem rather than a technological one. Putting most data in a single format would improve the transfer of information and its use and could be implemented by leaders now. Currently, users must create interfaces so that different formats can interact. As speed becomes increasingly important, those interfaces become roadblocks that hinder the rapid transfer and employment of data.
As an example, she pointed to the Ukrainian development of a broad command-and-control system during the first six weeks of the war against Russia. The armed forces combined a variety of weapon systems -- from Turkish Bayraktar TB2 drones, Javelin anti-tank missile systems and Switchblade 600 loitering munitions -- with Starlink satellite networks and cell phones, developing new processes to "kill tanks."
In contrast, the U.S. armed forces have been slowly putting together the Joint All-Domain Command and Control (JADC2) system, which seeks similar effects, through the Pentagon's antiquated procurement system. "Adversaries don't care about POM [Program Objective Memorandum] cycles," Barrett said.
Accepting Risk
The panelists agreed, in a common refrain at such professional conferences, that the military needs to do a better job of accepting risk. Molloy noted that much of the bureaucracy now in place was established to reduce risk. These well-intentioned efforts have instead created new risk. He observed that in the early 1970s, the Dept. of Defense produced what would become the F-16 and F/A-18 fighters, still in service today, during a four-year period, a stark contrast to the decades-long process to field the F-35. The armed forces need to get back to a prototyping mindset and be willing to "fail forward" to confront the challenges of the future.
Swift said that making such a change would require good leadership across the board. Everyone is too comfortable with the current culture, hindering needed reforms. He called for leaders to take the time and effort to change the culture, including encouraging personnel to ask "why."
There is also a need to start over, said Jaynes. It is not enough to try and reform the current system. Leaders need to take a fresh look at their areas of responsibility and devise new processes that take advantage of the latest technology. Roadblocks and barriers that inhibit the execution of their missions also need to be addressed. 
As one example, Welch, the former commander of CSG-15, said that current training using simulators leaves petabytes of data behind. Units fail to collect these data when they leave the training site, losing important information that could support future training or technology, he said. One factor is the need for data standards to make it easier to take information from one place to another for analysis.
Collaboration With Industry Vital
Speed is becoming more important in the acquisition process. Swift said that by the time equipment gets to the fleet, the threat has changed. Industry needs to be part of the process to bridge the gap between tactics and technology. Firms have knowledge of the technology but cannot implement it optimally if they do not know how it will be used on the battlefield. Welch said that existing warfighter development centers can link different communities. Training provides an important environment for industry and military communities to come together to experiment with the possibilities offered by technology. The better industry can understand the problems at the tactical edge, the better they can pursue the best technology to solve them, said Swift. The issue of making information available to those who need it remains, as well as the need to optimize people and their skillsets.
***
The panel discussion on future threats at Sea Air Space identified many of the problems the U.S. faces as it tries to prepare for the conflicts of the future. While the conversation may have been familiar to some audiences, it demonstrates that there remains more to do to prepare the Dept. of Defense and the armed services for the future.
The difficulty of the task was not lost on the panelists, who noted the realities of inertia during their time in uniform. The key takeaway is that good leadership and openness to new thinking will be required to reform the Pentagon to be a leaner, faster organization that can effectively address the challenges of the future. For those now in uniform, pick one issue to drive change on because otherwise the magnitude of the task can be overwhelming, said Barrett.
For the U.S. to be successful in future conflicts, it will need to have an organization capable of keeping up with the speed of data. On this front, there is still much work to be done.
Sources: "Understanding The Threat Of Tomorrow, And The Capabilities Needed To Win," Adm. (ret.) Scott Swift, USAF Brig. Gen. (ret.) Richard Stapp, Rear Adm. (ret.) Danelle Barrett, Rear Adm. (ret.) C.J. Jaynes, USAF Maj. Gen. (ret.) Matt Molloy and Rear Adm. (ret.) David Welch, Navy League Sea Air Space Conference, April 4, 2022; "Atlantic Maritime Security Concerns," Stephen Floyd, USCG Vice Adm. Steven Poulin, Lyston Lea II and Allen Gardner, Navy League Sea Air Space Conference, April 4, 2022.