U.S., U.K. Militaries Sidelined as Obama Challenges Russia
British Defense Secretary Philip Hammond says higher defense spending wouldn't have stopped Russia and NATO forces should stand down. By Kevin Baron
The United States and British defense secretaries seemed resigned to the fact that that there is little their militaries should do to reverse Russia's invasion and annexation of a NATO partner's territory and instead advocated for a series of non-military "consequences" for Moscow following a Pentagon meeting on Wednesday that was dominated by the Ukraine crisis.
As Russian President Vladimir Putin continues sending military weapons, equipment and supplies to fortify troops amassed along the Ukraine border, British Defense Secretary Philip Hammond said that a more aggressive Western military response would only embolden Putin. Hammond and Defense Secretary Chuck Hagel called for economic and diplomatic pressures rather than additional Western military action, in separate appearances in Washington.
Their comments came minutes before President Barack Obama delivered a major speech to NATO allies in Brussels that just weeks ago would have been unthinkable, in which he said "the contest of ideas" dating to the Enlightenment is again at stake in Ukraine. Obama eerily sounded more like President John F. Kennedy addressing the 1960s world order than a modern president facing 21 st century crises of global terrorism. Citing "the belief that through conscience and free will, each of us has the right to live as we choose," Obama sharply criticized Russia for forcibly annexing Crimea and invoked the American-based "self-evident" rights of citizens, while refusing to answer Putin's military aggression tank-for-tank.
"Now is not the time for bluster. The situation in Ukraine, like crises in many parts of the world, does not have easy answers, nor a military solution," Obama said.
Hammond, speaking to reporters at the British ambassador's residence in Washington, D.C., said that Western allies hope to wait out Putin's invasion into Crimea and wait for a "classic" Russian de-escalation to come before sending Western troops into a standoff.
"A more aggressive military response from the West would be playing into [Putin's] hands," he said.
"I think that there's a careful balance to be struck here. We are all hoping that there can be a de-escalation of this situation. We know that Russian military doctrine advocates escalating in order to de-escalate. That's what they do. So we have to focus on the de-escalatory phase now," he said. "We should not write off the possibility that this escalation that we're seeing is indeed simply the playing out of a classic Russian military doctrine."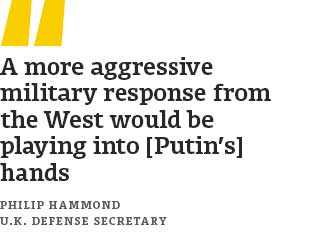 Hagel did not echo or voice support for Hammond's assessment, and said he holds Russian Defense Minister Sergei Shoygu to his word – made in a phone call last week -- that Russia has no intention to move further into Ukraine, despite its border buildup. "He told me that they had no intention of crossing the border into Ukraine. I told him that we looked forward to the Russians living up to their word, if that was the case. But the reality is that they continue to build up their forces," Hagel said at the Pentagon.
Hagel and Hammond both said that Russia would face non-military penalties for the invasion. "I think it's pretty clear that the isolation that Russia is bringing onto itself is going to have significant consequences for that country," Hagel said.
"What has happened is an illegal act," Hammond added. "We will not allow that to stand." At the embassy, earlier, Hammond said, "We judge that the most effective levers that we have with Russia are non-military: diplomatic, economic, energy policy levers. And we should - it's always tempting to look at the opponent and see strength, but we should also look for the weakness. The Russian economy is an Achilles heel."
But Hammond's call to wait out Russia's military buildup contrast sharply with U.S. critics of defense budget cuts claiming that larger U.S and NATO military forces would have discouraged Putin from invading Crimea, or are needed for any appropriate military response, should Russian troops advance westward.
"My own judgment is that it is unlikely that any realistic change in level of defense spending in Europe would have made a difference to Putin's calculus over these events," Hammond said.
President Barack Obama, in Europe for the Nuclear Security Summit, played down the Russian threat to Western power on Tuesday by dismissively referring to Russia as a "regional power." He is expected to bolster American support for NATO members in Brussels.
CORRECTION: The original version of this article mistakenly referred to Crimea as NATO territory. The article has been updated to reflect that Ukraine is considered a NATO partner, but not a member state.