Author Archive
James Jeffrey
Chair, Middle East Program, Wilson Center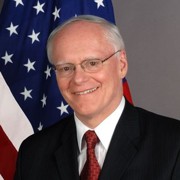 James Jeffrey is chair of the Middle East program at the Wilson Center, and a former U.S. ambassador to Turkey and Iraq.
Ideas
If and when a return to the agreement is reached, the Biden administration will also need to counter Iran's escalating efforts in the Middle East.
James Jeffrey and Dennis Ross

, The Atlantic
Ideas
It's reassuring to think the country wants only a defensive capability. It could very easily be wrong.
James Jeffrey

, The Atlantic
Ideas
Of course it would be daunting to solve the conflicts the Islamic State feeds on. But that isn't, or shouldn't be, the mission.
James Jeffrey

, The Atlantic