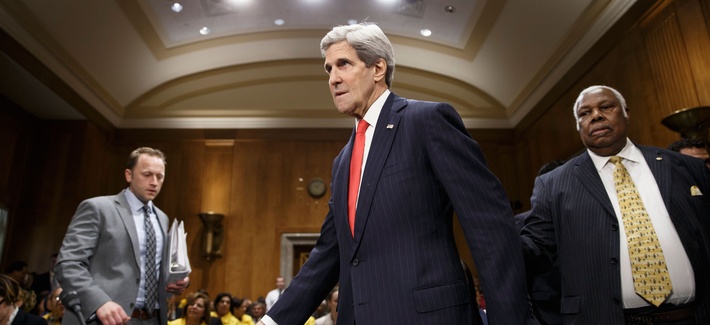 Kerry:
NATO

Members Must Increase Military Spending

Secretary Kerry, claiming Russia has 'escalated the crisis even further' in Ukraine, tells under-spending NATO member states it's time to pay up. By Ben Watson
In a stern warning from Washington, Secretary of State John Kerry urged NATO members in Europe to increase their defense spending over the next five years in the face of escalated Russian efforts to destabilize Ukraine and "change the security landscape of Eastern and Central Europe."
"We cannot continue to allow allied defense budgets to shrink," Kerry said in an address to the Atlantic Council in Washington, D.C., on Wednesday. "Together we have to push back against those who try to change sovereign borders by force."
This latest plea from a senior Obama administration official for European capitals to increase defense spending is perhaps one of the most forceful heard in several years, and it may have the greatest chance for traction as Russia continues to defy Western pleas to stand down it's Ukraine invasion.
For years, NATO has held a standard that members should afford at least 2 percent of their GDP for defense spending. Instead, the U.S. and larger allies foot the vast majority of the bill. U.S. investments currently account for more than 70 percent of NATO military spending, whereas during the Cold War the U.S. tally was closer to 50 percent. While the Soviet Union disintegrated during the first half of the 1990s, European NATO members spent an average of 2.7 percent of GDP on defense. And while the recent global economic recession hit nations like Greece and Portugal particularly hard, the European member state average by 2013 had fallen to 1.6 percent of GDP.
"Clearly not all allies are going to meet the NATO benchmark of two percent of [gross domestic product spending for defense] overnight or even next year," said Kerry. "But it's time for allies who are below that level to make credible commitments to increase their spending on defense over the next five years."
Russia, said Kerry, has taken "not one single step…in any public way that seriously attempts to live by the spirit or the law of what was signed" in the Geneva accord on April 17. "In fact, it's fair to say they have escalated the crisis even further."
The Obama administration for years has been frustrated at NATO members' unwillingness to take the financial burden of European security off Washington's hands. Former Defense Secretary Robert Gates, in a scolding final speech at Brussels in 2011, said, "I am the latest in a string of U.S. defense secretaries who have urged allies privately and publicly, often with exasperation, to meet agreed-upon NATO benchmarks for defense spending." Last September, NATO Secretary General Anders Fogh Rasmussen, said, "European nations can, and should, do more, to match America's commitment."
"Together we have to make it absolutely clear to the Kremlin that NATO territory is inviolable," Kerry said Wednesday. "We will defend every single piece of it. Article 5 of the NATO Treaty must mean something, and our allies on the front lines need and deserve no less."