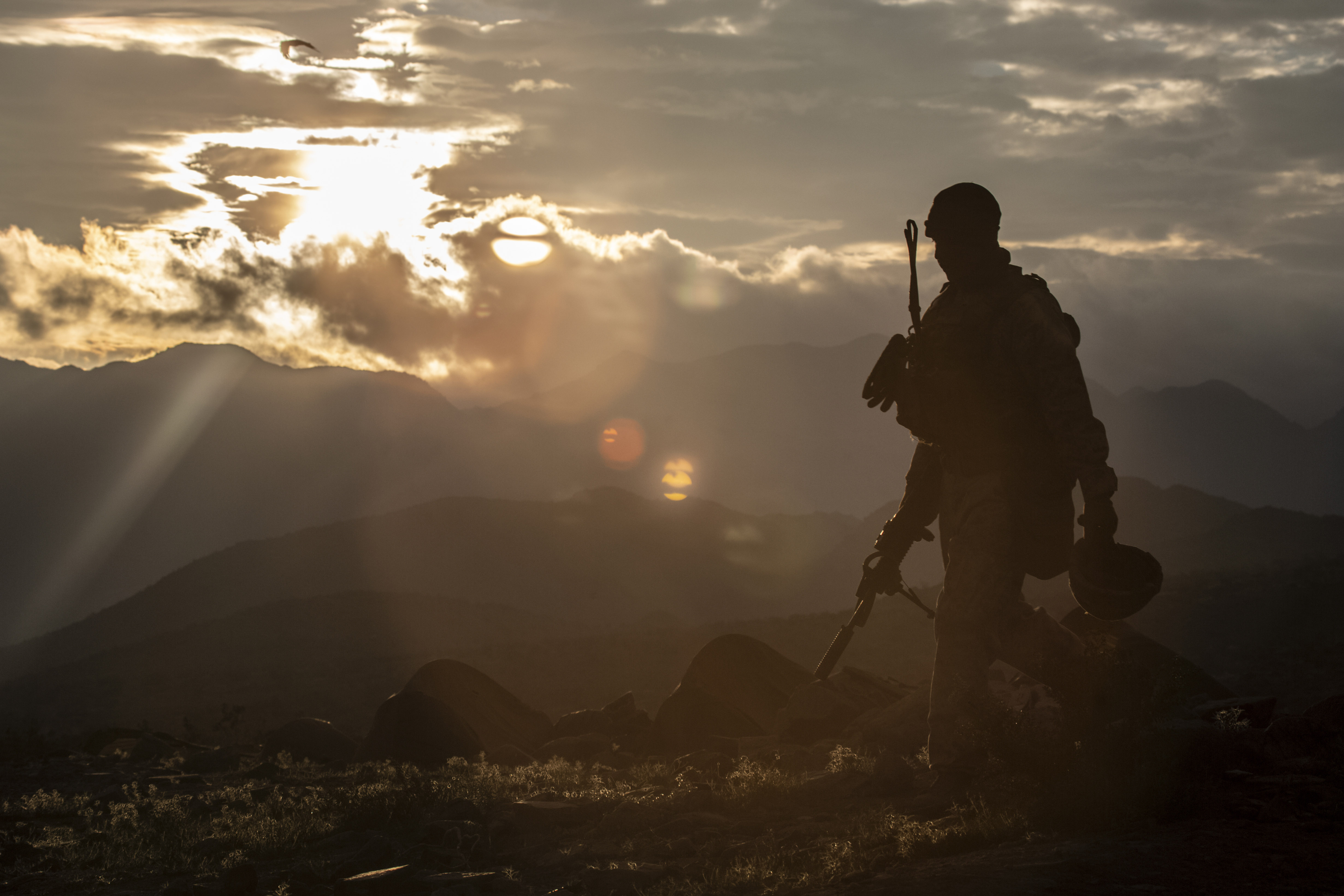 By Kevin Baron, Ben Watson, Marcus Weisgerber, Katie Bo Williams, and Bradley Peniston
Introduction by Kevin Baron and Katie Bo Williams
As the dust settles from impeachment and a near-war with Iran, it has become clear that President Donald Trump plans to use his fourth year in office to push for dramatic changes to the Defense Department that focus the military on preparing for war with China and Russia — changes Defense Secretary Mark Esper aims to make "irreversible." 
We'll see about that. One thing is certain: under Trump, nothing is certain. 
The president, elected in part by people weary of U.S. military interventions overseas, has sought largely unsuccessfully to "bring home" U.S. troops. Pentagon officials continue to insist that U.S. troops will leave Syria as soon as they have ensured "the enduring defeat of ISIS," something the president has repeatedly and falsely claimed has already been done. But then there's the question of all the other far-flung counterterrorism missions in which U.S. is engaged around the globe, like in Africa. As the administration tries to refocus its attention on great power competition with China and Russia, will more of CT missions see reductions in 2020? What will that mean for the Pentagon?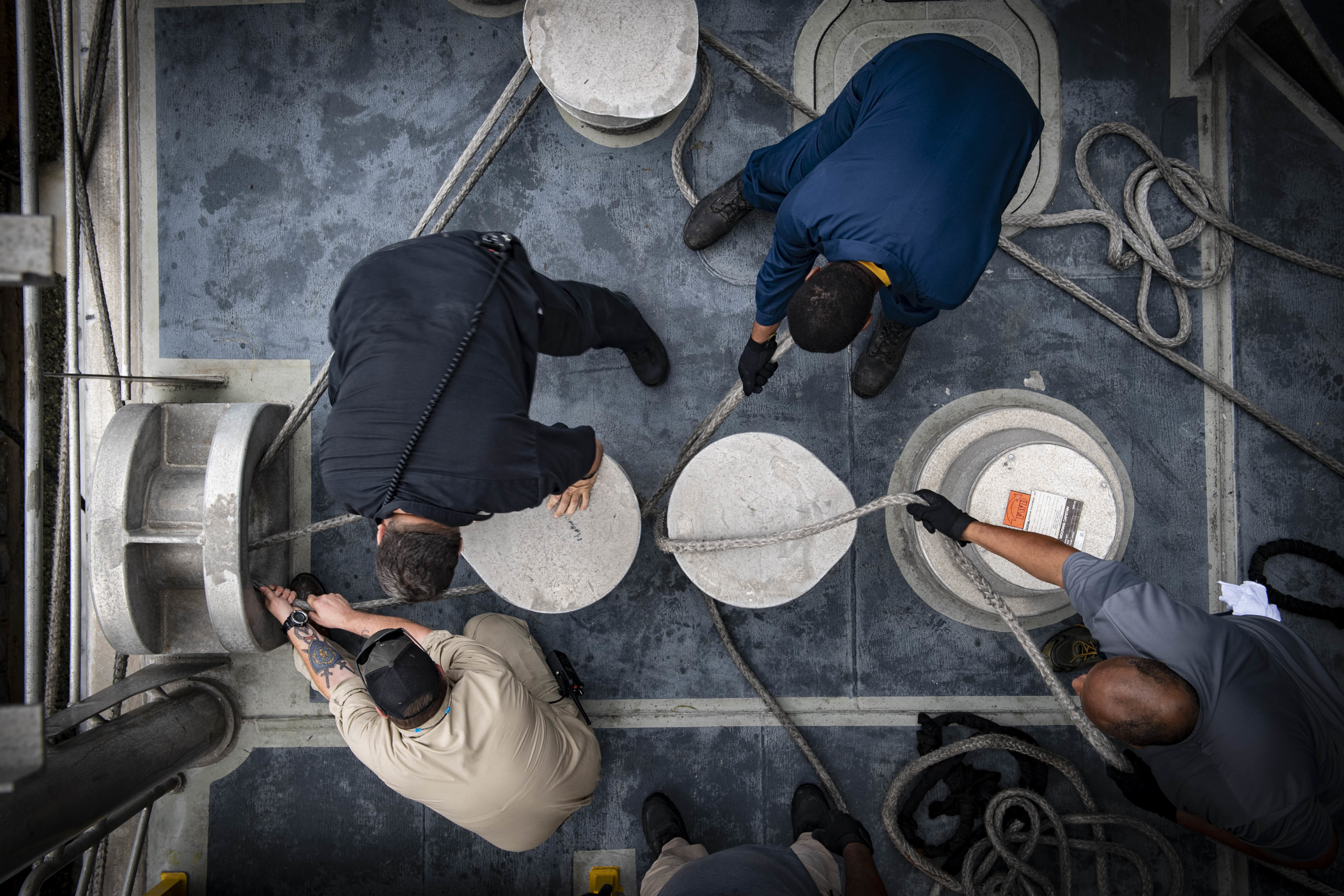 Mariners of the Military Sealift Command heave line as the fast transport ship USNS Carson City (T-EPF 7) arrives in Abidjan, Cote D'Ivoire, July 15, 2019. 
By the end of January, Trump appeared ready to try again, at least in Afghanistan. Pentagon officials reportedly mulled a drawdown of roughly 3,000 or 4,000 troops. By mid-February, Defense Secretary Mark Esper announced that the United States and the Taliban had a new deal; if the Taliban could abide by seven-day ceasefire, it would lead to conditions-based U.S. force reductions and direct peace talks between the Taliban and the Afghan government. If it works, Trump's legacy will include the peace deal to end the Afghan war and potentially a complete withdrawal from Afghanistan. If it fails, and if American troops must remain, he'll at least get credit for trying. 
The U.S. and Iran edged perilously close to a confrontation in 2019 and the first few weeks of 2020. Pushing back against Trump's so-called "maximum pressure" plan, Iran downed a U.S. drone, attacked a Saudi oil facility, and seized a British-flagged tanker over the summer. Trump, in turn, ordered — then canceled — airstrikes on Iran and launched clandestine cyberattacks on Tehran. Then, the coup de grâce: Trump ordered a hit on Iran's most important security leader, Gen. Qassem Soleimani. Iran retaliated with ballistic missiles that left more than 100 U.S. troops with brain injuries. Tensions seemed to have cooled, but Iran continues to move away from curbs on its nuclear weapons program put in place under the 2015 nuclear deal, as the Trump administration continues to levy sanctions. Will this ceasefire last, either?
In November, Trump will square off with a Democratic nominee for president. Many national-security topics are up for debate, including the future of U.S. leadership on the global stage. It's still an open field on the Democratic side and the choices are diverse: former Vice President Joe Biden is touting his deep foreign policy experience and clinging to a moderate position; anti-interventionist Sen. Bernie Sanders, I-Vt., is calling for the United States to turn its focus inwards; late-entrant Michael Bloomberg, former New York mayor and billionaire media mogul, threatens to upend all predictions. Which viewpoint prevails in the primary will shape the contours of the general election in November, especially on divisive issues like arms control, climate change, multilateralism and alliances. During the campaign, expect to hear more about how much the United States should spend on defense, versus on non-military State Department and USAID programs tied to preventing global counterterrorism and building U.S. influence. 
One item still up for debate: Space Force. We have a new military service branch. Well, so far we only have one member of it: the commander, Gen. Jay Raymond. Call him a space ranger, space cadet, space marine — heck, not even Space Force knows what to call themselves. Look, Space Force still gets no respect. Nobody likes the name, uniforms, or Star Trek-looking patch. Is Space Force really here to stay? The new service has congressional approval, a 4-star general, a budget, and a mission. By the end of the year, they're expected to have the first 6,000 members, transferred from the Air Force. But several Democratic candidates opposed creating Space Force. Would they have the gumption to abort it? So far, Space Force invokes more comedy than comity. "Space Force" is the title of a new Netflix series starring Steve Carell in "the story of the men and women who have to figure it out." That's no joke.
The rest of the Air Force has a big year of change ahead; its top three leaders are due to cycle out. Chief of Staff Gen. David Goldfein's ceaseless mission to network everything will outlive him. It's a priority for any future fight with China, especially. But will it work? Will future Air Force leaders be as willing to sacrifice air power for computer power? That's the gamble and the Air Force again this year has proposed cutting a long list of older aircraft (like the A-10) and transferring those savings into Goldfein's networking idea. Robot warfare is coming, if only they can find the money. Marcus Weisgerber walks us through what to expect.
For the Army, being ready for great power competition means having all of the fast-responding Security Force Assistance Brigades, or SFABs ready — and they're not. But troops are deploying at greater numbers and a faster pace than expected. One new twist for the age of information warfare: some can't take cell phones or laptops with them. Ben Watson has more on the Army's year to come.  
Keeping with the "what's old is new again" theme, Navy watchers are back to counting ships. It seems what's big enough is really the thing that keeps changing. Navy leaders keep telling their civilian bosses that the fleet is nowhere near large enough to do what on paper the U.S. proclaims they can. The 355-ship Navy is still the goal, but the budget is never going to allow it and it appears the Pentagon is open to finding another way to meet that number: by including unmanned vessels. The better question to ask in 2020 is: will politicians stop counting ships and start finding ways to get on more even keel with their Navy counterparts? Great power competition doesn't have to mean conflict, but it certainly will mean control over sea lanes and shorelines. The Marine Corps is less concerned with its size, but with how you use it. The new commandant, in his first budget request, has proposed cutting troops to find savings for, you guessed it, great power competition. But more interesting to watch will be how he is pitching changes from headquarters to small units, resizing, reorganizing, and reequipping the Corps to become a first-responder in the great power competition era. 
All of these changes to the military service branches are bold. They are based on the prediction that great power competition is the governing paradigm of the near-, middle-, and long-term future. For any of them to last, however, there's one prediction that must still come true: Trump has to win reelection in November.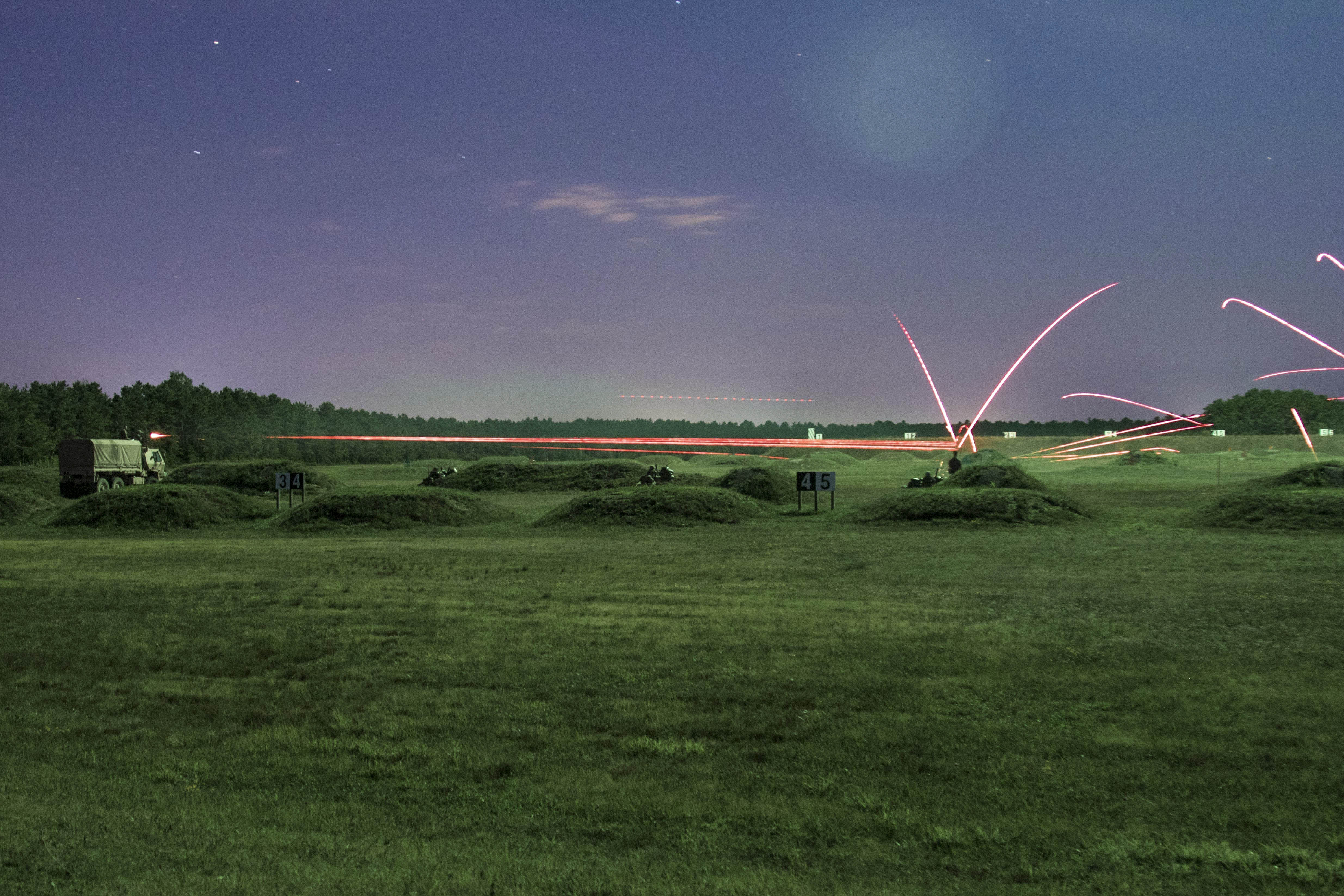 Army leaders predict "transformational changes" in 2020. But Middle East tensions are still slowing the pivot to great power competition.
We'll start with the good news: The U.S. Army is in a much better position than it was one year ago. For starters, there's no recruiting shortfall like there was last year. And so the service now appears poised to become the flexible, well-equipped force former leaders like current Joint Chiefs Chairman Gen. Mark Milley envisioned less than two years ago when he was Army chief. But there is a long way to go still before the service is ready for the sort of "great power competition" in the Pacific envisioned by the latest National Defense Strategy.
That's partly because the Army is still trying to build up its special brigades — Security Force Assistance Brigades, or SFABs — designed for deployments to a variety of hot spots around the globe. The eventual plan is to build up six SFABs, one for each of the five combatant commands — Central Command, Southern Command, European Command, Indo-Pacific Command, and Africa Command — plus an additional brigade for the National Guard. So far, three have been stood up; and the units have only deployed to Afghanistan, where attrition problems were particularly brutal. But that's due to change very soon: AFRICOM will receive parts of the 1st SFAB in just a couple of weeks, the Army announced in mid-February.
Transformational change is how we get overmatch and how we get confidence in the future. U.S. Army Chief of Staff Gen. James McConville
China's backyard could be next. In line with NDS "great power" planning, Army Secretary Ryan McCarthy said in January that an SFAB for the Pacific region could begin to fall into place as early as Oct. 1 — with advisers possibly from the 5th SFAB out of Fort Lewis, Wash., arriving to Indo-PACOM first, and the full brigade getting staffed over the course of the following months. None of this is terribly clear or very public just yet. And that's just for one combatant command. Officials aren't talking about possible ready dates for the full SFABs eventually assigned to Africa, Europe and South America, or when the NG brigade, known officially as the 54th SFAB, will be ready to roll. 
At any rate, "Just because [SFABs are] aligned to Africa or Europe, doesn't mean they aren't going to go to Afghanistan," McCarthy said. "At the end of the day, if we have troops in contact — we have a commander that needs a capability — [Defense Secretary Mark Esper] can pull forces from anywhere in the world. And maybe at the dismay of a combatant commander in another region, but they're going wherever the sound of the guns are."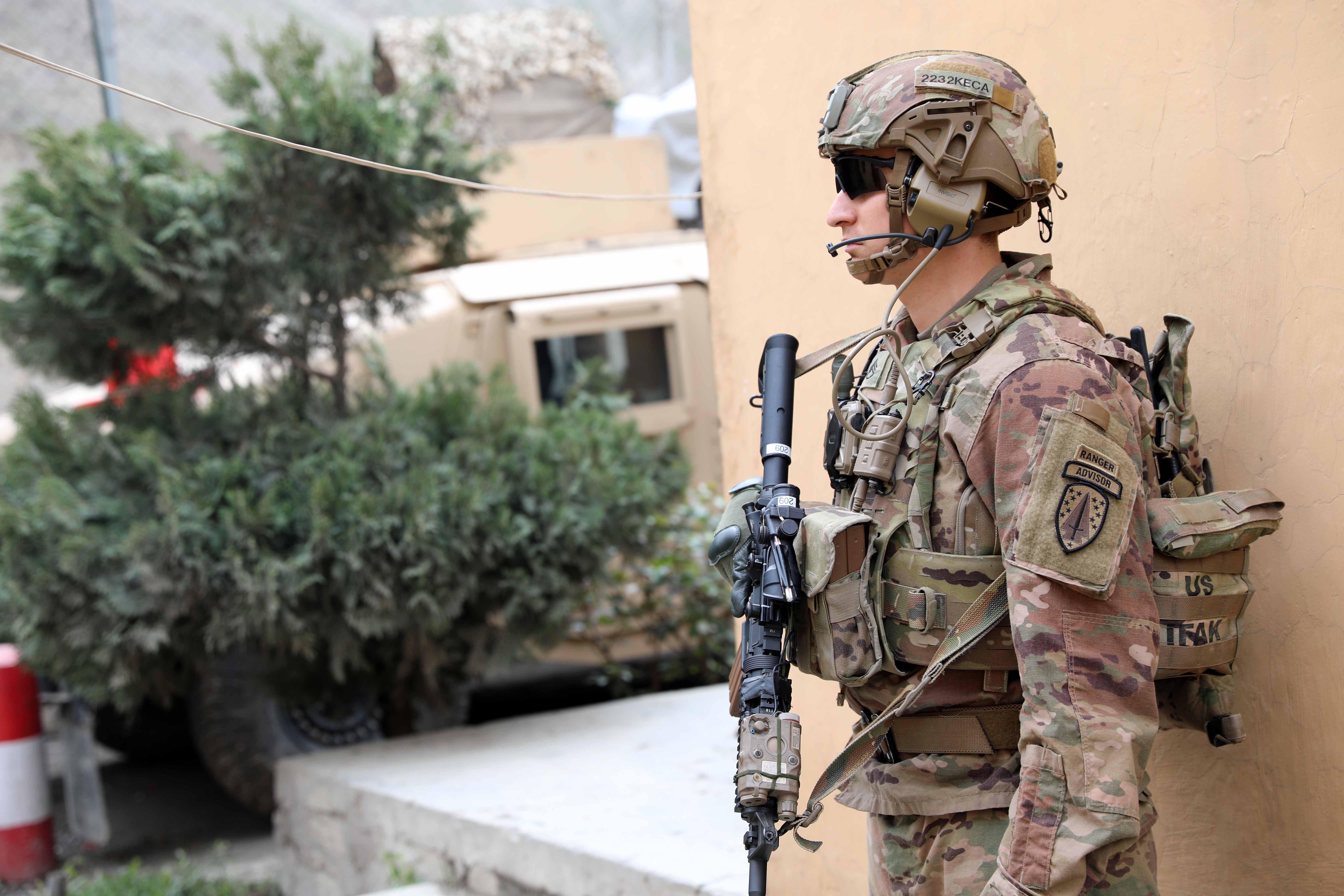 An advisor from the 2nd Security Force Assistance Brigade, at an undisclosed location in Afghanistan on April 13, 2019.
And SFABs, of course, aren't the only ones going toward the sound of the guns. The 101st Airborne's 3rd Brigade Combat Team just surged to Kenya in response to the Jan. 5 al-Shabaab attack on the U.S. base in Manda Bay. That unit is assigned to AFRICOM as a crisis response force. Another of the Army's global response units is in Kuwait. Some 3,500 paratroopers from the 82nd Airborne arrived at CENTCOM's area of operations immediately after the Jan. 3 U.S. airstrike on Iranian Gen. Qassem Soleimani.  
Also notable about those recent deployments: Soldiers were ordered to leave laptops and cell phones behind. This is at least partly because the Army is deliberately broadening the way it fights to what it calls Multidomain Operations — incorporating plans and actions across space, cyber, air, sea, and the Army's natural domain, land warfare. That's all because, as Milley wrote in 2018, "Strategic competitors like Russia and China are synthesizing emerging technologies with their analysis of military doctrine and operations… Therefore, the American way of war must evolve and adapt." The idea is to have an entirely new way of conducting warfare by 2028, which is enormously ambitious; but, as Milley wrote, would also be just "the first step in our doctrinal evolution." 
According to the Army's new chief, Gen. James McConville, the changes ahead are going to feel as different as a rotary phone is from an iPhone. McConville even brought a rotary phone to help make his point during a recent speech he delivered to the Association of the U.S. Army at Fort Belvoir, Va. Part of those changes, too, involve changing the name of the service's Cyber Command to Information Warfare Command by 2028. McConville's got his eye on that one in particular, he said, since it "will enable us to compete below the level of armed conflict."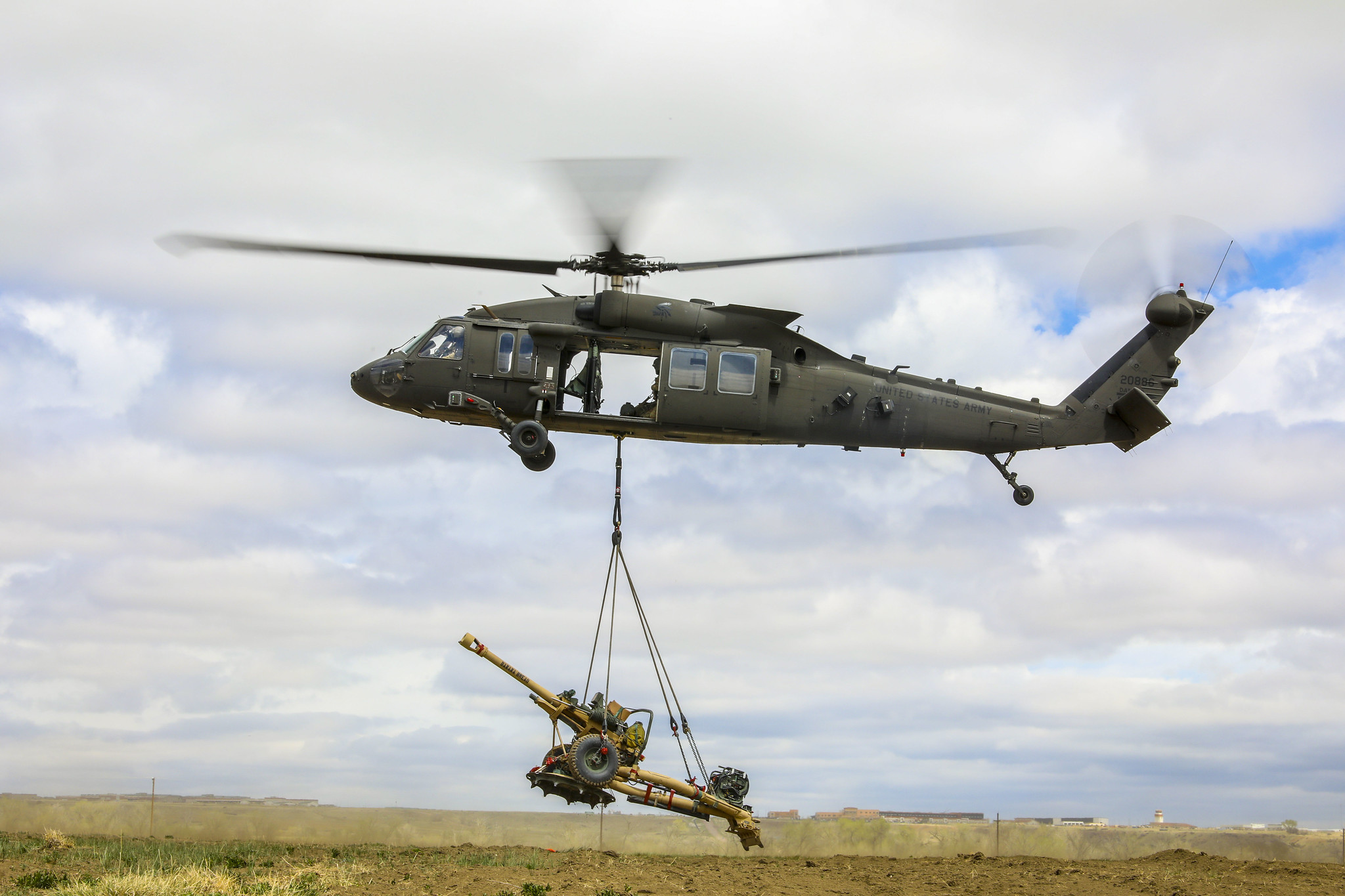 A UH-60 Black Hawk picks up a M119 Howitzer on Fort Carson, Colorado, on May 2, 2019.
Some of the Army's loftiest goals of 2019 — modernization priorities like extending the range of its weapons and improving the variety and quality of its air defenses — remain little more than visions one year later. But McConville told the crowd at Belvoir, "I'm confident we are going to be able to engage targets at ranges of more than 500 kilometers very soon." It could happen as soon as 2023, he said, and it could even involve hypersonic missiles.
"Transformational change is how we get overmatch and how we get confidence in the future," McConville said. "It's how we compete. It's how we deter our great power competitors. And if required, it's how we win on the future battlefield."
And there are big bucks in transformationally changing the U.S. Army for a future war in the Pacific. That's exactly why Army and Navy secretaries had a mild public feud over whose branch is more important for the U.S. looking to win or at least deter a conflict on China's doorstep.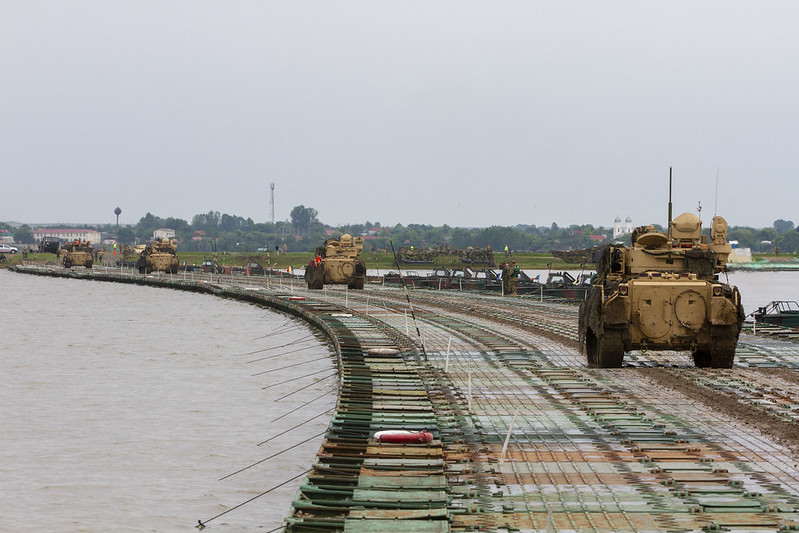 M3 Bradley Fighting Vehicles cross the Danube river during an exercise at Bordusani Romania, June 20, 2019.
"We've got three ground wars in the last century in that part of the world," McCarthy said. "The greatest deterrent is boots on the ground with our allies shoulder to shoulder worldwide, and that is proven very well for us in Europe. And we are going to do more of that in East Asia over the course of this calendar year."
Meantime, here are a few questions that loom for the Army in the months ahead:
How long will U.S. air defense units remain on Iran's doorstep in case of a conflict or more Iranian missile attacks?
Will Iraq expel American forces, as the parliament voted to do after the Soleimani strike?
Can the White House strike a lasting deal with the Taliban in Afghanistan? 
Will the U.S. military reduce its presence across Africa in 2020?
Are the nearly 17,000 American soldiers in Korea going to be there next year given failed negotiations between Washington and Seoul? 
When will the thousands of soldiers redeploy from the U.S.-Mexico border?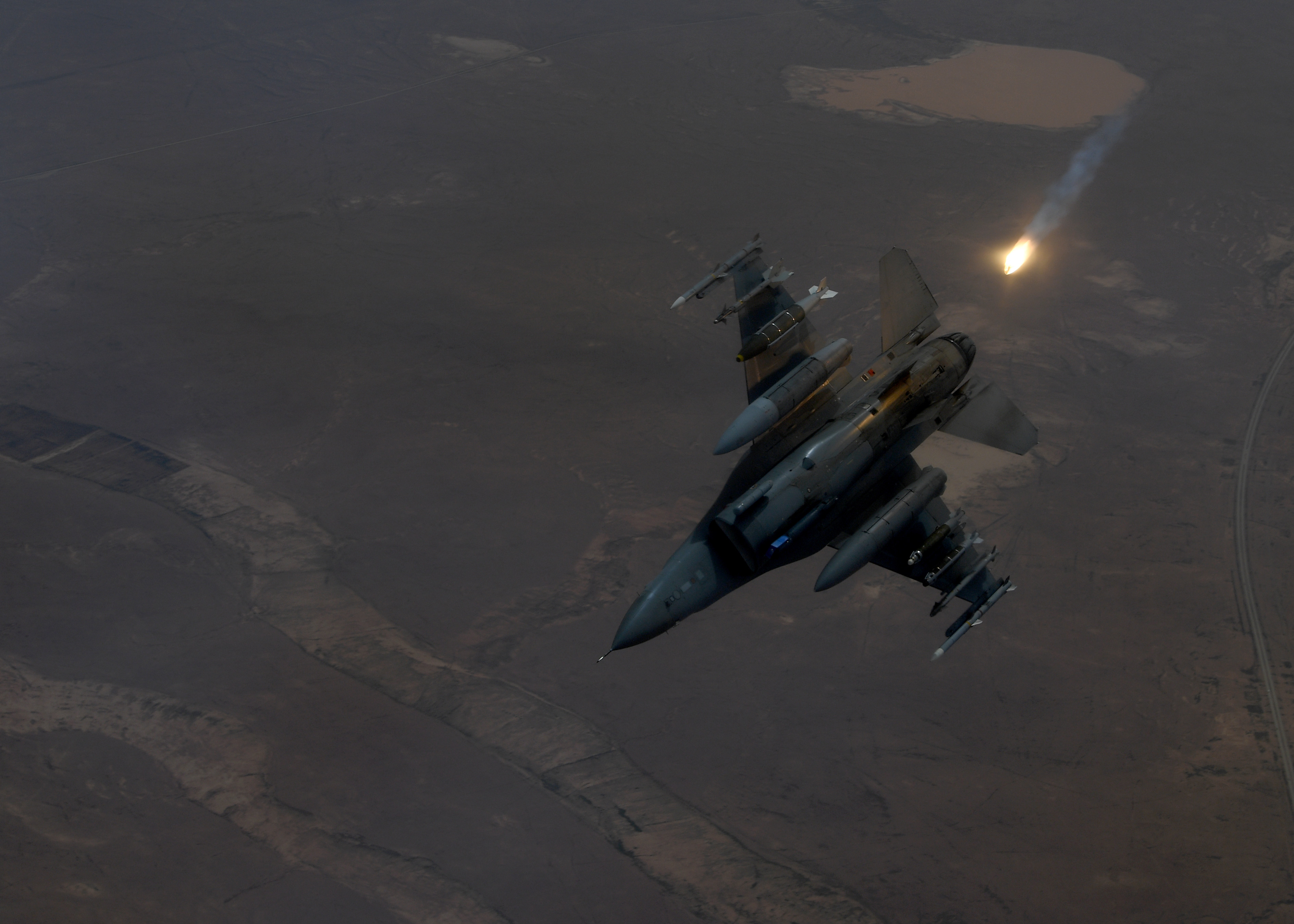 Service leaders want to retire partial fleets to fund new aircraft. Lawmakers and analysts alike are dubious.
The headline change for the U.S. Air Force is the recent arrival of the U.S. Space Force, but the service itself is going through broad transitions of leadership and equipment.
A changing of the guard will bring new faces to the service's top jobs. Gen. Dave Goldfein, the chief of staff; Vice Chief Gen. Stephen "Seve" Wilson; and Chief Master Sgt. of the Air Force Kaleth Wright will all reach the end of their four-year terms.
And like its sister services, the Air Force wants to grow. But its ambitious goals to buy new aircraft and satellites depends on one thing: money, which after three years of substantial growth appears poised to dry up no matter who wins the White House later this year.
To pay for new planes, the Air Force wants to retire planes — a strategy that Congress has balked at regularly. The money saved from sending planes to the boneyard would fund Goldfein's ambitious effort to better connect every weapon and person on the battlefield — which he says is necessary to win the wars of the future.
"If you have platforms that are not going to play in that 2030 fight, is there near-term risk...that we need to take as a department to buy our future — to be able to have that connectivity we need to fight at the speeds that the future is going to demand," the chief of staff said Jan. 27 at the Center for a New American Security. 
"That's the narrative this year," he said, referring to the fiscal 2021 budget proposal, which the Trump administration sent to Congress on Feb. 10. "That's the dialog that we're going to have to be able to explain. It's not an easy narrative in a town that's primarily focused on platforms."
The Air Force maintains it must continue to change its force to prepare for war with China and Russia — the readiness for great power competition demanded by the 2018 National Defense Strategy. 
"If we build what we need to defeat China and Russia, we'll have everything we need to handle Iran," Goldfein said. "If we build a force that just handles Iran, we're not going to have what we need to handle the high-end fight. I can adapt for a middle-weight challenge. I can always adapt in that direction. I can't adapt in the reverse direction."
Data is the currency of future warfare. If you don't have access to it, you're not in the game. Air Force Chief of Staff Gen. Dave Goldfein
While Air Force leaders propose retiring B-1 bombers; A-10 attack planes; F-15 and F-16 fighter jets; C-130H cargo planes; KC-10 and KC-135 aerial tankers; and high-flying Global Hawk spy drones, recent memories failed attempts of failed attempts to do so over the past decade are still fresh. Throughout the 2010s, the Air Force proposed sending the A-10 Warthog to the boneyard. Congress rejected that plan every time.
"The debate largely is the same. It's just time has passed and we have fewer options now," Todd Harrison, who runs the Center for Strategic and International Studies' Aerospace Security Project. "If we had retired the A-10 eight, 10 years ago, then we'd be at a point where we'd have more options in choosing modernization priorities and where to invest all of those savings. Now we're at the point of the Air Force has gotta scrap and scrimp and cut wherever it can to free up as much spare change as it can to keep these modernization programs on track."
Knowing the budget years ahead will be tighter than the prior three, Air Force leaders say they have identified $30 billion that it wants to shift over the next five years to high-priority initiatives, including space, logistics, and Goldfein's signature effort: the hypernetworking effort  now called Joint All-Domain Command and Control. 
Throughout his tenure, Goldfein has consistently advocated for better connecting all forces on the battlefield, regardless of the uniform. He's also pushed to better connect allied militaries.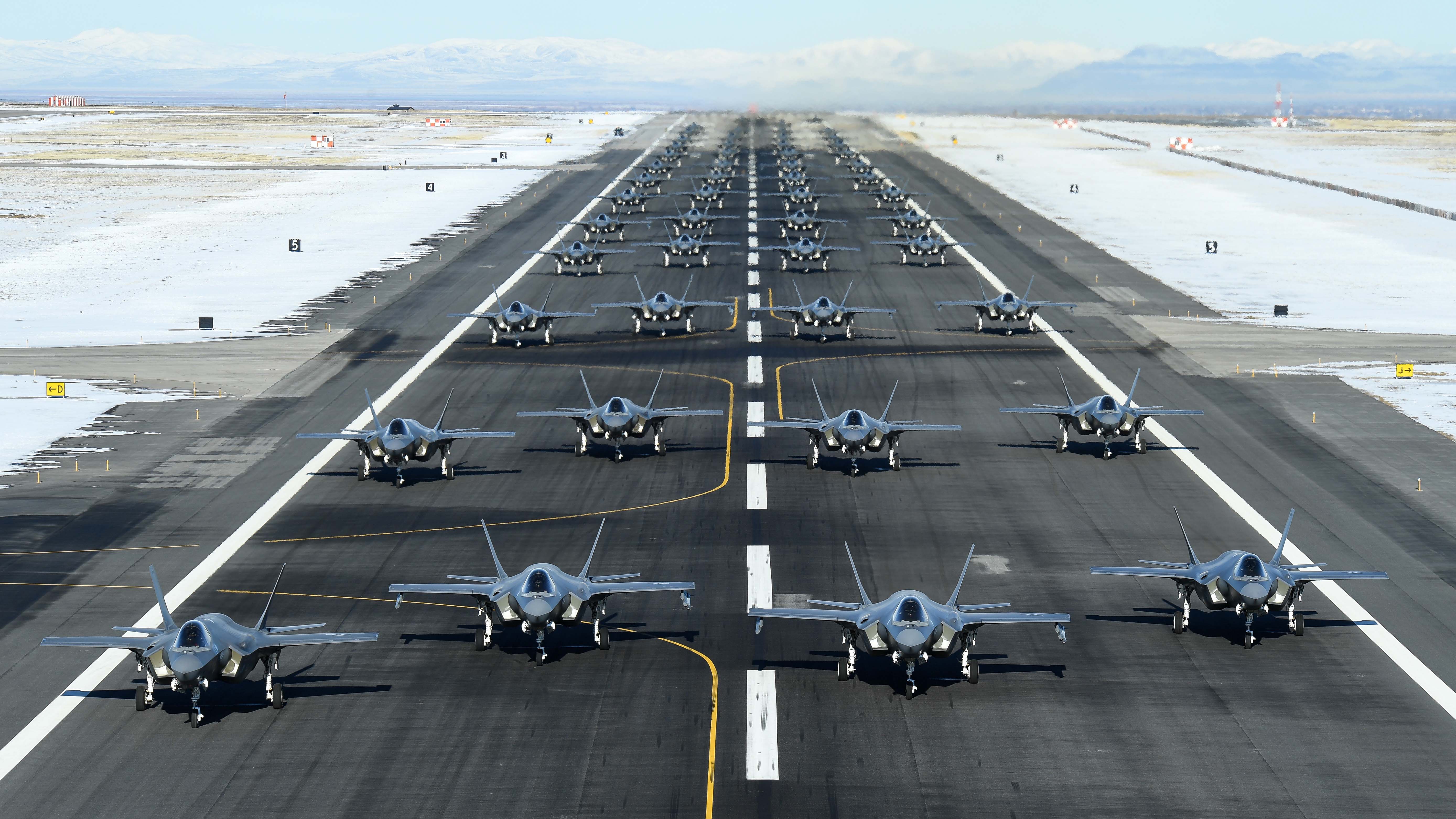 The active duty 388th and Reserve 419th Fighter Wings conducted an F-35A Combat Power Exercise at Hill Air Force Base, Utah, on Jan. 6, 2020.
"I think in '21, the key for us is going to be are we able to as Joint Chiefs articulate this vision going forward and the importance of networks," Goldfein said. "Data is the currency of future warfare. If you don't have access to it, you're not in the game."
Goldfein knows he's been facing an uphill battle in getting advancing its effort to connect the battlefield, especially since it's not as sexy stealth fighter jets or bombers. He often jokes that there are no network lobbyists on Capitol Hill, but there are plenty lobbying for more expensive platforms.
Goldfein says the 2018 cancellation of an effort to replace the E-8C JSTARS radar plane and a different effort to buy two missile-warning satellites has allowed it to invest in new technology that is the pathfinder for the connected battlefield.
"We actually had to win those two to set the foundation for now [and] what's coming," he said. 
Despite efforts to buy new planes in recent years, the Air Force still has plenty of old ones.
"They have a huge backlog of modernization priorities — big aircraft programs — that really it has no choice but to fund," Harrison said.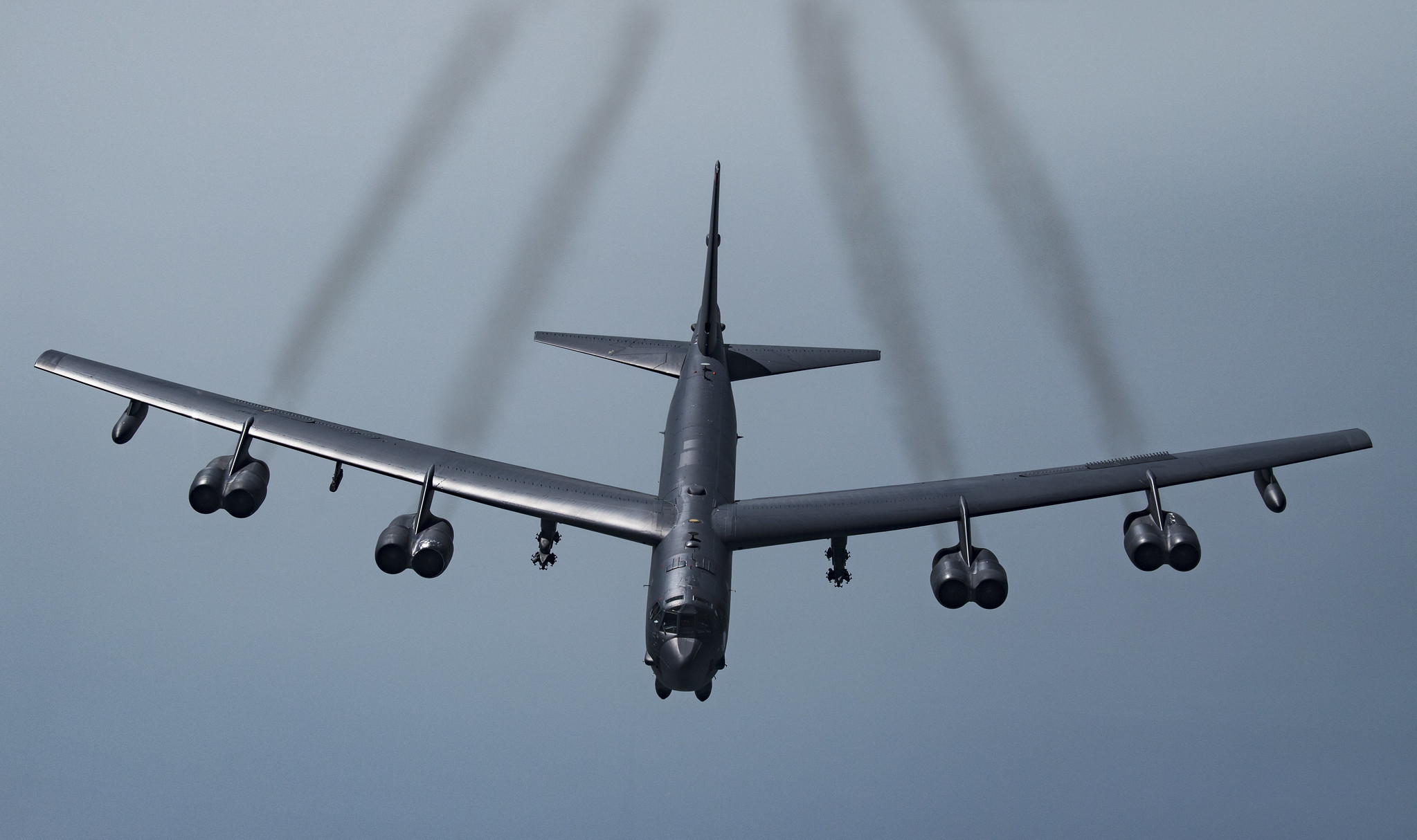 A B-52H Stratofortress flies over Southwest Asia on May 21, 2019.
The list includes the F-35, KC-46 tanker, T-7A pilot training jet, the upcoming B-21 bomber, and a new Air Force One, just to name a few. Options for paying for those new planes are basically retiring old ones or a massive budget increase.
"If they don't take the big step of retiring an entire fleet of aircraft…and they try to just trim a little bit from a lot of different aircraft types, they're not going to save that much money," Harrison said. "So they're going to have to make a lot of little cuts and they're going to back themselves into a corner in the future because they aren't getting enough long-term savings."
Mark Gunzinger of the Center for Strategic and Budgetary Assessments believes the Air Force would need an additional $8 billion per year over the next decade to sufficiently modernize its fleet.
John Venable, a retired Air Force colonel now with the Heritage Foundation, notes that much of the Air Force's budget increases of recent years have gone to develop new, secret weapons, not in-production planes.
"Where we are right now is at a quandry," Venable said. "The Air Force has said it needs something desperately and it is not using the financing it is receiving from the federal government in order to move on it."
The Air Force wants to accelerate many of the projects it has embarked on in recent years, but it's likely to end up in a holding pattern until after November's election. Congress is expected to once again miss its end-of-fiscal year deadline for the 2021 budget. And experts predict that even if Trump is elected in November, the defense budget has likely peaked.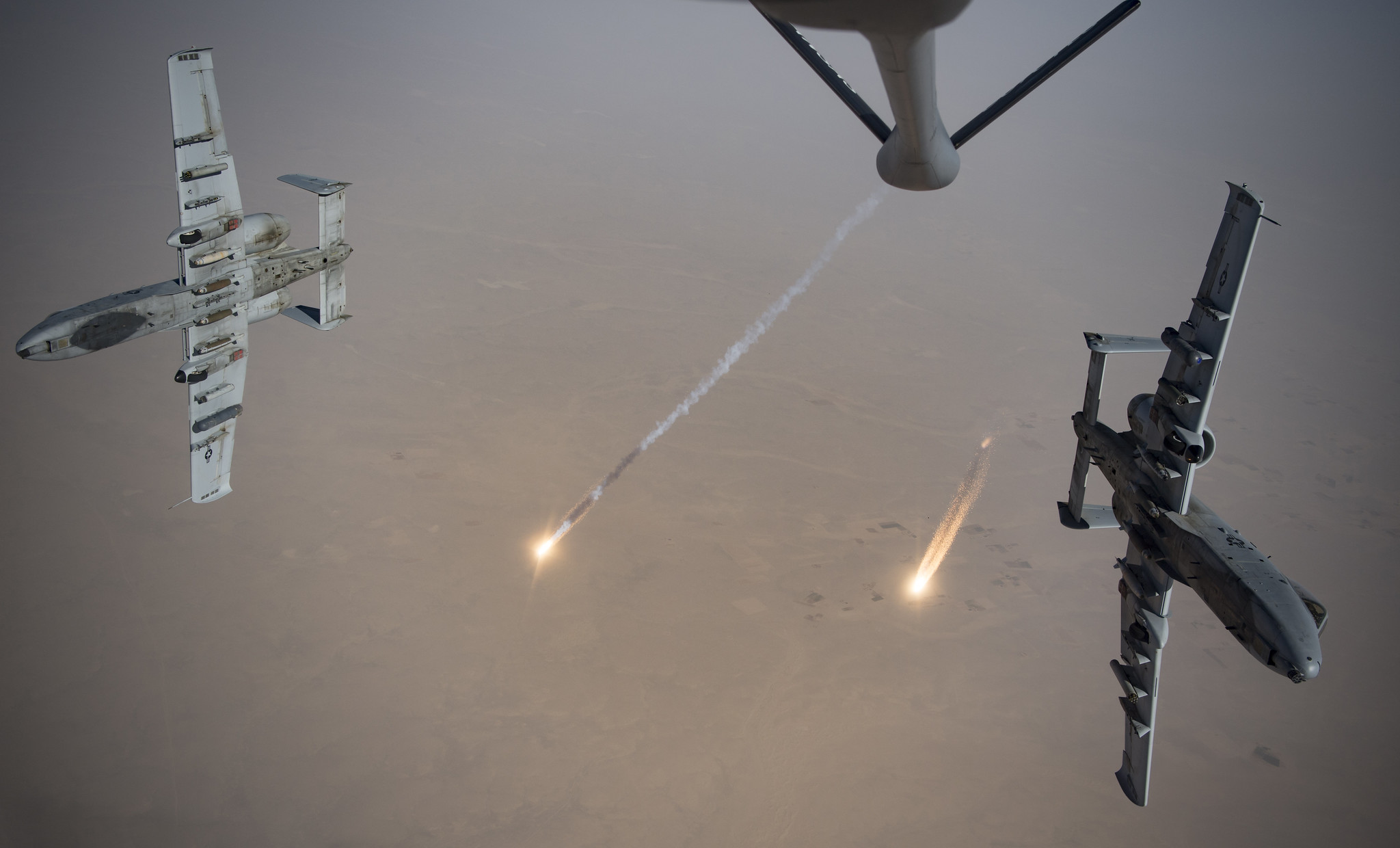 Air Force A-10 Thunderbolt IIs fire flares while breaking away after aerial refueling from a KC-135 Stratotanker out of Kandahar Airfield, Afghanistan on Aug. 15, 2019.
Venable said the Air Force should ease off the secret weapons funding and instead buy planes like F-35 Joint Strike Fighters and KC-46 tankers, while at the same time increasing its pilot training. And, Venable says the older planes in the Air Force are still viable, especially bombers.
"You don't divest until you have acquired," he said.
Still, Venable said the Air Force could retire at least some of its E-8C JSTARS surveillance aircraft and E-3 AWACS radar planes — both decades-old Boeing 707 airliners — because the planes would not be able to fly close enough to the battlefield in a war with Russia or China. Retiring those planes "will not hurt combat capability," he said.
Air Force leaders still maintain they need 386 operational squadrons to address the security environment described in the National Defense Strategy.
"We had 412 [squadrons] when we went into Desert Storm," Goldfein said. "To compete, deter and win against a nuclear peer, and do the Air Force missions, we need 386."
But 386 squadron might as well be a pipe dream with the budgets predicted in the coming years.
"It's such a big number, that it's just not plausible under any scenario," Harrison said. 

The new Commandant is paring "big, heavy things" to reorient the Corps toward great power competition.
It may shock you to hear this, but the Marines' top general says the Corps, doesn't have everything that they need to do their job.
That's a joke, of course. Everybody knows that every general wants more of everything, as much as they can get, to best fulfill their mission with as little risk as possible. More money, rifles, ships, aircraft — you name it.
So, why does Gen. David Berger want fewer United States Marines?
Berger, who became commandant in September, came out of the gate with speeches, op-eds, and press briefings laying out what he thinks the Corps needs more of, less of, and how to adapt to changing times. "The Marine Corps is not optimized to meet the bold demands of the National Defense Strategy," he wrote in December. In other words, what Marines need depends on one thing: what the president is asking them to do.
Under Trump, Marines, like all military services, are being asked to win "great power competition" against China and Russia. Defense Secretary Mark Esper, who stepped into his job not long before Berger, has ordered a complete review of everything the Defense Department does so that he can rebuild all of it for that sole purpose.
Berger's own review of his service — "Commandant's Planning Guidance" — is an unforgiving take on how his predecessor left the state of the Marine Corps. Berger says bluntly that the Corps left to him in September is not built, organized, equipped, or trained for great power competition.
In December, at the Reagan Defense Forum, in California, Berger told reporters some of what he'd found: "We have to get rid of legacy things in the Marine Corps. We gotta go on a diet."
The parameters of that diet began to emerge on Feb. 10, with the rollout of the Marine Corps' fiscal 2021 budget request. The request asks Congress to shrink the force by 2,258 enlisted Marines, and shifting those costs toward buying and developing new weapons to fight — you guessed it — great power competition. You can read some of those details here.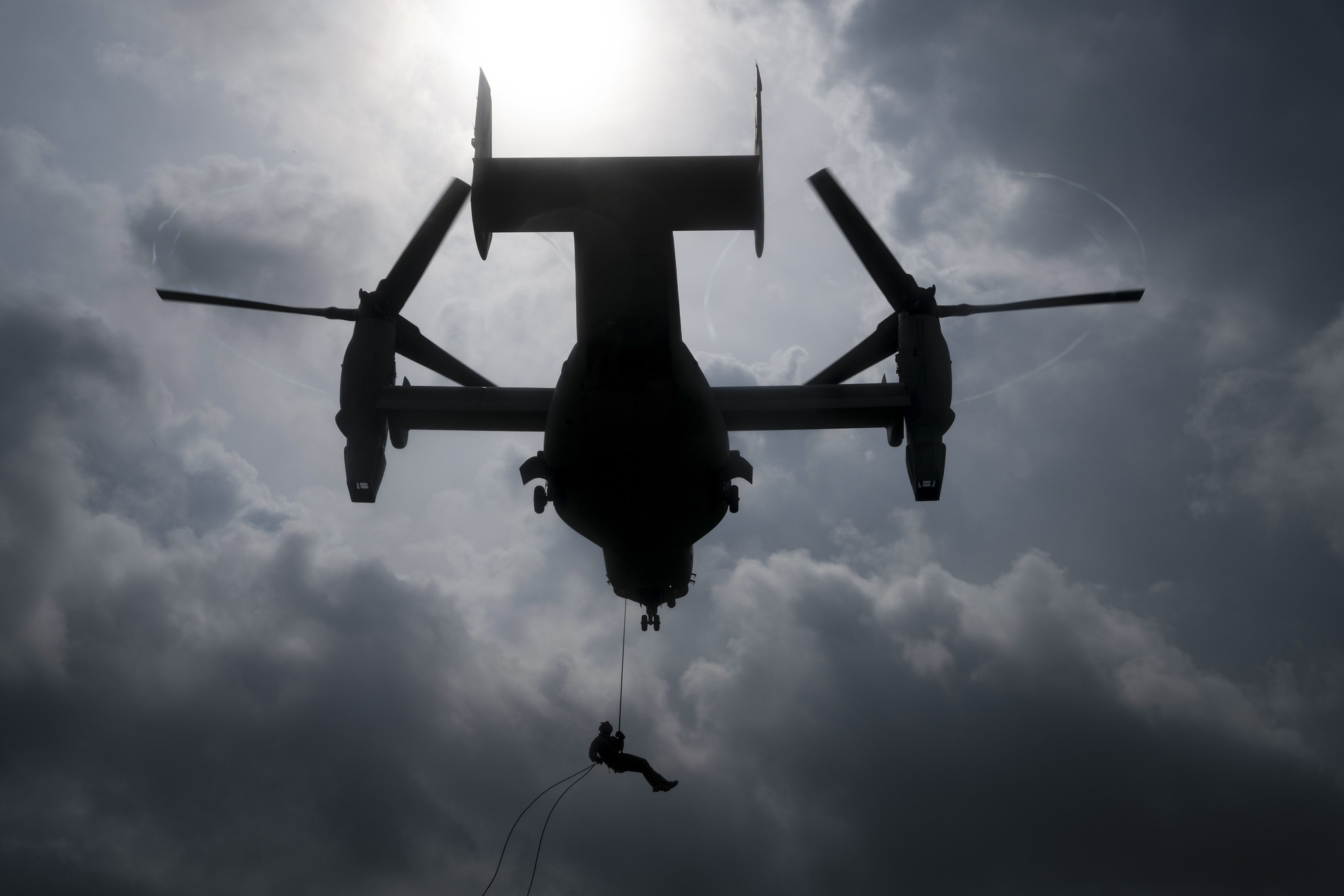 A U.S. Marine rappels from an MV-22 Osprey during helicopter rope suspension technique training on Camp Hansen, Okinawa, Japan, in October 2019.
Berger is hardly the first commandant who aims to remake his Corps. Marines have spent the better part of the last 20 years adapting to what times and politicians dictate. What was once meant to be an amphibious-landing and invasion force was turned into a second land army in the Iraq and Afghanistan wars — as much as Marines hate it when people say it. They tried to go back to being amphibious-first specialists, but changing battlefields, geopolitical boundaries, and the rush of technology dictated otherwise. Now more riflemen fight in cyberpsace than pull triggers in deserts and mountains. Great power adversaries are fielding and developing new weapons designed to keep Marines far off-shore. The expanded special operations units of the other military branches increasingly do the jobs once envisioned for Marines. Once again, the Corps must change.
Start with China. Recognizing the naval services' limits, Berger advocates for a joint response to China's rapidly increasing military and asymmetric (including non-military) capabilities and methods. He lays out how China's new weapons have changed the battlefield map and how Marines could operate in it. The old, large U.S. bases, ships, and other positions "within the adversary's weapons engagement zone are now extremely vulnerable." They need to fall back or get smaller.
How do you do that when Marines are expected to be up close? It's tricky. In December, Berger predicted that if the U.S. moved its larger forces farther away from China to "stand-off" positions, that China's military would simply fill in those uncontested locations with their own forces, as they've done building artificial islands in the South China Sea. However, if the U.S. positions large ships and bases within close range, they would become too vulnerable to strikes.
The answer: Berger says Marines are meant to operate independently with smaller units, platforms and vehicles, and less predictably. So, Marines need to get back into the business of counter-naval operations, above and below the surface, with more agile weapons that are easier to replenish, like long-range precision guns, and with new formations of ground personnel and new suites of shipboard aircraft.
What else should be cut? "Big heavy things or big things, period. Big expensive things that we can't either afford to buy or afford to maintain over the life of it. Things that don't fit aboard ship. Things they can't fire hypervelocity projectiles. Things that can't have, don't have, the range that we're gonna need or the precision," he said.
In his December op-ed, Berger listed 10 areas where Marines are over-invested, old-fashioned ground vehicles and manned aircraft that humans drive and pilot; and in ground troops firing imprecise mortars or artillery from fixed positions. On his wish list, no surprises: more unmanned versions of everything, drone surveillance, artillery that is mobile, and electronic warfare.
The Marines, he says, need to get modern.
Berger says that his first six months on the job taught him what it's like to lead a service — but also that his perspective changed when he sat alongside the other Joint Chiefs and had to ask what is best for the whole U.S. military. That gave him one picture, the big picture. At the same time, he said, he had to compare that view to what a regional combatant commander like Central Command's Gen. Frank McKenzie needs to fight in the Middle East.
"There's a huge tension between the two."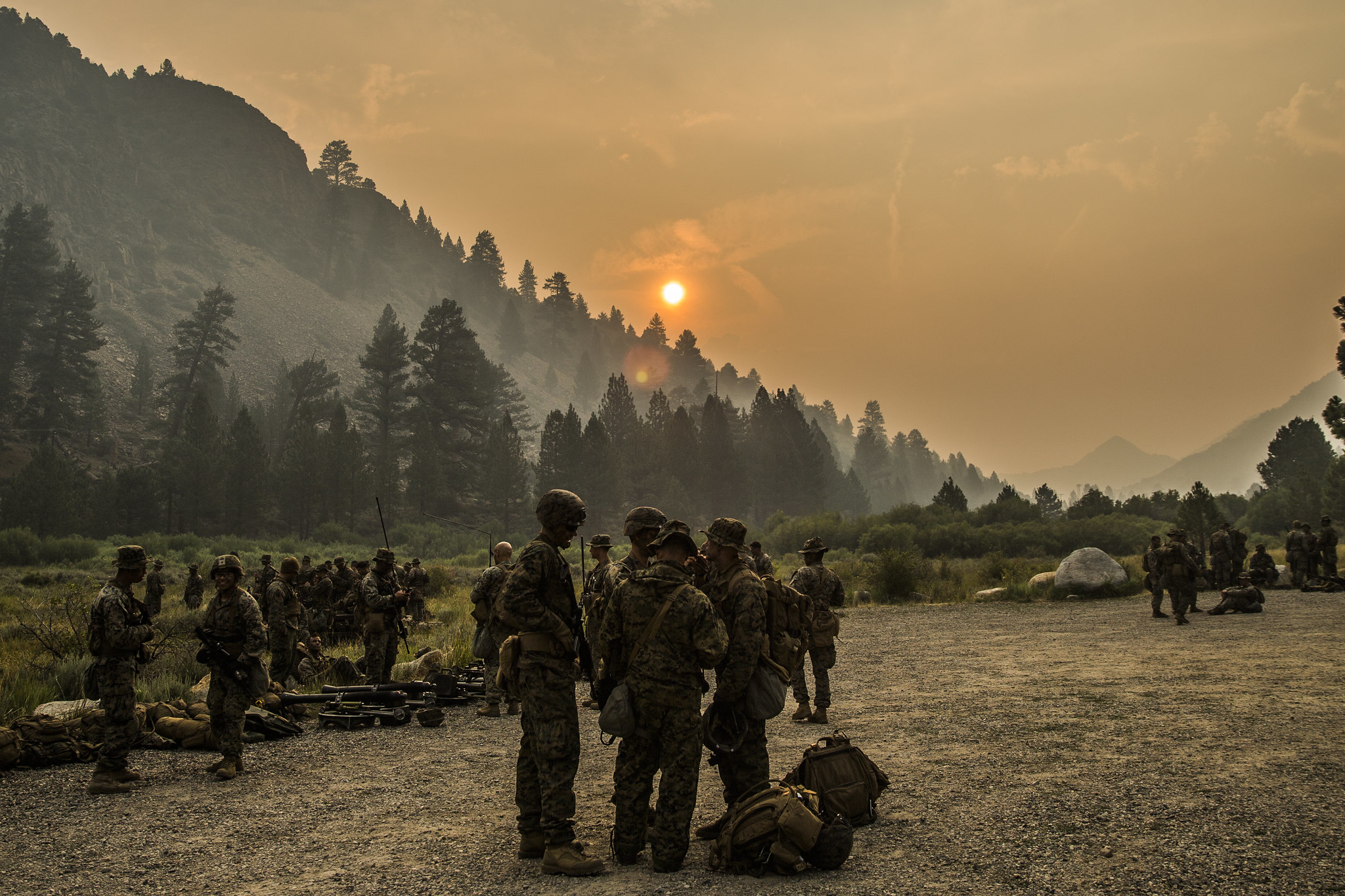 Marines stage their gear after cliff assaults at the Mountain Warfare Training Center Bridgeport, California, July 30, 2018.
Outside his front office, watchdogs and Marines have taken notice that changes are desired. One Shark Tank idea to shake things up: redesigning the entire Marine Corps headquarters' organizational structure to align with the other service branches and the Joint Staff's use of numbered offices (J-1, J-2, etc.)
The caveat for all of the Marine Corps' best-laid plans is they may not get very far before a new plan — indeed, a completely different vision of American threats — is laid on Berger's desk. Election Day is nine months away. The Marines know it. Berger said in December that, more than ever, service leaders are instructing their Marines to keep out of politics, especially the dangers of social media, and focus on the real mission: being ready to fight. For Berger, his first real fight is just beginning: the battle to convince Congress and the Armed Services committees that the Marine Corps he wants is the one the United States needs.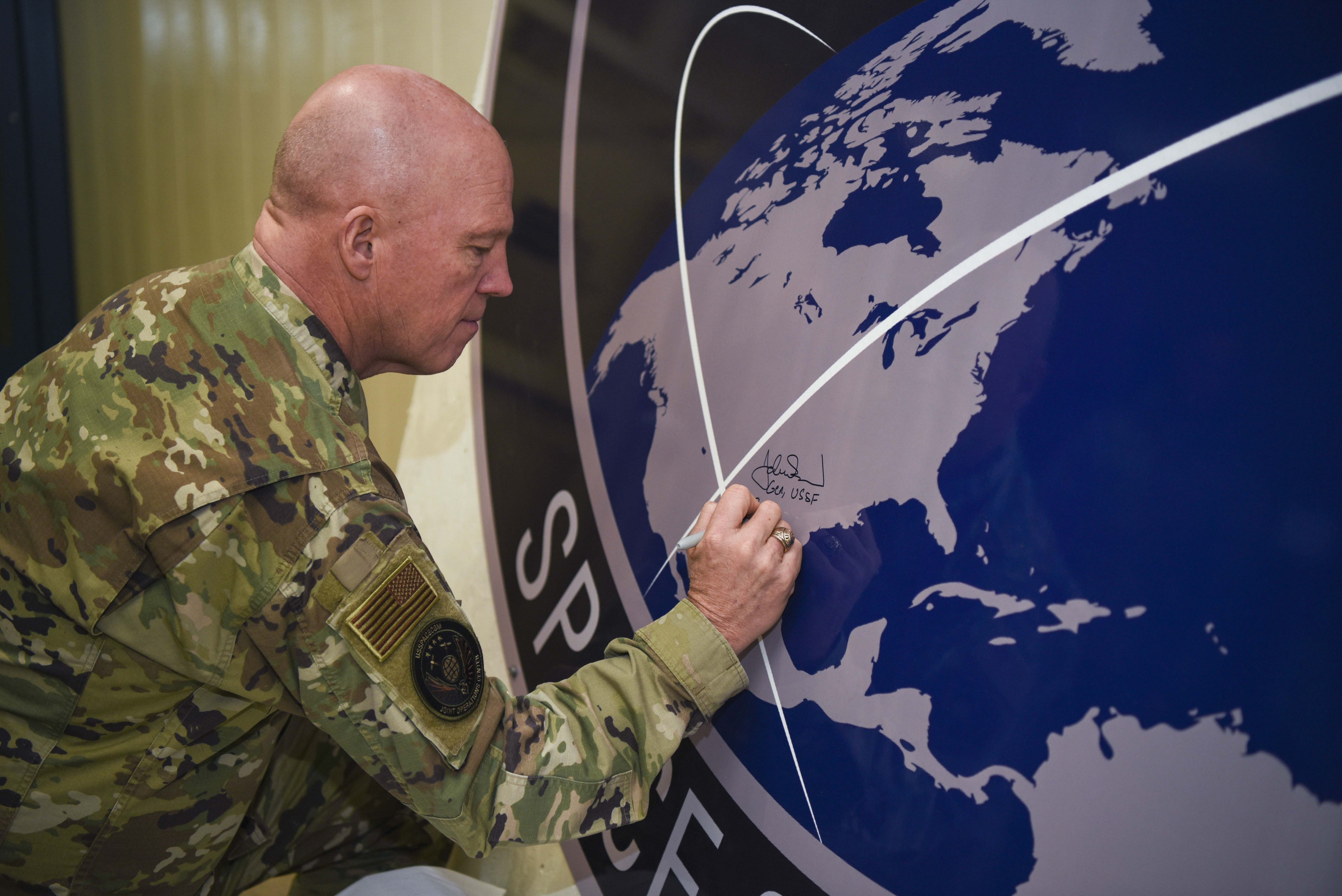 The newest branch of the military is all about growing in 2020. But for now, it's a Space Force of one.
Gen. Jay Raymond, the chief of space operations, is the only official member of the Space Force, even though some 16,000 servicemembers and civilians who were previously part of U.S. Space Command are now assigned to the Space Force.
We "have the opportunity to look at a new approach to creating a 21st century service," Air Force Lt. Gen. David Thompson, vice commander of the Space Force, told reporters Wednesday at the Pentagon. "Our intent is to make it focused very much on the things that are required for a force to operate effectively, even as we look to others to provide support functions that we need to operate."
A Pentagon team is putting together the Space Force headquarters staff. It's expected to look different than the makeup of the elder services, which each have numbered directorates dealing with personnel, intelligence, planning, requirements and other specialties. By comparison, the Space Force will initially have three directorates:
Human capital and logistics (led by a senior civilian).
Operations, cyber and logistics (led by a three-star).
Plans, programs, requirements and analysis (led by a three-star).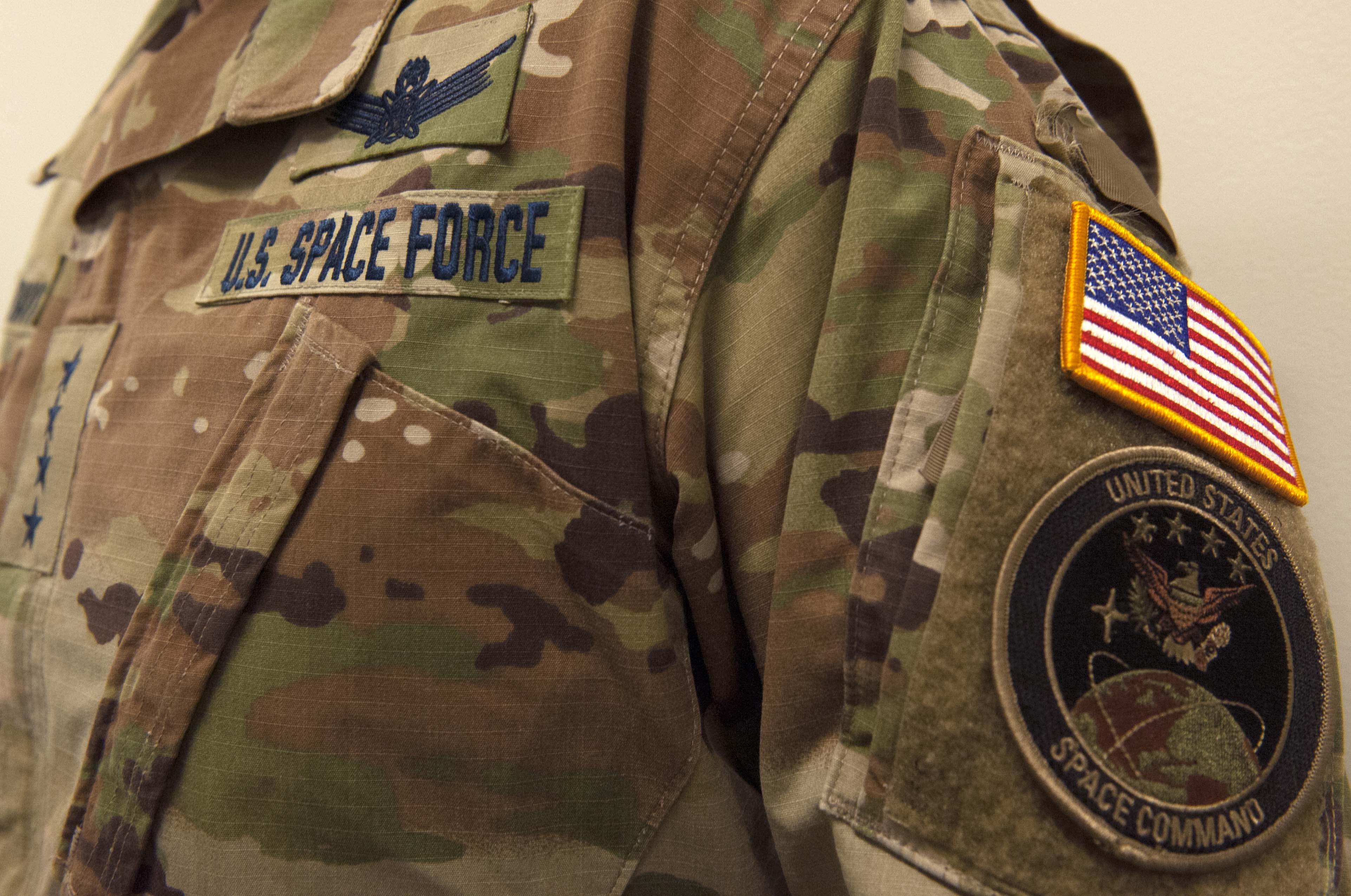 The chief of space operations of the U.S. Space Force displays the service's uniform nametapes in the Pentagon Jan. 17 in Arlington, Virginia.
"[I]f we think about being" smaller than other services, flatter than other services, more agile than other services, that may not mean that you adopt the standard, Napoleonic headquarters organizational structure," Air Force Maj. Gen. Clint Crosier, director of the U.S. Space Force Planning Office.
Pentagon officials expect some 6,000 Air Force service members to transfer into the Space Force by year's end.
Pentagon leaders are determining which parts Army and Navy — and even additional Air Force billets — will be transferred to the Space Force in the coming years. Right now, the Army plans to transfer at least 100 soldiers into the Space Force.
"I think the Army's 100 personnel is just a down payment," said Todd Harrison, who directs defense budget analysis and the Aerospace Security Project at the Center for Strategic and International Studies. "They likely have 1,000 or more space operators that should ultimately transfer to the Space Force, along with the satellites they are developing and operating. The struggle to get them to let go of that stuff will be an ongoing challenge."
It's unclear how many Navy personnel will transfer into the new service. 
Gen. David Goldfein, who is expected to retire this summer, wants to ensure a good working relationship between the Air and Space forces.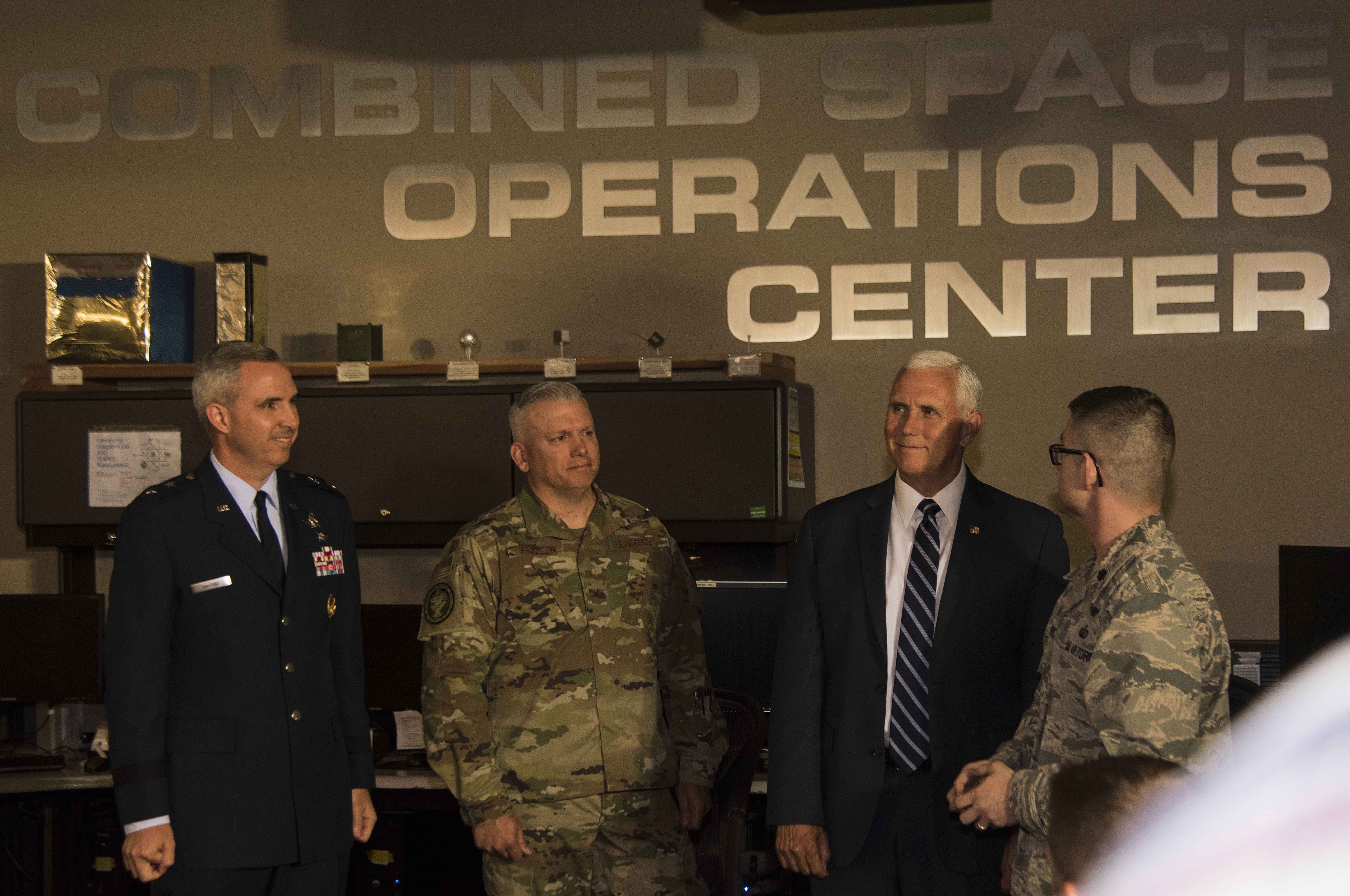 Vice President Mike Pence tours the Combined Space Operations Center at Vandenberg Air Force Base, California, on July 10, 2019.
"The objective for Chief Raymond and I are: how do we build a service on a foundation of trust and confidence and focused on integrated joint warfighting, but at the same time allow the Space Force to develop its own, unique service culture," the Air Force chief of staff said Jan. 27 at the Center for a New American Security. "Because we could hug it too close and slow it down or we could allow space to get seperated too much as we build a separate service. There's a sweet spot that we have to find and we're driving at.
"The question is: what did we build? Did we build two services on a foundation of trust, confidence and focused on integrated joint warfighting or did we allow others to make this some kind of a divisive split. Is this a marriage or a divorce? This is a marriage."
Oh, and Pentagon officials are trying to find out what to call members of the Space Force. Some of the suggestions floating around include Spacers, Guardians, Sentinels, and Vanguards.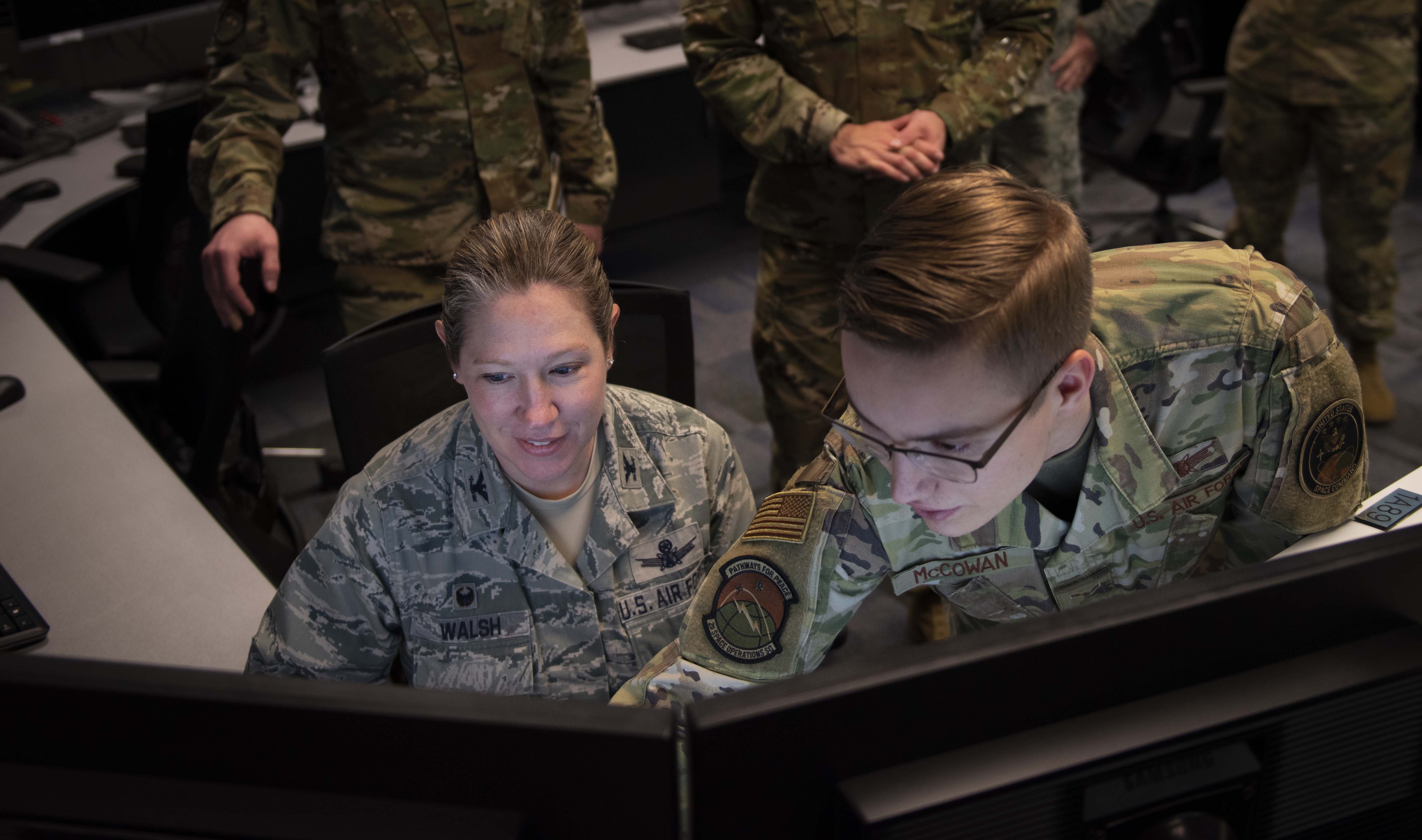 Airmen decommission a satellite at Schriever Air Force Base, Colorado, Jan. 27, 2020.