sponsor content What's this?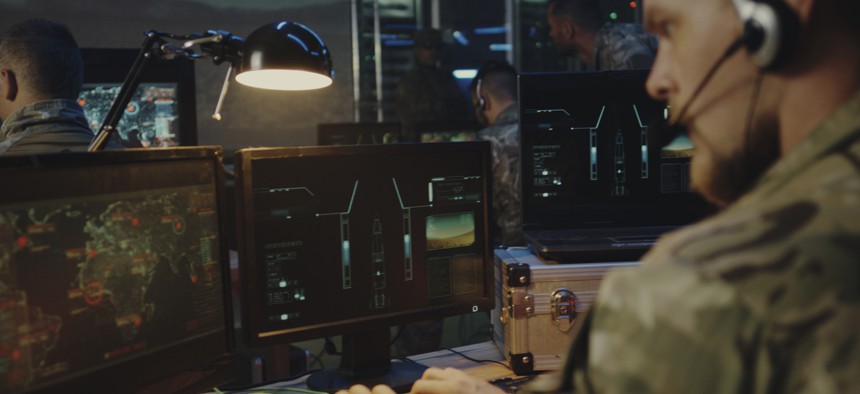 Defending the Data: JADC2 Offers Opportunities and Challenges for DOD Leaders
NetApp's Department of Defense CTO Lloyd Granville offers insight into how JADC2 can help mitigate data challenges across DOD.
On and off the battlefield, warfighters make hundreds of small decisions. A soldier, for example, might assess his surroundings before executing a mission. Meanwhile, a commander might consult geolocation data to gauge the safety of her troops. These decisions, though seemingly minuscule, can have a lasting impact on the success or failure of a mission. Too often, however, warfighters can't access data where and when they need it. What's more, information sharing between military branches remains difficult. 
The Joint All-Domain Command and Control, or JADC2, is the Defense Department's attempt to change that. The initiative promises to establish a tactical network that connects sensors from each military branch. The goal? Faster decision-making capabilities and improved data-sharing opportunities that enable soldiers to address the complex conflicts of the future — whether by land, air, sea or even space. 
Lloyd Granville focused much of his career on navigating these data management hurdles. He spent 23 years active duty in the Army, where he was responsible for planning, designing, engineering and implementing IT enterprises. As a technical adviser, he helped create infrastructure where none had existed before. Today, he is Deputy Chief Technology Officer
for the Department of Defense & Intelligence community at NetApp. He develops strategies spanning from the tactical edge, core and cloud or hybrid cloud solutions for DOD customers. Here, he assesses the current technology and data landscape — and offers insight into how JADC2 can drive successful outcomes across DOD. 
What do you see as the main trends and challenges DOD faces as it takes steps to enable a JADC2 future?
Granville: I have seen a few trends. The first is the need to get all of the customers — the combatant commands, the Joint Staff, partners, systems, the application owners and the services — to provide those products that are actually interoperable, distributed and persistent down to the tactical edge. There's an ever-growing need to make sure these products are secure, and also establish and maintain the governance required to support a JADC2 portfolio management process. 
Gen. John Hyten, vice chair of the Joint Chief of Staff, recently signed four new strategic directives to ensure all data produced by every weapon system within DOD is accessible. He was, and still is, 100% spot on. To achieve an operation-ready JADC2 capability, you have to embrace the fact that that data is king. That means data cannot be left outside the framework. Making all that data available and accessible is DOD's main focus, but also its biggest challenge. A large part of that is modernizing legacy infrastructure. The department must find a way to ensure the old equipment can work in conjunction with the new systems that they're creating and bringing online. 
What are DOD's main goals in implementing JADC2? What are some recent investments the organization has made toward this initiative?
Granville: DOD has really ramped up its investment in JADC2 activities over the past few months. More specifically, we're seeing the Army stand up a number of all-domain operations centers that will house the multidomain enterprise. These ADOCs will serve as central locations, allowing commanders data visibility and analysis from their specific area of operation. 
What do innovations in artificial intelligence and machine learning mean for JADC2? What opportunities and challenges do these emerging technologies offer?
Granville: AI and ML are really driving the train for JADC2. They play a role in organizing, securing, leveraging and identifying authoritative data sources, and much of that is being done at the Joint Artificial Intelligence Center. These emerging technologies are the key to making JADC2 successful — and JAIC has its finger on the pulse of AI and ML innovation through training new models and working with both industry and academia to make these things happen.
Today, commercial partners are answering the call to bring their technology and expertise into the defense sector. For instance, born from our strong partnership with NVIDIA, our ONTAP AI is one of the first converged infrastructure stacks to incorporate the NVIDIA DGX A100systems, the world's first 5-petaFLOP AI system, and NVIDIA Mellanox® high-performance Ethernet switches to unify AI workloads, simplify deployment and accelerate return on investment. So, not only can NetApp efficiently manage the data and deliver it to data scientists within a given organization, but those that utilize the data never have to worry about the availability of the data, either. These types of solutions allow organizations to consolidate massive amounts of data so that agencies can focus on the most critical factor: the mission.
How does cloud play into the JADC2 discussion?
Granville: In July, the Pentagon canceled the Joint Enterprise Defense Infrastructure, Microsoft's defense cloud contract, known as JEDI. But DOD cannot achieve a successful JADC2 end state without a DOD-specific enterprise cloud. It cannot share that data globally without its own enterprise cloud. JEDI just didn't answer the call, but I'm confident a future contract will.  
Now, with the recently bid Joint Warfighter Cloud Capability contract, which will hopefully be awarded by April 2022, the goal is to bring a multicloud, multivendor capability to the fight. That's a win-win. A single vendor hosting all of DOD's cloud capabilities would have been the wrong way to go. With JWCC, DOD will be able to employ a truly solid solution with the help of AI, ML and deep learning outputs. 
What impact will JADC2 have on security? With growing concerns around cybersecurity and ransomware, how is DOD maintaining a strong security posture with so many applications and so much data? 
Granville: As DOD pushes to make this data accessible across all domains, it inevitably opens itself up to cybersecurity risks. These risks have to be mitigated in very new ways. The Defense Department must create a far more fluid cyber governance. Troops and civilian forces will need to be better trained and new tactics must be developed, learned and employed while we build this JADC2 ship together. 
At the same time, DOD needs to identify ways to create governance and policies around national security and cybersecurity for JADC2. If the organization achieves success before identifying the correct policy, all of this information could end up being classified at the highest, most restrictive level. I know security challenges exist in achieving a multi-domain operational environment (MDO), because at the core of a shared information environment, a certain level of trust has to exist. In order to facilitate secure data sharing across this future MDO environment, a zero-trust security layer needs to be baked in from the onset, which, as I have seen during several working groups, DOD is already doing. 
What can DOD agencies do now to prepare for JADC2 success? 
Granville: Create a strong data management infrastructure as your basis. I know AI and ML are the technologies everyone is raving about. They are the sexy buzzwords that everyone knows get the job done, but you can't achieve those successes without a strong data fabric. Creating that solid data management foundation — and treating it as an entry point — gives you a clear pathway (or, as I like to call it, "a clean data pipeline") to move your data safely and securely from the tactical edge to the core, to the cloud or wherever you need it efficiently, and most of all, reliably.