sponsor content What's this?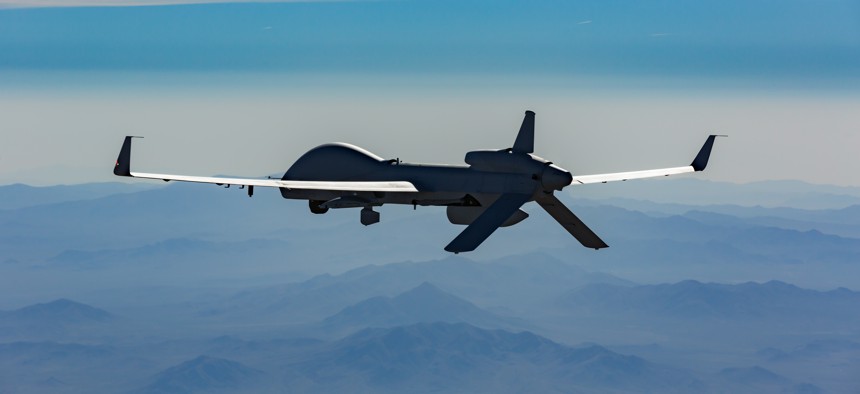 Ukraine Proves The Need To Equip And Train Allies Early
Waiting until a crisis, or after the outbreak of hostilities, costs lives
The ongoing nightmare in Ukraine has prompted a sober reassessment about defense priorities across the free world, but many of these "new" issues have been staring us in the face for years.
Russia's invasion shows not only that a great-power war in the 21st century is possible, it may be even likelier than many feared.
The situation is made still more complicated by the huge variety of new threats, including in new domains such as cyberspace, that didn't exist in earlier periods of major global tension. Even the continental United States is no longer a refuge from capable enemies, who have spent years developing ways to take a conflict right to Americans where they live.
Air Force Gen. Glen VanHerk warned members of Congress about this very problem on March 8 in testimony that alluded to adversaries' relatively novel ability to make the American homeland itself into a battlefield.
"Their intent is to hold the homeland at risk below the nuclear threshold in order to limit decision space for our senior leaders … [including] by threatening critical infrastructure and disrupting and delaying our ability to project power globally while attempting to undermine our will to intervene in a regional crisis overseas," VanHerk said.
Translation: Rival great powers will threaten the United States with conventional attacks, in addition to cyber sabotage and other nontraditional means of attack. That's in addition to all the other threats facing American forces and their allies around the world in a post-Ukraine war era, with fewer and weaker norms and taboos about the uses of state violence.
The outlook is not rosy – but it isn't hopeless, either.
The good news for Washington and its partners is that the alliances being tested by the Ukraine crisis are holding. Important players -- including Germany, Poland and others -- are stepping up to devote more of their national talent and treasure for defense and the protection of the NATO alliance.
And much of the technology and materiel that is essential to backing up American and international commitments on global security is both state-of-the-art and ready today in significant quantities. A critical task now for Washington and its partners is to sustain, improve and expand depleted resources.
Intelligence, surveillance and reconnaissance is the foundation for everything else. For the past few years, every U.S. combatant commander testifying before Congress has asserted the need for more ISR in theater, citing peacetime shortfalls of 75 percent or more in some areas of the world.
If the peacetime shortfall is 75 percent, what's the wartime shortfall look like?
Aircraft such as the MQ-9A Reaper and MQ-1C Gray Eagle, plus their newer counterparts such as the MQ-9B SkyGuardian and SeaGuardian, have shown time and again how the right insights – feeding at the right time, getting to the correct people and enabling the correct action – transform military, intelligence, security and other operations.
Aircraft like these and their future descendants have only scratched the surface of the way unmanned aircraft systems can help the United States and its allies adjust their posture in response to clarifying events like those in Ukraine and the ongoing threat from sophisticated militaries elsewhere.
The present and near-future possibilities are endless: picture greater numbers of UAS networked together, all operating en masse to provide air and surface situational awareness. American commanders or intelligence consumers could defend an entire national border or see deep into another nation over its borders, from the airspace of a friendly nation or international waters.
Individual aircraft can provide any number of other new services, via a growing library of payloads that allow them to conduct broad area maritime surveillance, signals intelligence, electronic warfare, communications bandwidth provision, or distributed network operations.
Skeptics sometimes claim the radar cross section of a medium-altitude fixed wing UAS limits its ability to fly directly over a notional highly contested battlespace. Maybe that's true, though the small UAS currently destroying Russian equipment and armor show this isn't automatically an issue. And in cases where it may be true, it's also true of virtually every aircraft in the arsenals of the U.S. and its allies, from the highest-value intelligence gatherers such as the RC-135 Rivet Joint, to attack helicopters and fourth-generation tactical aircraft.
You may lose a few UAS, you may not. That's what we're learning in Ukraine. But if a UAS must go down, at very least no human pilot goes with it.
And as Ukraine's valiant defense against Russian invaders has shown, the skies above a 21st century battlefield can remain contestable and exploitable to a degree sometimes lost in earlier conversations about theoretical capabilities or hypothetical engagements. Ukraine's successes with unmanned systems, both in tactical engagements and their use in battling against Russian propaganda, also shows how valuable these platforms will remain.
The Predator-series aircraft, including the Reaper and Gray Eagle, offer more capability, payload and strike opportunities than any UAS in the Ukrainian arsenal. Today's aircraft perform at a whole new level even compared to their earlier predecessors. An available new Self-Protection Pod can provide them with threat-warning and countermeasures equal to those of a 4th-gen fighter such as an F-16. And the larger new MQ-9B was built from the wheels up to handle a broader envelope of weather conditions and temperature extremes.
A growing number of international air forces are acquiring the MQ-9B precisely for these and its other capabilities. The British variant, called the Protector RG Mk 1, is the flagship UAS of the UK's Royal Air Force, for example.
The U.S. Marine Corps is acquiring a small fleet of MQ-9s to serve as the networking nodes and spokes to underpin its Expeditionary Advanced Basing Operations concept, which is vital to America's ability to preserve peace and security in the Western Pacific. The MQ-1, meanwhile, remains the mainstay for the U.S. Army.
Other expanded applications, including in anti-submarine warfare, continue to show promising results in ongoing tests and in complex exercises with high-demand users such as the U.S. Navy. More aircraft in the hands of more operators, not only within the Defense Department but around the world, will result in more innovation and more adaptive uses like these.
However, the ability to broadly export these UAS has been stymied over and over by fears and threats of misuse. Even as we export attack helicopters and precision-guided missiles to these same nations, we deny many allies with the most proven unmanned ISR asset in the U.S. arsenal and the most mission-ready airframe in the U.S. Air Force. We must supply and train our allies during peacetime if they are to be ready for war.
The United States and its allies did not seek the moment of crisis that was crystalized by Russia's brutal invasion of Ukraine – but they cannot shrink from it. Washington must continue to equip itself with the best-performing military systems of today and tomorrow -- and clear the way for its allies and responsible partners to acquire them, too.
Nicola "Niki" Johnson leads government affairs and global marketing efforts for General Atomics Aeronautical Systems, Inc. products and services. She previously served the U.S. government as a senior policy advisor for the Defense Technology Security Administration, and as a regional program director in both the Defense Security Cooperation Agency and the Office of the Secretary of Defense for Policy.
This content is made possible by our sponsor General Atomics Aeronautical Systems, Inc.; it is not written by and does not necessarily reflect the views of Defense One's editorial staff.
NEXT STORY: Speed and Operational Reach are Essential in War