sponsor content What's this?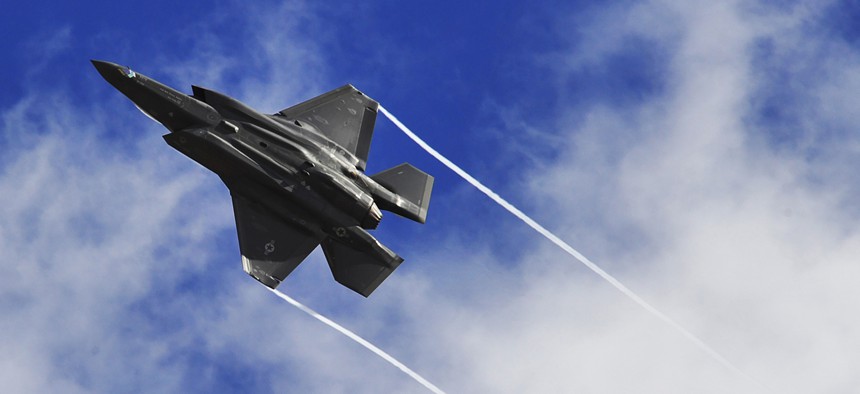 Lockheed Martin Forges a Path to Greater F-35 Sustainment
Despite huge logistical challenges, the F-35 has seen several maintenance and cost wins in the past year — wins that will only continue to proliferate as industry and government work together to search out and apply operational improvements.
Ken Merchant has what he deems a "fiercely complex" job. As the vice president of F-35 Global Sustainment at Lockheed Martin, Merchant works within the company, the supply base and alongside the U.S. Department of Defense to ensure that the more than 450 F-35 Joint Strike Fighter aircraft deployed across the globe have access to the parts and expertise they need to stay operational at all times.
"We have three different F-35 variants, three different U.S. services flying the jet, nine partner nations, several current FMS [Foreign Military Sales] customers with more to join, we've delivered 458 jets so far and we're operating out of 20 bases around the world," says Merchant, adding that those include three ship-borne units operating today. "As you might imagine with those types numbers and with each aircraft having unique mission needs, it's a rather complex operational landscape we have in front of us."
Moreover, the company is on track to field more than 140 jets in 2020 and 150 in 2021, with numbers expected to rise from there. As the numbers increase, so does the complexity it takes to ensure that each aircraft is able to access all necessary parts and trained maintenance staff to stay fully operational both at home and when deployed abroad.
But as logistical complexities mount, Merchant and his team have been working alongside government and international partners to not only meet rising operational demands, but also make wide-sweeping improvements across the F-35 pipeline and lifecycle.
Government, Industry Partner for F-35 Affordability Wins
While there's been a spotlight on the many challenges surrounding sustainment efforts for the Lockheed Martin F-35 Lightning II aircraft, Merchant points to the many ways that industry and government have been working together to meet cost and sustainment targets.
"The company's been very proactive in trying to get ahead of costs caused by current inefficiencies in the weapon system and identifying cost reduction initiatives," says Merchant. "Working with the Joint Program Office in D.C. and the various services, we've identified a number of reduction initiatives and we believe that we have a pretty good approach. It's a pretty good prediction of where we can bring the cost down and specific areas to target."
Using this tact, there has been major progress in recent months when it comes to improving F-35 fly away and sustainment and costs. Most notably, perhaps, Lockheed Martin and the Pentagon surpassed cost-reduction goals laid out in the "blueprint for affordability" for each variant of the aircraft, reducing the price per aircraft by more than 12 percent across the fleet.
"We will reach a unit-recurring flyaway-cost-per-aircraft target of $80 million for a U.S. Air Force F-35A price by Lot 13, which is one lot earlier than planned — a significant milestone for the Department," Pentagon acquisition chief Ellen Lord said of the accomplishment.
Maintenance and Sustainment Take Center Stage
In July, Combat Coded F-35s reached their highest mission capable rate to date, at 77.1% the number is a significant leap from the 2018 rate, but improving maintenance capabilities remains a prime target for Lockheed Martin. 
Merchant notes that the company is currently working with the USG to update the  F-35's Autonomic Logistics Information System (ALIS) Prognostics and Health Management (PHM) system to improve fault isolation capabilities and improve MC rates even further.  The company is also focused on driving down support costs, working to spot and apply efficiencies across the operation with the aim to reduce the cost of F-35 sustainment to $25,000 per flying hour by 2025.
"We see a path to that target going forward," says Merchant. "We're identifying specific cost elements, cost reduction improvements and process improvements — just like we did on the production line to reduce the cost per aircraft — that we believe will get us to those reduced costs."
Ultimately, Merchant believes that continued success relies on a "partnered approach" between commercial entities and the military, as well as longer-termed performance-based contracts, which will help to both drive costs down and incentivize suppliers across the supply chain to invest in additional improvements.
"If suppliers have a longer runway ahead of them to recover their investment, it helps to incentivize both smaller and larger suppliers to improve the performance of the airplane," explains Merchant. "If we want to get the whole fleet to 80% mission capable rate and drive costs down, we can achieve that by having everyone focused on those same prizes. If all suppliers are focused on bringing cost-per-tail-per-year and cost-per-flying-hour down while we improve the performance of the jet across the board fleetwide for every customer, we can't help but succeed. We can't help but have a product that everyone can stand behind and that others will want to invest in."