sponsor content What's this?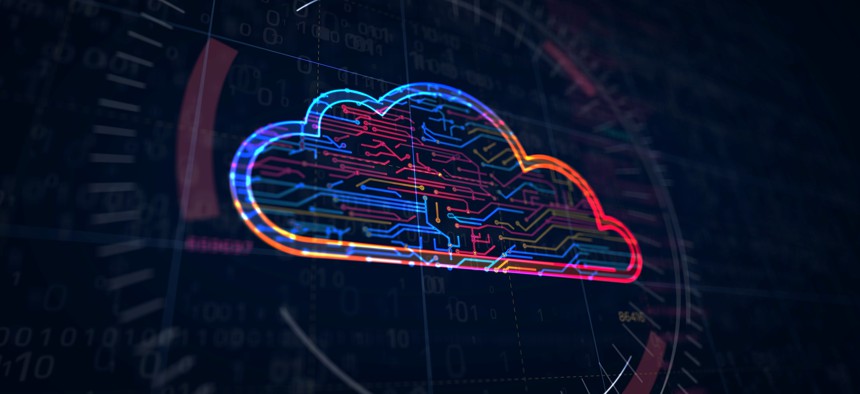 When it comes to government IT modernization, hybrid clouds have become increasingly common drivers for transformation efforts. A best-of-both-worlds method, the hybrid cloud environment marries private and public cloud services and provides agility, scalability and flexibility to an agency looking to accelerate its cloud adoption. 
There's keen interest in the approach for government agencies. In fact, according to a recent report, 70 percent of those in the federal government believe the majority of federal agencies will rely on hybrid cloud environments to power core applications within the next decade.
But getting there isn't painless. Challenges agencies face include managing a sometimes-tangled IT infrastructure and finding or training staff appropriately. Still, there are best practices agencies can leverage on their hybrid cloud journey. One tool that acts as a unified dashboard could help ease the burden — while also fast-tracking agency innovation at the same time — could prove to be a game changer for agencies. 
Modernization and Innovation
Digital transformation and modernization is an imperative for government agencies, but it's a tall order. A hybrid or multicloud environment can help to facilitate that transformation without having to completely overhaul existing infrastructure, said Jeff Johnson, cloud expert for Akima, which helps public sector agencies speed up their cloud migration.
"Agencies want to leverage a multi-cloud infrastructure that both enables public cloud services and preserves the on-premises legacy environment. This dual environment allows cloud-native application deployment and transformation while still taking advantage of existing on-premises investments," he said. "Ideally, hybrid cloud means a transparent experience for end users no matter if workloads and services are running in the private or public cloud portion of the enterprise cloud."
Moreover, moving to the cloud can facilitate not just transformation, but innovation. 
"The less time spent on redesigning and redeveloping the existing application stack means the more time accelerating innovation through cloud native applications. The cloud native approach that embraces a DevOps philosophy means accelerated delivery of value to end users and increased investment in innovation," Johnson noted.
A Single Pane of Glass
But it's not all smooth sailing. One main challenge IT leaders face when transitioning to the cloud is managing the multiple facets of the infrastructure.
"The modern agency's hybrid cloud typically includes both on-premises legacy infrastructure and an evolution into some form of a commercial cloud. This 'extending the data center' approach means looking at the potentially disjointed environment as a unified environment," Johnson noted.
To remedy this, a "single pane of glass" that brings together all the relevant data and information from various sources, applications and environment into one unified dashboard is critical.
"A unified dashboard means one source of truth and the single starting point for any type of problem resolution or triage. A single dashboard flattens the learning curve and facilitates standard operating procedures and standardized processes," said Johnson.
An agency using a host of vendors and numerous cloud management tools has to wrangle multiple consoles. But a single pane of glass offers a unified view of various tools to provide IT leaders with a streamlined, complete view of their environment.
"A single pane of glass gives full visibility into every aspect of the on and off-premises components. This accelerates problem diagnosis and resolution since an engineer does not have to waste time determining even where an alert is coming from," Johnson said. "Managing from a single touch point also enables a consolidated place to look at services such as security, billing, and patch deployment."
One federal law enforcement agency turned to Akima to solve this challenge. It needed a unified view into all of its platforms, solutions and workloads. Akima, which managed hybrid IaaS services for a complex technology stack including several public clouds, quickly realized that the customer would need a Cloud Management Portal to provide full visibility.
"This allows us to tie into the cloud service provider's public APIs for effective cloud asset management, while also providing a single user pane as users deploy IaaS into their environments," said Johnson.
The result: The agency could now easily monitor the health of its environments and Akima was able to use this monitoring platform to seamlessly connect to a range of different cloud service vendors —  Azure, AWS and VMware — simply through APIs. 
Staffing Challenges
Despite the allure of hybrid clouds, many hesitate to make the switch. That reluctance is often grounded in a lack of internal talent, Johnson said. Existing IT teams are rarely trained in the new architecture, which can make it difficult to hit the ground running.
"Typically, existing staff has skill sets suited to an on-premises networking, storage, and compute environment with limited experience with off-premises clouds. This requires agencies to hire new staff or retrain existing as the on-premises environment evolves into a hybrid environment," said Johnson.
Moreover, while it can be tempting to retrain current staff, there are other considerations at play.
"Simply retraining existing staff sounds better in theory than in practice since the existing staff still needs to maintain focus and expertise on the operations and maintenance aspects of the on premises," said Johnson.
By thinking ahead and considering those needs while planning a migration to multicloud, however, agencies can think through exactly when to retrain staff and when to bring new members into the team.
"An effective staff augmentation plan that aligns specific skills to both the on and off-premises technology stack will enable an agency to keep pace with its evolving hybrid cloud and take advantage of what a multicloud infrastructure has to offer," said Johnson.