sponsor content What's this?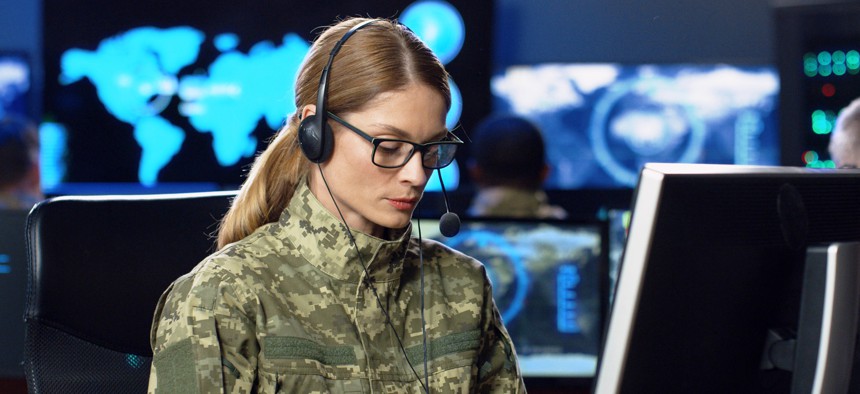 At first glance, the delivery of everyday technologies—email, data, voice, video and other commonly used IT services—within the Defense Enclave Services (DES) program appears straightforward. After all, they are widely used enterprise IT services with relatively predictable costs.
However, a more thoughtful look into this service delivery for DES reveals the underlying complexity and the need for an innovative approach.
DES will use a single provider to consolidate the networks, process, tools, infrastructure and contracts for the 20+ agencies in the U.S. Department of Defense (DOD) that are not directly part of the military services—–also known as the Fourth Estate. In doing so, DES will realize lower costs and risk. The key to the success of this consolidation hinges on the implementation of an innovation framework that creates the right digital environment and competitive advantage.
Not all innovations are technical breakthroughs. Innovative business models can transform agency customers' expectations, attitudes and buying patterns. Streamlining functions, services and processes can lead to additional innovations. In many cases, innovation advancements come from the incremental improvements that occur with greater adoption of IT services and user feedback. For DES, most of the innovations will be organizational and incremental because these are the least disruptive and more readily support improved user experiences and mission fulfillment.
As manager of the DES program, the Defense Information Systems Agency (DISA) can benefit from the following considerations for setting up an environment at DES that encourages innovation and achieves the expected results.
These best practices are based on real-world transformation initiatives led by Perspecta:
1. Define the strategic domains
Planners can approach the DES transformation by identifying areas that are ripe for innovation and linking them to the DOD's digital modernization strategy.
For example, cybersecurity is an area that requires ongoing innovation because adversaries continuously develop their skills and take advantage of existing technologies. Technology deployments and migration processes are other strategic domains that benefit from innovation that leads to less hands-on support, cost efficiencies, faster adoption and greater productivity.
By rotating the focus on strategic areas, planners can ensure that innovations get introduced regularly and practices that don't add value are ended.
2. Determine performance requirements
Making the best use of IT goes beyond focusing on the technical aspects. Often, it can involve improving workflows, overcoming organizational issues, dealing with regulatory requirements or even addressing personnel challenges.
DES can manage these with specific quantitative measurements as part of service-level agreements. For example, DES can determine the development-to-deployment time of technology related to cloud, software-defined networking, cybersecurity and identity and access management. Setting cost parameters as compared to pre-DES spending levels will be particularly important because eventually every IT environment becomes obsolete and incurs higher costs.
From a qualitative perspective, survey metrics can identify the speed with which contractors develop and test prototypes, how well users understand and take advantage of certain innovations, and whether an agency is extracting the most value from such innovations
3. Account for risk factors
The 20+ agencies in the Fourth Estate are different sizes, embody diverse cultures and pursue affiliated, but separate, missions. Their IT environments have different supply chains, configurations, internet access points, application profiles, desktop images and hardware profiles. Because of these differences, DES will face challenges in achieving operational uniformity—for example, a technology or process change that is not performing as intended. DISA can overcome such challenges by implementing a structure that allows it to control maintenance of the optimization efforts so changes can be quickly withdrawn if they do not meet intended targets.
An additional challenge DES will encounter is keeping the right talent in place for critical functions. DISA and its contractors will need a dedicated capability for research and development along with a strong bench of system architects, network engineers and program analysts as the DES program evolves and increasing levels of innovation are introduced
4.  Map operational use-case scenarios to innovation
Each strategic domain offers opportunities to show how one innovation leads to others and incrementally contributes to mission assurance. For example, within the domain of cybersecurity, network consolidation not only presents a smaller attack surface to adversaries, it leads to improvements in cyber hygiene.
A phased rollout by DISA would include deployment of zero trust protocols based on roles, a thorough process for rationalizing applications and a tighter review of approved ports—all of which offer greater protection
5. Make ongoing improvements
DOD spends 70% of its IT budget on sustaining programs and only 30% on development, modernization and enhancement. DES presents an opportunity to reverse this for the Fourth Estate by following the technology business management model. Under this model, IT functions are aligned with overall DOD objectives as DES deploys cloud technology, focuses on security and enables continual integration of emerging technologies and services.
Even small enhancements are significant. For example, the deployment of SharePoint can lead to a significant reduction in the use of email attachments as well as the need for local storage and associated mail servers—these reductions lead to lower costs. Similarly, eliminating duplicate telecommunications circuits simplifies maintenance, reduces associated costs and jettisons excess networking equipment, which decreases costs for support contracts. Each enhancement drives innovation that ties back to return on investment criteria, allows agencies to become more informed on operations and leads to faster response to threats and market changes.
6. Measure success
The disparate nature of the existing IT environment for the Fourth Estate means improvements can have a quick and lasting effect. For DES to be a showcase of government efficiency, DISA will need to baseline current performance, evaluate the predicted enhancements and measure the difference. For example, did deployment of an artificial intelligence / machine learning capability predict and prevent a desktop problem before it happened? It will be interesting to see how this performance and the associated cost compares to the current help desk model.
Workforce satisfaction, cost by activity (i.e., maintenance, schedule delivery) and other metrics offer additional success factors beyond those commonly associated with managing commodity IT. A broad scope of success criteria is required for DISA to help users do their jobs, adhere to the DOD's modernization requirements and ultimately support the agencies' missions.
Anindo Bagchi, Ph.D. is a principal solutions architect with Perspecta Labs, a division of Perspecta. His expertise in network architecture, planning, design and integration has supported digital modernization initiatives for multiple government agencies. Contact him at abagchi@perspectalabs.com.