sponsor content What's this?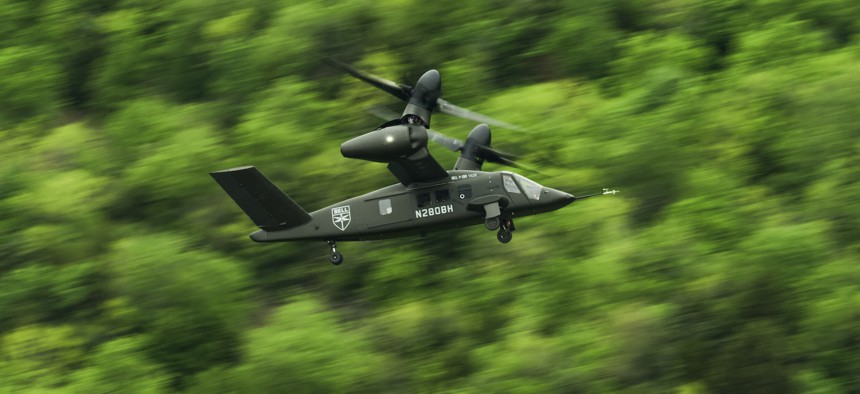 Speed and Operational Reach are Essential in War
For decades, the U.S. Army has maintained global aviation advantage. Now, as the current aircraft fleet reaches the end of its lifecycle modernization is critical.
For Army aviation, it's not enough to simply be adequate when it comes to speed and operational reach; to match committed competitors the Army knows it must continuously improve capabilities. Future Vertical Lift (FVL) programs are setting a new performance standard, leaping ahead of existing rotorcraft capabilities. 
The V-280, a second-generation tiltrotor aircraft, provides Army Aviation with transformative mission capabilities to compete and win globally in peer-to-peer crises and conflict. It is not a paper promise. Covering 200 nm in less than 45 minutes, the V-280 is flight-proven to be highly effective, offering optimized technology based on more than 600,000 versatile and battle-proven flight hours with the V-22 Osprey, which greatly improves mission readiness, effectiveness, and survivability.
Only those who are vigilant, willing to break the mold, adopt new ideas, and retain a commitment to excellence can survive. Bell and the V-280 Valor have set a new standard of excellence for the Future Long-Range Assault Aircraft (FLRAA) competition with operational reach well-beyond current fleet capabilities. 
V-280 Prioritizes Speed and Agility for Army Global Operational Relevance
"We're to the point now with threat conditions at the highest levels since the Cold War where we must be able to respond quickly around the globe in areas with little to no infrastructure, without runways. The only access you have is with vertical lift," said Carl Coffman, vice president of military sales and strategy at Bell. "In order to meet national security objectives for crises, like the one unfolding in Eastern Europe, we must have a capability that is revolutionary, not just evolutionary."
For Coffman and his team, revolutionary capabilities mean designing aircraft with the speed and agility to mass force from distributed locations in any area of need around the world. The speed and reach available from aircraft like the V-280 Valor not only increases the ability for Army leaders to move combat units around the battlefield — or in the case of FLRAA around entire regions — it also dramatically decreases the threat's ability to engage.
"We've got to achieve overmatch on the battlefield, and we achieve it with FLRAA's speed to converge en masse against all potential threats," he said. "Whether they be strategic effects in terms of just pre-positioning a force in order to deter conflict or having the ability to deliver lethal effects at the tactical level if we have to, we move into a conflict phase where we're actually in a kinetic fight."
V-280 Offers Seamless Infrastructure Integration
Although tiltrotor aircraft is a unique capability to the Army, Coffman noted that the V-280 is designed to work seamlessly alongside the Army's current aviation infrastructure because it can use the equipment available today and has the digital infrastructure to easily integrate new strategic and tactical features for tomorrow's battlefield and Army. Bell's experience in multi-service tiltrotor integration and sustainment provides a streamlined pathway and experience to ensure smooth heterogeneous interoperability across the Army.
The Value of V-280 Speed and Reach: A Necessity
"You can't think of the V-280 as simply a Black Hawk replacement because as a weapons system, it is light years ahead of the Black Hawk," Coffman said. "We have pushed traditional rotorcraft and designs to the end of their ability to compete effectively in great power crisis and conflict. The V-280 is a new generation of aircraft, a necessity to revolutionize Army Aviation weapon systems and Army doctrine for the warfighter."
The V-280's speed and reliability for long-range assault missions provide unmatched versatility to improve life-saving vertical lift missions like medevac or critical resupply. Imagine what the V-280 operational reach means to a wounded soldier watching their golden hour unfold. In order to quickly close the distance between relative sanctuary and the tactical edge, modern aircraft must be able to execute traditional rotorcraft missions as well as high-speed operational reach.
"With the V-280, the Army gets increased lethality and increased survivability because the threat's ability to successfully engage are significantly reduced when you are way out in front of them," explained Coffman.
In addition to speed, the V-280 boasts advanced mission controls to augment or help pilots operate in challenging visual conditions, as well as strategic deployment capabilities that allow the aircraft to take off at a moment's notice, increasing operational flexibility. According to Coffman, these features are necessary for today's aircraft to ensure the operators have the ability to exploit competitor weaknesses through seams opened by capabilities such as long-range precision fires and hypersonic missiles.
The Lowest Risk and Best ROI of Staying in the Fight
With immense increases in aerial performance aside, the V-280 also delivers significant gains in long-term durability and survivability that will benefit those who use it daily and make it an excellent return on investment (ROI) for the Army. Coffman explained that every seven to 10 years, the cost to sustain an aircraft fleet nearly doubles due to the demands of time and use put on the systems. To offset potential future upgrade costs for taxpayers, Bell has worked closely with industry to invest in technology that will lengthen the life cycle and lower the cost of the aircraft.
"We haven't only invested in the aircraft design and the aircraft test programs, we have invested significantly in our digital enterprise and manufacturing technologies," said Coffman. "The bottom line is other solutions are at lower and untested technical maturity levels. The V-280 is by far, the lowest risk to cost, risk to schedule, risk to performance available to the Army today. In great power competition, peers don't wait for you to catch up; they act. Now is no time to take risks."
Ultimately, Coffman noted that the V-280 delivers the best value by far when considering performance and affordability to give the Army the transformational speed and operational reach necessary to mass Army forces wherever they are needed to create dilemmas for adversaries and ensure the safety of the nation.
Learn more about the V-280 Valor and how Bell plans to modernize aviation.