Author Archive
Annie Pforzheimer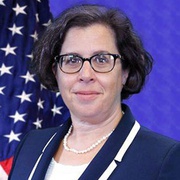 Annie Pforzheimer is senior non-resident associate at the Center for Strategic and International Studies. She is a retired career diplomat who served until March 2019 as acting deputy assistant secretary for Afghanistan and as the deputy chief of mission of the U.S. Embassy in Kabul from 2017 to 2018. Pforzheimer is a member of Alliance in Support of the Afghan People, which represents U.S. national security, military, civilian and human rights leaders who call for preserving and protecting the gains in Afghanistan through U.S. engagement. The opinions and characterizations in this piece are those of the author and do not necessarily represent those of the U.S. government.
Ideas
This is not something we hoped to see from national security leaders and a president we admire so much.
Mark R. Jacobson and Annie Pforzheimer
Ideas
Walking away out of frustration — especially during peace talks — is as empty a strategy as doubling down out of optimism.