Author Archive
Barry Pavel
Director, Atlantic Council's Scowcroft Center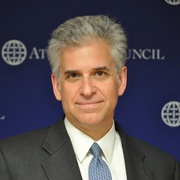 Barry Pavel is vice president and director of the Brent Scowcroft Center on International Security at the Atlantic Council. From 2008-10 he was special assistant to the president and senior director for defense policy and strategy on the National Security Council staff. Pavel has served as chief of staff and principal deputy assistant secretary of defense for special operations/low-intensity conflict and interdependent capabilities.
Ideas
U.S. efforts to increase deterrence must be carefully calibrated to avoid accidental escalation.
Ideas
Such a group would help to collectively engage Beijing, which prefers to deal with countries in isolation.
Barry Pavel and Ian Brzezinski
Ideas
Far from instilling fear in Assad, it may merely have created a short-term munitions shortage.
---
Ideas
Crimea may be lost, but President Obama should fly to Brussels and reassure Europe that NATO will keep Putin out of Eastern Ukraine. By Barry Pavel