Author Archive
Brandi Vincent
Defense Technology Correspondent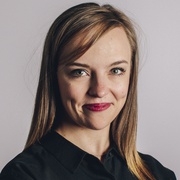 Brandi Vincent reports on national security technologies and policies, and produces the Critical Update podcast. Before joining Nextgov, she produced a long-form documentary and helped create news content at Snapchat and NBC Network. Brandi was named a 2021 Paul Miller Washington Fellow by the National Press Foundation and was awarded SIIA's 2020 Jesse H. Neal Award for Best News Coverage. She grew up in south Louisiana and received a master's in journalism from the University of Maryland.
Threats
Quantum computers promise to render today's encryption largely obsolete. A Booz Allen report says it's time to start managing the risks.
Business
The department expanded the pool of bidders for its much-anticipated JEDI replacement.
Policy
New legislation to pilot easy-access data libraries could be included in the fiscal 2022 NDAA.
---
Threats
The agency is also creating a Chief Data Officer.
Science & Tech
Policy reforms and technology boosts are in the pipeline, military leaders confirmed.
Policy
Ransomware is a top concern, but the agency is also looking ahead to defending networked weapons and post-quantum encryption.
Science & Tech
Next-gen systems like Oak Ridge's latest are expected to drive unprecedented innovation.
Threats
Meanwhile, the Army is trying to get inside perpetrators' OODA loops.
Science & Tech
Top officials are also looking into data integration and digital traceability tools to help keep staff healthy.
Science & Tech
Nicolas Chaillan, who led a Pentagon-wide DevSecOps effort, said he was leaving in part because of a lack of support from senior leaders.
Science & Tech
The aim is a kit to convert barges into self-propelled, expeditionary replenishment platforms for rotary wing aircraft, surface vessels, and shore stations.
Science & Tech
Work there will support DOD's new soldier goggles — formally known as the Integrated Visual Augmentation System.
Science & Tech
Most of the images were collected by the controversial company Clearview AI, a Government Accountability Office report found.
Policy
Officials briefed Nextgov on notable inclusions—and what might come next.
Science & Tech
Five-year effort will launch with 18 projects focused on AI, autonomy, and modeling and simulation.
Science & Tech
A scientist from the Army Research Lab gave a glimpse into its early work with biohybrid robotics.
Threats
To fill a shortage of quantum scientists, leaders in the field are working to build an inclusive community — starting in grade school.
Science & Tech
"Any aspect of 5G applied to any aspect of space systems is of potential interest," says a new request for information.
Science & Tech
Researchers aim to better understand how the self-moving machines respond to real-world challenges.
Science & Tech
An initial demonstration should occur this summer, an official said.