Author Archive
Brandi Vincent
Defense Technology Correspondent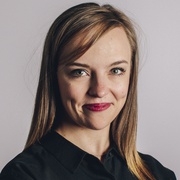 Brandi Vincent reports on national security technologies and policies, and produces the Critical Update podcast. Before joining Nextgov, she produced a long-form documentary and helped create news content at Snapchat and NBC Network. Brandi was named a 2021 Paul Miller Washington Fellow by the National Press Foundation and was awarded SIIA's 2020 Jesse H. Neal Award for Best News Coverage. She grew up in south Louisiana and received a master's in journalism from the University of Maryland.
Science & Tech
Officials say they didn't expect to need so much time to choose among four bids for a $9 billion cloud contract.
Brandi Vincent and Lauren C. Williams
Policy
After a Russian official issued dire warnings against tampering with satellites, U.S. officials declined to follow suit.
Science & Tech
An initial launch is set for late March, officials confirmed.
---
Science & Tech
The Intelligence Advanced Research Projects Activity takes aim at a capability that might one day help fight disinformation and human trafficking.
Science & Tech
The project is part of the Joint Artificial Intelligence Center's 8-month-old AI and Data Accelerator.
Science & Tech
Arctic coverage and airborne communications are two areas highlighted for exploration.
Science & Tech
The National Defense Science and Technology Strategy won't be out for a while, but Undersecretary Shyu's "Technology Vision for an Era of Competition" offers an early look.
Science & Tech
Two memos clarify the goals of the Chief Digital and Artificial Intelligence Office, which was created to coordinate AI efforts across DOD.
Threats
Quantum computers promise to render today's encryption largely obsolete. A Booz Allen report says it's time to start managing the risks.
Business
The department expanded the pool of bidders for its much-anticipated JEDI replacement.
Policy
New legislation to pilot easy-access data libraries could be included in the fiscal 2022 NDAA.
Threats
The agency is also creating a Chief Data Officer.
Science & Tech
Policy reforms and technology boosts are in the pipeline, military leaders confirmed.
Policy
Ransomware is a top concern, but the agency is also looking ahead to defending networked weapons and post-quantum encryption.
Science & Tech
Next-gen systems like Oak Ridge's latest are expected to drive unprecedented innovation.
Threats
Meanwhile, the Army is trying to get inside perpetrators' OODA loops.
Science & Tech
Top officials are also looking into data integration and digital traceability tools to help keep staff healthy.
Science & Tech
Nicolas Chaillan, who led a Pentagon-wide DevSecOps effort, said he was leaving in part because of a lack of support from senior leaders.
Science & Tech
The aim is a kit to convert barges into self-propelled, expeditionary replenishment platforms for rotary wing aircraft, surface vessels, and shore stations.
Science & Tech
Work there will support DOD's new soldier goggles — formally known as the Integrated Visual Augmentation System.