Author Archive
Brandi Vincent
Staff Correspondent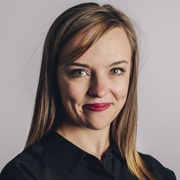 Brandi Vincent reports on the federal government's use of and policies for emerging technologies—including but not limited to supercomputing, artificial intelligence, biometrics, and the internet of things. Before joining Nextgov, Brandi helped create news for millennials at Snapchat and mixed media at NBC News. She grew up in south Louisiana and received a master's in journalism from the University of Maryland.
Science & Tech
Basic science, practical engineering — and an attempt to focus on the most productive lines of effort.
Threats
Three agencies involved in quantum research spent 2019 planning and 2020 launching new efforts. 
Science & Tech
Defense Department-led pursuits of next-generation connectivity will hone in on survivability, security, and innovation.
---
Science & Tech
If your technology can tell what city it's in just by listening, the National Geospatial-Intelligence Agency may have a prize for you.
Science & Tech
A prototype aims to help handlers see things from the dog's point of view, and give commands while staying out of sight.
Threats
The sensors and satellites will be part of the Tracking Layer component of the next-gen missile-defense system.
Science & Tech
The White House's team recently added the world's fastest computer to its informal network of more than 40.
Science & Tech
The Deepfake Report Act would require the Homeland Security Department to study the threats posed by manipulated and synthetic text and imagery.
Science & Tech
As part of the Underminer program, General Electric's innovation arm is perfecting a soft robot to boost battlefield operations.
Science & Tech
The group aims to use models and information to judge risks to the Defense Department and its missions.
Science & Tech
And that's just one of the various pandemic-related problems that Defense Department supercomputers are chewing on.
Threats
The list is meant to help government decision-makers make better choices about policies and actions.
Science & Tech
The strategy focuses on four lines of effort and will guide how the government approaches 5G for the near future.
Science & Tech
At a virtual town hall, the defense secretary asked troops and employees to be extra careful of phishing attempts and to disregard dis- and misinformation about COVID-19.
Science & Tech
Scientists are tapping supercomputers to seek treatments and a vaccine.
Science & Tech
Researchers received emergency computation time to run through a database of drug compounds to see which combinations might prevent COVID-19.
Science & Tech
It's Alka Patel, a lawyer who has been working for the Joint Artificial Intelligence Center.
Science & Tech
This sounds like science fiction. But for soldiers, it could soon be a reality.
Science & Tech
The Criminal Investigation Command is looking to tap into social media sites for digital evidence.