Author Archive
Brandi Vincent
Staff Correspondent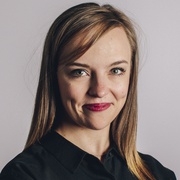 Brandi Vincent reports on the federal government's use of and policies for emerging technologies. Before joining Nextgov, she produced a long-form documentary and helped create news at Snapchat and mixed media at NBC. Brandi was named a 2021 Paul Miller Washington Fellow by the National Press Foundation and was awarded SIIA's 2020 Jesse H. Neal Award for Best News Coverage. She grew up in south Louisiana and received a master's in journalism from the University of Maryland.
Science & Tech
Work there will support DOD's new soldier goggles — formally known as the Integrated Visual Augmentation System.
Science & Tech
Most of the images were collected by the controversial company Clearview AI, a Government Accountability Office report found.
Policy
Officials briefed Nextgov on notable inclusions—and what might come next.
---
Science & Tech
Five-year effort will launch with 18 projects focused on AI, autonomy, and modeling and simulation.
Science & Tech
A scientist from the Army Research Lab gave a glimpse into its early work with biohybrid robotics.
Threats
To fill a shortage of quantum scientists, leaders in the field are working to build an inclusive community — starting in grade school.
Science & Tech
"Any aspect of 5G applied to any aspect of space systems is of potential interest," says a new request for information.
Science & Tech
Researchers aim to better understand how the self-moving machines respond to real-world challenges.
Science & Tech
An initial demonstration should occur this summer, an official said.
Threats
Housed at Oak Ridge National Lab, the new forecasting tool is more than six times faster than its predecessor.
Science & Tech
Basic science, practical engineering — and an attempt to focus on the most productive lines of effort.
Threats
Three agencies involved in quantum research spent 2019 planning and 2020 launching new efforts. 
Science & Tech
Defense Department-led pursuits of next-generation connectivity will hone in on survivability, security, and innovation.
Science & Tech
If your technology can tell what city it's in just by listening, the National Geospatial-Intelligence Agency may have a prize for you.
Science & Tech
A prototype aims to help handlers see things from the dog's point of view, and give commands while staying out of sight.
Threats
The sensors and satellites will be part of the Tracking Layer component of the next-gen missile-defense system.
Science & Tech
The White House's team recently added the world's fastest computer to its informal network of more than 40.
Science & Tech
The Deepfake Report Act would require the Homeland Security Department to study the threats posed by manipulated and synthetic text and imagery.
Science & Tech
As part of the Underminer program, General Electric's innovation arm is perfecting a soft robot to boost battlefield operations.