Author Archive
Courtney Bublé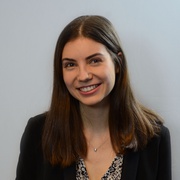 Threats
Companies doing business with the federal government must name a person to coordinate implementation and compliance with the vaccine mandate for covered employees.  
Business
The department has met its goals in that area, but is looking to do even better. 
Policy
For more than a decade, the Special Inspector General for Afghanistan Reconstruction has been warning about "ghost soldiers" and corruption to anyone willing to pay attention.
---
Policy
"It's the best way to keep veterans safe, especially as the Delta variant spreads across the country," said VA Secretary Denis McDonough.
Policy
These are the first cancellations under DHS's month-old plan for unobligated border wall funds. 
Policy
The administration is also looking to repair damage in border communities. 
Policy
The 193-year old agency has a large budget and workforce, but lacks transparency mechanisms.
Ideas
Congress' rejection of the veto—the first in Trump's presidency—comes during his final days in office.
Policy
On Tuesday, the Senate could overturn a veto for the first time in Trump's presidency.
Ideas
After days of bluster and veto threats, the president signed the $1.4 trillion bill into law.
Policy
The request is part of Defense Secretary Mark Esper's overhaul of personnel practices.
Policy
DNI Ratcliffe's edict comes just two months ahead of Election Day, with Russia, China and Iran all intent on influencing the outcome.
Threats
Telework, staggered schedules, and new technology are some of the ways intelligence officials are keeping themselves and the information they gather safe.
Ideas
Many pandemic-response missions are slated to end just before Guard troops become eligible for federal benefits.
Policy
Glenn Fine was ousted from the Defense Department's acting IG position on Monday.
Threats
New memos spell out expanded telework flexibilities, leave policies, alternative work schedules, and more.
Policy
Ken Cuccinelli — also acting DHS secretary — was named acting head of USCIS without having first served in a subordinate position.
Policy
Acting Homeland Security Secretary Chad Wolf is using a 2005 law to override certain requirements.
Policy
The college-based Defense Civilian Training Corps would aim to fill "critical skills gaps" in the department's workforce.
Science & Tech
Located near the Army's Fort Gordon and its Cyber Command, "Tatooine" is the service's first facility outside Washington, D.C.