Author Archive
James Jeffrey
Chair, Middle East Program, Wilson Center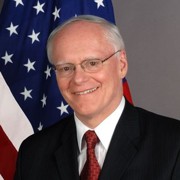 James Jeffrey is chair of the Middle East program at the Wilson Center; a former U.S. ambassador to Turkey, Iraq, and Albania; and former Special Envoy to the Global Coalition To Defeat ISIS, and Syria chief of mission.
Ideas
Russia's invasion of a sovereign state is also an attack on the basic principle the international body was founded to prevent.
Ideas
It worked in Syria.
Ideas
It's reassuring to think the country wants only a defensive capability. It could very easily be wrong.
James Jeffrey

, The Atlantic
---
Ideas
Of course it would be daunting to solve the conflicts the Islamic State feeds on. But that isn't, or shouldn't be, the mission.
James Jeffrey

, The Atlantic