sponsor content What's this?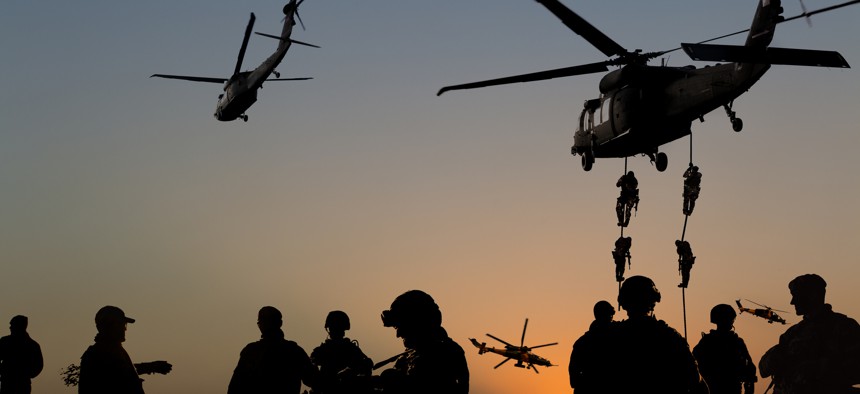 The battlespace is changing, becoming more technologically intertwined and data-driven. To keep up, the Department of Defense is turning to tactics like Combined Joint All-Domain Command and Control, or CJADC2, which promises to fundamentally reshape the way warfighters operate. Under this emerging vision, the military branches — along with allies and partner nations — connect sensors, shooters, and command nodes in a "mesh network" at the most forward spaces of the battlespace with an open flow of data that allows commanders to act faster and more effectively.
For this to become a reality, data at different classification levels will need to be more readily accessible than in the past.
"That person on the tactical edge will need to have access to data that is either higher or lower classification. But you can't just let them access, for example, a secret network, when they are coming through a controlled unclassified network," said Chris Spann, a business development manager with Collins Aerospace.
Collins' SecureOne Cross-domain Solutions, or CDS, takes technology traditionally found in large rack-mounted server rooms and turns it into a versatile small form factor deployable in a variety of systems. Coalition forces get the right data to the right place at the right time at that tactical edge while removing the possibility of data spilling onto a network at a lower classification level without first removing that higher classified information.
What CDS Can Do
Cross-domain solutions offer a means to share information between two or more networks at different security classifications.
As described by the Air Force Research Lab, CDS "must simultaneously protect the confidentiality of high-side data, protect the data integrity and protect the availability of high-side resources. In layman's terms, a CDS must prevent both data spills as well as attacks against classified networks."
The National Security Agency (NSA) sets the guidelines for communication across disparate security classifications: Who can use CDS, where and how data can be shared. The CDS in turn leverages the pre-formatted nature of military communications to establish and apply a set of rules, in order to make appropriate information available as needed to allow any sensor to inform any effector — including commanders, warfighters, and autonomous systems.
"Those rules would be mission dependent," Spann said. "Say you've got a forward observer: He or she is only going to need to see certain messages in order to effect targeting on the battlefield. Allies and partners likewise are only permitted access to certain information. The rules describe that information, making it specific for that mission."
The net result of all this: Increased situational awareness based on trusted sources, with less effort on the part of the warfighter.
CDS in Action
In a recent demonstration, Collins Aerospace brought to life this vision of advanced communication, mission computing and sensor technologies in support of the Utah Air National Guard at the Roland R. Wright Air National Guard Base in Salt Lake City, Utah.
Conducted in collaboration with 151st Air Refueling Wing, the demonstration showed how CDS can leverage integrated technologies to deliver joint connectivity, giving warfighters access to actionable data and increased situational awareness.
At a time when soldiers confront a highly contested intel environment, the demonstration showed that a CDS can deliver even in the face of cyber-sophisticated adversaries.
The demonstration took place on a Block 45 retrofitted KC-135 featuring Collins' real-time information in the cockpit (RTIC) system, with live-fly elements simulating a forward-deployed element as the primary information-gathering source, and an airborne relay element.
The forward-deployed element identified and processed key target information and was able to transmit that data over the Collins Tactical Targeting Networking Technology (TTNT) mesh network directly to the flight deck. Collins' software then sent the messages to those leading and/or executing the mission in the moment.
"It shows how CDS can take the data from the larger tactical data-link network and filter it to create a common operating picture by breaking down the barriers of multiple domains at different security levels formerly unable to share information. It's a step towards the goal of allowing any sensors to inform any effector within the Multi-Domain Operations of the complex battlespace," Spann said.
The Collins Approach
In another recent milestone, Collins was recognized for its small form factor cross domain solution. Form factor is a key differentiator in Collins' approach to CDS.
"Part of what sets us apart is the ability to take the CDS capability to the tactical edge," Spann said. "These types of systems can become quite cumbersome, but we have managed to put it in a form factor that can go where you need it, whether mounted on an aircraft or even worn by the solider."
In addition, the Collins solution stands out for its user-empowering control panel. "This allows the user to manipulate the rule sets on their own, within the NSA guidelines," Spann said. "Rather than having to go back to vendor to change the rule sets, the user can apply updates as needed, in real time. That capability is critical in an operational situation."
To ensure the security of CDS, Collins solutions are certified under the National Cross Domain Strategy Management Office "Raise the Bar" standards. These go beyond the National Institute of Standards and Technology (NIST) Risk Management framework controls, to meet the challenges posed as cybersecurity threats become more sophisticated and systems become more interoperable.
With 25 years' experience in supporting the Pentagon's complex communication needs, Collins Aerospace is leading the way in delivering the cross-domain solutions that will support critical data flow across disparate security classifications. This capability will be key to bringing to life the potential of the military's emerging CJADC2 vision.
Learn more about how Collins Aerospace is helping to make CJADC2 a reality.