Author Archive
Joe Cirincione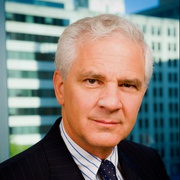 Joe Cirincione is a national security analyst. He is author of "Bomb Scare: The History and Future of Nuclear Weapons" and other works. He formerly served as president of Ploughshares Fund, vice-president for national security at the Center for American Progress, director for non-proliferation at the Carnegie Endowment and as a senior fellow at the Stimson Center. He served for nine years on the professional staff of the House Armed Services Committee and the Government Operations Committee. He is a member of the Council on Foreign Relations.
Ideas
The much-lauded air-defense system has a decidedly mixed record. The Pentagon should watch its performance carefully.
Ideas
It revealed a deeply flawed conception of diplomacy.
Ideas
Putting it on the table would put the United States in the driver's seat in strategic stability talks.
John Tierney and Joe Cirincione
---
Ideas
If you owe someone a lot of money, they have leverage over you. To whom, exactly, does the U.S. president owe this money?
Ideas
Even before the pandemic, it was clear that more money didn't mean more real security.
Joe Cirincione and Erica Fein
Ideas
U.S. policies that restrained and shrank atomic arsenals have been abandoned. Yet there are hopeful trends as well.
Joe Cirincione and Michelle Dover
Ideas
If we remember how we could have stopped it, we may yet find a way to do so.
Ideas
Trump has wisely shifted tactics. Democrats should not let politics undermine reasonable diplomacy.
Joe Cirincione and John Carl Baker
Ideas
There's no evidence behind the national security adviser's dire warnings about Tehran's nuclear intentions.
Ideas
We whistled past the graveyard this year. Let's be smarter in 2019.
Ideas
Can John Bolton be stopped before he further undermines U.S. national security?
Ideas
If McCain had become president in 2008, the world might have had far fewer nuclear weapons today.
Ideas
Extending New START would be an easy win out of the Trump-Putin summit.
Ideas
There's good reason to celebrate the Non-Proliferation Treaty of 1968. We're all still here, aren't we? But the NPT regime's protections are being tested more profoundly than ever.
Ideas
The president needs a "win" somewhere so badly that at the summit he may accept a nuclear freeze and a determined process as a major victory. That is a good thing.
Ideas
'Let it be an arms race,' Trump said, two years ago. Now we have one. It doesn't have to be this way.
Ideas
The Pentagon's Nuclear Posture Review only bends reality to fit Trump's warped views.
Ideas
The Cold War brought plenty of false alarms — but nothing like the situation we face today.
Ideas
Each of these threats has only gotten worse. Take one guess what (or who) I think remains the top nuclear threat to us...
Ideas
Photos show a nose cone big enough to carry multiple warheads, plus countermeasures that U.S. missile defenses have never been tested against.