sponsor content What's this?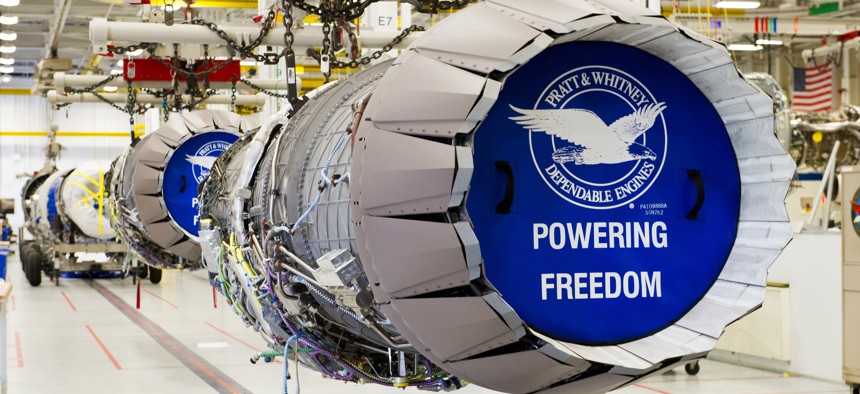 A Fighter Pilot's Perspective: How the F-35's Engine Delivers a Step Change over 4th Gen
Built upon 95+ years of combat propulsion experience, Pratt & Whitney's F135 provides unrivaled performance for the warfighter at an unparalleled value to the taxpayer.
Tim "Picard" Forsythe knows what it means to step up for his country. He spent 29 years as a pilot in the U.S. Air Force, flying more than 4,000 hours across 27 aircraft, moving his family a total of 19 times and eventually rising to the position of chief of the Combat Aircraft Division at Air Combat Command.
When Forsythe decided to leave the service, he was looking for a way to continue serving his country by delivering reliable and effective products to those in the military — but he also wanted to work alongside men and women who shared his values. He found both at Pratt & Whitney.
"I love the product, I've flown the product for a long, long time and relied on it during my time in the Air Force, but it's the people of Pratt & Whitney that I'm most proud of," says Forsythe, who now serves as Pratt & Whitney Military Engines' Lead Integrator for the Combat Air Force. "I'm proud of how we've stepped up, especially in the last year."
Case in point is how the company and its employees skillfully managed the impacts of a global pandemic. Even as COVID-19 slowed production and strained supply chains across the defense and aerospace industry in 2020, Pratt & Whitney still delivered 159 F135 engines for the F-35 Lightning II fighter — ending the year one engine ahead of contract, with no impact to aircraft deliveries. Forsythe attributes this success to Pratt & Whitney's focused efforts and close coordination with its supply base as well as its strong relationship with its U.S. Government customer.
"Our goal is to understand the customer's needs, speaking their language and understanding their challenges, and then to take that knowledge directly back to our head office to see what we can do to address it," Forsythe says.
As with any complex defense acquisition program, there are hiccups along the way. The F135, which powers all three variants of the F-35 fighter, is no exception. While the 5th Generation F135 engine continues to perform extremely well in the field — demonstrating a step change in reliability and safety over the previous generation of engines — there's a learning curve for the enterprise's maintenance network, which does not yet have enough capacity to overhaul the needed number of power modules to support the growing fleet.
"What our customers want is readiness — and that's the crux of the power module availability challenge," Forsythe says. "Propulsion readiness comes from three things: You need an engine that is reliable. We have that. You also need appropriate sparing levels and a robust repair network – those are the two areas we're working with the enterprise to address."
Pratt & Whitney is collaborating closely with the F-35 Joint Program Office and the Services on a plan to address these areas, which include a range of short-term, mid-term and long-term efforts. For example, in the short-term Pratt & Whitney is looking to increase the number of spare engines and modules in the field through new production to provide some breathing room, as the network matures and grows capacity.
Delivering 5th Gen Propulsion Capability at a Great Value to the Taxpayer
As the most expensive acquisition program in Department of Defense history, the F-35 program has long been scrutinized by government officials — and rightfully so. And, with a flat defense budget anticipated over the coming years, this has only intensified as the Services look to align their priorities with the tight fiscal environment.
From a propulsion perspective, the value the F135 engine delivers to the taxpayer is unparalleled. The F135 provides a generational leap in performance and reliability at an incremental cost over 4th generation engines commensurate with its world-class design attributes, high tech components, and 5th Generation enabling technologies.
This is a direct result of Pratt & Whitney's steadfast commitment to driving down costs across the program. Since the first production lot of engines, the company has reduced the average production cost of an F135 by more than 50% and is now targeting a 50%% reduction in cost per flight hour.
Simply put, there is no other fighter engine on the market that can provide the same level of capability, dependability, and growth potential as the F135.
Built upon 95+ years of combat propulsion experience, the F135 truly separates itself from 4th generation engines with a range of 5th Generation engine attributes that include substantially increased thermal management capacity, a precise and responsive integrated engine control system, and unmatched low-observable signature.
All told, the F135 provides the warfighter with a critical technological advantage over adversaries and enables the F-35 weapon system to conduct operations in advanced anti-access/area denial (A2/AD) environments — a core element of the National Defense Strategy.
Forsythe attributes the success of the F135 to the spirit of innovation at Pratt & Whitney, which builds on each generation of previous engines to continue creating products that better serve customers and warfighters.
"We took lessons learned from the F119 [powering the F-22 Raptor] — the F135's predecessor — and applied them to the F135 to create an even better engine," Forsythe says. "The F119 is a fantastic engine, but the F135 is the most advanced."
Not only is the F135 the most powerful fighter engine in the world with more than 40,000 lbs. of thrust, it's also the most dependable — demonstrating a 93% reduction in unscheduled engine removals over 4th generation engines thanks to its fully integrated prognostic health monitoring and advanced damage-tolerant design. The result is an engine that can deliver for today's battlespace, whenever and wherever needed.  
"We just keep learning — each one truly builds on the last," Forsythe says.
The company hasn't slowed down its innovation, either — and doesn't plan to anytime soon.
"The way the world works is that your adversary counters the capability you have and you counter that. The trick is staying ahead of that curve," Forsythe says. "As technologies and the battlespace keep evolving, you have to ensure the propulsion system can keep up with the life of the platform it's on."
Fortunately, the F135 has ample design margin to support agile and affordable upgrades that will enable all F-35 operators to keep pace with evolving threat environments. In fact, Pratt & Whitney has recently developed Enhanced Engine Packages (EEP) for the F135. Leveraging U.S. Government and Pratt & Whitney investments in next generation adaptive propulsion technologies, these variant-common, affordable upgrades offer improved thrust and fuel burn, as well as thermal management system capacity. F135 EEPs are critical enablers for future capability growth of the F-35 weapon system.
"We're always thinking about how we can deliver more capabilities and reliability to the warfighter, because at the end of the day, we want them to say: 'We didn't even think about your engine.,'" Forsythe says. "That's the ultimate compliment you can get from a pilot. It means you built something that works exactly as it should."
Moreover, Forsythe is confident even as needs and capabilities evolve, Pratt & Whitney can keep up, thanks to decades of experience and — above all — a dedicated employee base who share a passion for the mission.
"The people in this company do everything they can possibly do within their power and within the law to do right by our customers," Forsythe says. "That just makes me proud to work for Pratt & Whitney."