Terrorists Are Turning Their Sights on Schools and Students
From attacks on schools by the Pakistani Taliban to kidnappings of students by Boko Haram in Nigeria, young people are proving an alluring target for violent groups.
A terrorist attack on a college in northeastern Kenya has left 147 people dead, with dozens injured and more unaccounted for. The attack appears to be the work of the Somalia-based al-Shabab, an al-Qaeda-linked Islamist group.
The Facts on the Attack
Reports suggest that the attack began with an explosion at the gates of Garissa University College around 5 a.m. Thursday. Gunmen then rushed into the school. The interior minister said 147 people were killed , with scores were injured as well, but some 500 students were rescued An al-Shabab spokesman claimed to Reuters that the attackers separated students by religion, freeing Muslims while keeping Christians as hostages. Witnesses also said some Christians were shot on the spot.
Al-Shabab took credit for the attack. The U.S. Embassy in Nairobi issued a statement attributing the attack to the group and condemning it. But Kenyan President Uhuru Kenyatta, in a statement on his Facebook page, did not name the attackers . The Kenyan government has issued a "most-wanted" alert for a man variously named by different news organizations as Mohamed Mohamud or Mohamed Kuno in connection with the attack; the BBC reports he was formerly the headmaster at an Islamic school in Garissa, the town where the attack occurred. Images from Garissa showed Kenyan Defense Forces tanks moving around the campus.
Hannah McNeish, a reporter on the ground in Garissa, said on Twitter that a student told her there had been warnings posted about an imminent attack on Wednesday, but that they were taken to be an April Fool's joke. Garissa is about 120 miles from the Somali border and has a population of around 120,000 people. The area has many ethnic Somalis.
Regional Conflict and Soft Targets
Assuming al-Shabab is responsible, the attack occurred at the confluence of two major currents in terrorism, globally and in Africa.
First, violence against students by Islamist terror groups are on the rise worldwide. From attacks on schools by the Pakistani Taliban to kidnappings of students by Boko Haram in Nigeria, young people are proving an alluring target for violent groups. My colleague Kathy Gilsinan noted this increase in December —though it's also worth nothing that attacks on educational institutions still constitute only a small percentage of all incidents.
---
Terrorist Attacks Targeting Educational Institutions Worldwide, 1970-2013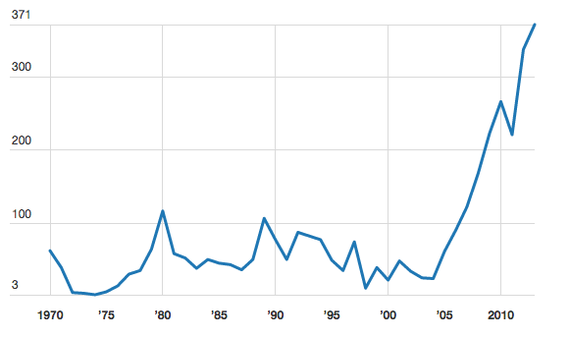 ---
One reason for this is that schools are soft targets, often with sparse defenses and the potential to garner a great deal of attention. (Al-Shabab was also behind the September 2013 attack on Westgate Mall in Nairobi—another soft target.) They also often provide an opportunity to attack the government, since many schools are public institutions, including Garissa University College.
Second, the attack fits with the increasing regionalization of conflicts with terror groups. Al-Shabab began in Somalia, but as neighboring countries like Kenya have gotten involved in the fight against them, they have transformed from a domestic rebellion to a regional menace. This map shows the increasing pace of Shabab attacks within Kenya:
A similar dynamic is occurring across the continent in West Africa. As Nigeria has proven incapable of effectively battling Boko Haram, its neighbors have gotten more involved, with Chad in particular taking a leading role . Meanwhile, Boko Haram has widened its range of attacks , hitting targets in Chad, Niger, and Senegal.
There's no good time for a brutal terrorist attack, but this one comes at a particularly sensitive moment, just days after President Barack Obama announced his first trip to Kenya—his father's homeland—since becoming president. The journey is planned for July.