Author Archive
Paula Thornhill
Associate professor, JHU SAIS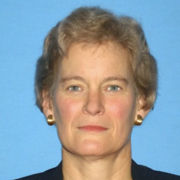 Paula G. Thornhill is a retired U.S. Air Force brigadier general. She is an associate professor at Johns Hopkins University's School of Advanced International Studies and author of Demystifying the American Military.
Ideas
It doesn't do organized violence—and shouldn't pretend that it does.
Ideas
And they will do it by selecting the next commandant and other four- and three-star generals.
Ideas
PME schools should move beyond a minimal standard toward the demanding education students deserve.
---
Ideas
Unlike its sister branches, it doesn't deal in violence. It needs a different model.
Ideas
Retired generals and admirals are, first and foremost, retirees.
Ideas
We can't assume they know enough about what they're swearing to support and defend.
Ideas
More and more national security workers in and out of uniform never get close to combat. It's time to rethink their place in the system.
Ideas
The officers were intimidated by the fancy degrees and four-star friends. The scholars were intimidated by the uniforms, medals and deployments. Here's how they learned to trust each other.