Author Archive
Tara Sonenshine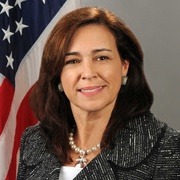 Ideas
Do we care what the rest of the world believes about us? We should.
Ideas
There are important questions still to be answered about Afghanistan and the United States.
Ideas
The partisan gap is widening on several key foreign-policy priorities — as is the generation gap.
---
Ideas
The Russian may at least have projected strength, but the American delivered a dangerous muddle.
Ideas
It is the common ingredient in life and in war: water—the need for it and the desire to control it. By Tara Sonenshine
Policy
The Israeli-Gaza conflict is testing the limits of the concept of a 'cease-fire' as a departure from hostilities. If we can't 'hear' the total silence from the guns of August, is there any way out of the cycle of violence? By Tara Sonenshine
Ideas
Three recent airline tragedies turned the world's spotlight on collateral damage's innocent victims—changing the idea of international security into one of personal security as well. By Tara Sonenshine
Ideas
President Obama might be wise to follow a 'less is more' strategy in Iraq. By Tara Sonenshine
Ideas
The Obama administration is considering beefing up its military presence in Europe, perhaps going so far as granting a Baltic request for permanent NATO military bases. By Tara Sonenshine
Policy
Using all of America's assets—beyond just military prowess—makes sense. By Tara Sonenshine
Ideas
The Russians may be coming -- but not in the way any of us had hoped. By Tara Sonenshine
Ideas
As China joins Japan in the search for the missing plane we are reminded that crises create strange bedfellows, but grief is universal. By Tara Sonenshine
Ideas
Despite recent headlines about Snowden and spying, U.S.-German interests remain in lockstep from Afghanistan to Syria, Iran and now the Ukraine. By Tara Sonenshine
Ideas
It takes a village, like Maaloula, to understand the complexities of Syria's conflict, and the challenges it will face to recover and rebuild. By Tara Sonenshine