sponsor content What's this?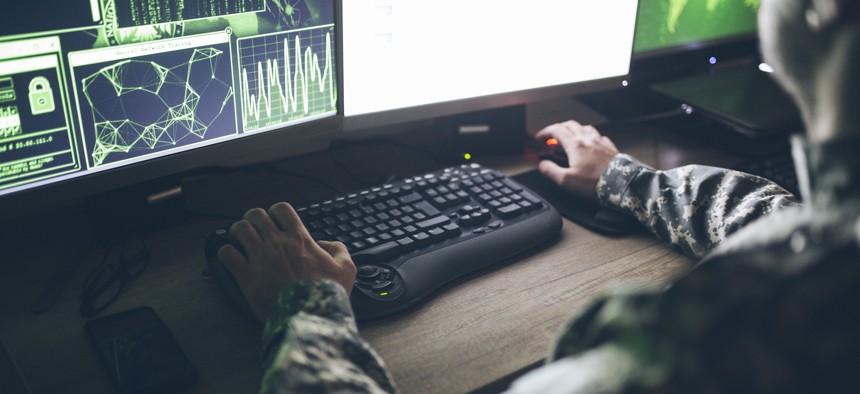 EITaaS Provides a Foundation for DoD's Digital Modernization
With a vision of the future, Enterprise IT as a Service builds a foundation for the DOD to achieve its digital modernization goals by taking advantage of new and emerging technologies and improving mission effectiveness.
Enterprise IT as a Service, or EITaaS, is more than technology upgrades or tech refresh. EITaaS objectives are to use technology to make mission operations more effective by providing enhanced capabilities and tools combined with responsive and proactive services that improve IT operations and mission processes. EITaaS focuses on consolidation and areas for reducing costs. By adopting EITaaS, the DOD can help solve many network, security and cloud management and information sharing challenges. The department's Digital Modernization Strategy, intended to form the foundation for a Joint Force, focuses on innovation and supporting the National Defense Strategy "through the lens of cloud, artificial intelligence, command, control and communications, and cybersecurity."
By unifying three typically separate service areas - network, end-user services and computing platforms -  EITaaS helps eliminate many of the silos that complicate management of the cloud infrastructure while also providing software-defined orchestration of the environment. It accommodates essential features such as identity-based authentication and zero trust — key elements to unified operations — and opens the door for incorporating new technologies via the cloud.
For the Army, "EITaaS provides a platform and greenfield for piloting new technologies and processes" said Verizon's Director of Federal Solutions Architecture, Lamont Copeland, who has been working with the Army and Air Force on their respective EITaaS pilots. "We are providing a more reliable commercial Network as a Service (NaaS) model comprising a subset of Software-Defined Enterprise Network Fabrics seamlessly integrated, secure and interoperable. Our well-orchestrated end-user migration plan brings new devices, a standard desktop and mobility capabilities with access to EITaaS and Army services." 
EITaaS is a key contributor to the Army's Installations of the Future initiative. The clean-slate approach allows the Army and Air Force to evaluate legacy technology and focus on improving capabilities, mission effectiveness and quality of life for our warfighters.
With an eye toward the future, EITaaS provides a foundation to help the DOD to achieve its digital modernization goals — which include innovating to improve its competitive advantages over adversaries, optimizing for improved efficiency and capabilities, and developing agile and resilient cybersecurity — while taking advantage of new and emerging technologies.
A Slice of 5G
5G wireless technology tends to conjure images of high-speed consumer apps and support for services such as telemedicine or self-driving cars. "But the other key piece of 5G is the actual network transport itself," said Verizon's Enterprise Architect Chris Everich. "5G not only provides high bandwidth/low latency connectivity, it will provide revolutionary advances in network virtualization with network slicing."
Software-defined networking is the key enabler of 5G transport and allows for fine grained control of the data plane. With network slicing, the users' resources and network topology can be optimized, providing guaranteed performance levels to meet the individual use cases or applications.
"Network slicing will allow us to deliver, from edge-to-core or edge-to-edge, the performance guarantees based on the service being consumed," Everich said. In the DOD, it could allow bandwidth to be allocated based on mission needs, whether it's for video in a forward- deployed area or for virtual reality apps used in location-based training.
Using EITaaS in concert with 5G will also allow the DOD to take greater advantage of the Internet of Things by enabling better control of large-scale sensor deployments and incorporating new technologies. An IoT deployment can, for instance, involve a widespread distribution of security sensors, each with low power requirements and limited built-in functionality. The capabilities of the next generation of wireless communications ultimately allows for greater control.
"With 5G, it's now possible to create a sensor network at tremendous scale," Everich said.
An EITaaS environment, meanwhile, allows for deployment of technologies such as machine learning and artificial intelligence to those sensors, giving them an ability to learn, carry out additional functions and gain efficiency. Another advantage of ML and AI is in automating processes that now are done manually, greatly increasing speed while helping to reduce error rates.
Personification of Security
The DOD is moving away from outdated authentication and access models based on location and toward its Identity, Credential and Access Management (ICAM) Strategy. ICAM is based on continuous authorization of users and devices, with the eventual goal of establishing a full zero trust security model, which is seen as essential to effective, secure cloud-based operations.
"If you move to a zero trust model, you change the whole security framework," said Verizon's Principal Architect Eric Hardie. "In traditional networks, you trust the network itself," and its array of firewalls, endpoint security and other controls, he said. "In the new zero trust model, instead we build trust around the identity."
Access is determined on a per-session basis, based on the user's identity, the device they're using and what level of access they have. "You protect the data by ensuring that the identities that connect to that data are secured and authenticated and authorized each time they connect," Hardie added.
Verizon already uses identity-based authentication as part of its EITaaS environment. ICAM will greatly streamline access for personnel on the move, whether as individuals or in entire units. Currently, a soldier moving from Fort Polk, LA to Fort Benning, GA, for example, faces a number of time-consuming steps before gaining network access.
"In today's environment, he's got to leave his laptop at [his] home base, go to another base and get in the queue and get access to the network and get credentials," Copeland said. "It'll take some time before he or she is able to step up and do their job. In an EITaaS environment, you've got devices that are provisioned to the network, and you can roam about the network freely, from base to base. Until it's time to upgrade your device, you are in the EITaaS environment. You don't have to get provisioned by the local network folks when you change bases or get assigned somewhere on temporary duty."
The same concept can apply to units operating in deployed areas.
Foundation for the Future
By helping improve the current state of the DOD's cloud environment, EITaaS can enable the adoption of innovative technologies and processes down the road. The Army and Air Force are running EITaaS pilots, each initiated under Other Transaction Agreement (OTA) awards and each with a goal of turning over basic IT operations to private providers in order to allow their personnel to focus on mission-critical activities. But they're also blazing a path for other services and DOD components with regard to EITaaS and laying the groundwork for the future of the department's digital modernization.
"It's an exciting time to be bringing capabilities to the Department of Defense through acquisition strategies like OTAs, which allows the government to collaborate throughout the process with industry partners and experiment, to pilot and try it on for size, so to speak," Copeland said. "And then scale it to production levels that allow them to improve warfighter effectiveness and mission effectiveness."
Learn more about Verizon's solutions for defense and civilian agencies.