sponsor content What's this?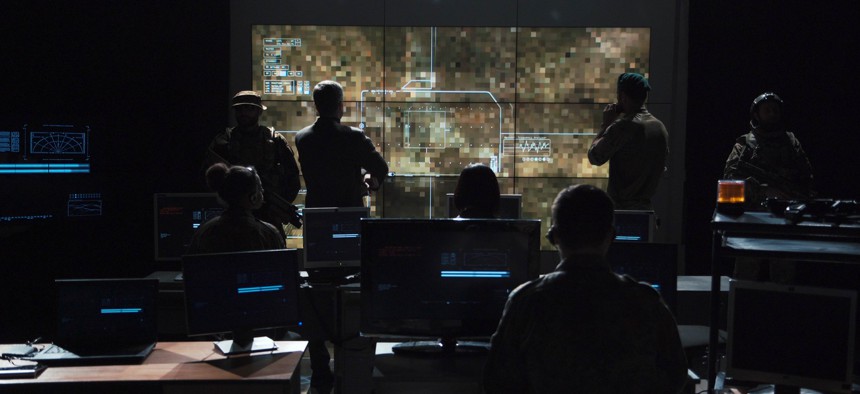 Digital Transformation Can Help the US Military Maintain Tactical Advantage
The current battlespace is becoming increasingly complex as adversaries' abilities evolve. To keep pace and maintain technological edge, national defense agencies must embrace digital transformation.
For decades, the U.S. defense industry has delivered second-to-none capabilities that have allowed the armed forces to maintain technological advantage over adversaries. But now, those adversaries are modernizing faster than ever before, and traditional capability and product acquisition processes are in danger of quickly falling behind in the age of hybrid warfare.
"It's been a very waterfall, serialized process over the years," says Bill Gundrey, executive director for digital transformation at Raytheon Missiles & Defense, a decades-long leader in defense technology. "If we don't start changing processes now, our adversaries are going to start developing so fast we won't be able to catch up."
In the face of the new complex battlespace, defense agencies are looking to optimize their digital threads — data-driven tools and capabilities that weave together the life cycle of a product — to equip warfighters with the tools and capabilities necessary to better protect the nation.
"It's a rapidly evolving threat landscape, especially with the advancements our near peers China and Russia are making," says Gundrey. "Honing focus on digital transformation will allow the industry to quickly identify requirements for our military and leverage the right capabilities at the right time."
Here, Gundrey discusses how defense agencies can foster digital transformation from the ground up to drive mission success.
Changing the Culture
Despite the clear sense of urgency, Gundrey explains that digital transformation will take time. This is because the requirements of digital transformation extend far beyond just updating technology — cultural change is also necessary to help staff adapt to new architectures and ways of working.
"As much investment as you need to make in technology, you need just as much effort and focus around culture, essentially shifting the way you do business altogether," he explains.
Naturally, changing the design of a production cycle that agency staff has worked with for years is a massive hurdle to overcome for teams and leadership alike. According to Gundrey, implementing strong change management will help reassess organizational goals that establish a basis for the new way of working.
"Change management allows leaders to determine new priority areas and reorganize their architecture accordingly for success moving forward," he says.
Once an organization's culture is poised for change and teams are increasingly accustomed to operating new systems and capabilities, leveraging more approaches, advancements will follow, Gundrey explains.
"In this new environment, they can look at problem sets or opportunities through those different lenses, take new approaches, using new tools and architectures that propel the mission forward," he says.
Success Is a Joint Effort
Of course, revamping organizational culture is much easier said than done — especially in a government agency that already juggles multiple competing priorities. Gundrey states that it will take cooperation between agencies and partners to bolster the defense industry and help its factions successfully adopt and implement new tools and technologies.
"Industry and government need to continue to align; working together, to drive change and outpace the threats out there in the world today.  This is a true team sport across the industry," he says, adding that "We are all part of the same mission at the end of the day."
Gundrey points out that significant steps in this effort are already underway. He and his team at Raytheon are working closely with their customers, helping them implement cultural change, adjust to new systems and leverage all those new capabilities have to offer. 
"We come up with ideas for how to work across the digital thread, how to be tool agnostic, then we share those ideas, and get feedback from our customers every step of the way," he says. 
To truly prepare for the evolving battlespace and implement change across the board, it is imperative for industry leaders to collaborate with one another and identify comprehensive solutions for agencies.
"We see this national challenge as an opportunity to work with our competitors and really come up with a way to develop this digital thread efficiently," he says. "Because it's bigger than any one company."
Helping agencies create a connective digital thread also allows Gundrey's team to obtain feedback from a product after it's delivered so they can glean insight directly from warfighters. From there, they can add any additional capabilities.
"We're connected to our products and capabilities after they go out, so we get intelligence and information off of those platforms and feed it back into the development part of the process," he says, noting that those on the front lines are the most critical step in determining the success of digital transformation.
Ultimately, these strong collaborative partnerships and open communication will foster efficient digital transformation and allow defense agencies to protect the nation amidst an ever-evolving threatscape.
"It's going to take work from companies like Raytheon, work from the government side and input from the warfighter," says Gundrey. "It's going to take a partnership to attack this in a cross-functional way and help us maintain our technological edge."
Learn more about how Raytheon Missiles & Defense can help you optimize your digital thread.