sponsor content What's this?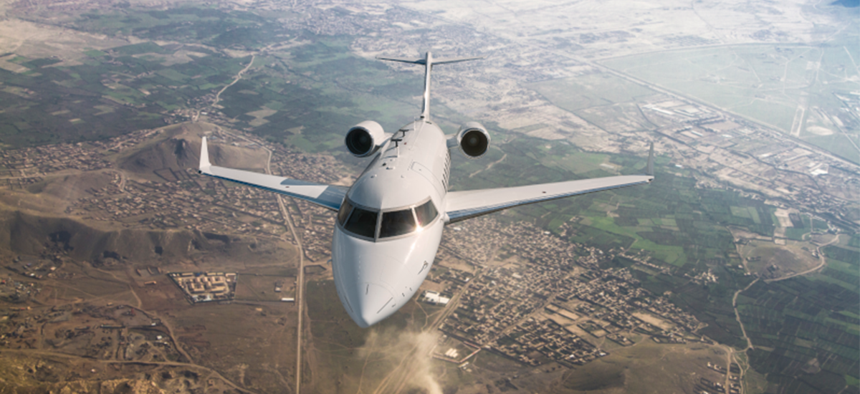 How Leidos Special Mission Aircraft Can Advance Army ISR
Missions are evolving — Leidos' Special Mission Aircraft is evolving with them.
The shift from counterterrorism to near-peer contests is putting new pressures on the Army's aerial intelligence surveillance and reconnaissance, or ISR, capabilities. In the counterinsurgency era, turboprop platforms could get the job done. They flew low and slow, looking for adversarial personnel and chemical traces of improvised explosive devices. The near-peer era calls for something different.
"Now, your adversaries are operating in a contested environment," said Mike Chagnon, airborne solutions operations manager at Leidos. "Therefore, you need to operate at an offset and be able to see long distances, and the signal intelligence mission is also different. You're looking for things like surface-to-air missiles, tank formations, artillery, and sensing across a broader set of frequencies."
In 2019, Leidos sat down with the Army to address the problem. What resulted was a bold plan, which went from concept to launch in a mere 18 months: the Leidos Special Mission Aircraft, or LSMA.
A New Approach
Secretary of the Army Christine Wormuth has said the 2030 Army will need to "see more, farther and more persistently at every echelon than our adversaries."
With the introduction of long-range precision fires and hypersonic weapons, the Army needs to be able to see as far as it can shoot. It needs solutions that support an integrated, collaborative multilayer sensing grid from space to ground.
To that end, the LSMA leverages a commercial airframe — the Bombardier Challenger 650 — to deliver an expanded and enhanced ISR capability. The deployed version is known in the Army as the Aerial Reconnaissance and Targeting Exploitation Multi-Mission Intelligence System, or ARTEMIS.
"It offers increased range and endurance at high altitudes," Chagnon said. "We can fly 4,000 nautical miles, roughly a 10-hour mission, and can operate up to 41,000 feet. The signal intelligence payload includes electronic intelligence and communications intelligence capabilities, and in the future, it can be outfitted with things like synthetic aperture radar and ground-moving target indicators."
Operational benefits
The LMSA offers a range of potential advantages in support of the ISR mission.
Speed and direction equate to agility, allowing the Army to reposition an asset from one coordinating command to another in 24 hours, versus the multiple days it takes to move a turboprop platform that far. "That is a game-changer for the Army," Chagnon said.
The aircraft is also designed with a high degree of configurability in mind, thanks to a multicomponent belly fairing.
"You can swap sensors in and out easily, using a rack-mounted architecture with a common power system," Chagnon said. That arrangement provides the Army with greater flexibility in its ISR capabilities, giving easy access to the physical open architecture and reducing the time it takes to onboard a new component.
This approach also significantly reduces size-weight-and-power constraints. With a common power infrastructure, "you don't need to bring in new power and cooling capabilities each time you bring in a new sensor," Chagnon said. "In the past, this has added a lot of weight and sucked up a lot of power. Through this design, we were able to eliminate hundreds of pounds of weight and deliver a single dedicated power system."
LSMA is already demonstrating its value. It's used operationally today in Romania, where it's providing a significant ISR performance upgrade, Chagnon said. 
"An Army study showed one ARTEMIS aircraft provides the ISR capacity of three and a half of the predecessor turboprop aircraft," he said. "We're flying faster, and we're collecting data over a much larger geographic area."
As-a-service Business Model
The Army can access LSMA through Leidos's Contractor Owned, Contractor Operated business model. By delivering the ISR platform as-a-service, the approach offers military planners a number of advantages.
"It holds us as the contractor accountable to provide a defined level of service at a fixed price," Chagnon said. "It also protects the government from cost overruns, because we bear the performance risk." This model incentivizes Leidos to seek out innovations that help drive down costs and achieve schedule efficiencies.
As-a-service simplifies acquisitions, because the Army doesn't need to bear the massive up-front cost of a conventional procurement. It also shifts the maintenance burden to the contractor: It's Leidos's responsibility to keep the aircraft flying.
"That's a major benefit, since there's normally a substantial logistics cost associated with owning an aircraft," Chagnon said. "In this model, we have an inventory of spare parts on hand, and we also provide a team of pilots, mechanics, mission systems operators. These are experienced folks. Most of them are ex-military, and they understand the mission requirements."
Leidos closely collaborated with the Army to bring LSMA to the table, coordinating with the G-2 ISR Task Force, PEO Aviation and PEO IEW&S. The company also has close ties with Bombardier, to ensure a steady and seamless pipeline of parts and support.
The Army has contracted a second aircraft scheduled for deployment in January 2023 to further support and enhance its ISR capabilities. In the coming years, Leidos aims to have at least seven advanced aircraft available in support of the ISR mission. This, in turn, could help advance the Army's goals under HADES, the High Accuracy Detection and Exploitation System project.
"The lessons learned on LSMA will inform the HADES program, while providing the Army with an operational-tested capability," Chagnon said. In the near-peer era, that's a game-changing opportunity.
22-LEIDOS-0928-25141