sponsor content What's this?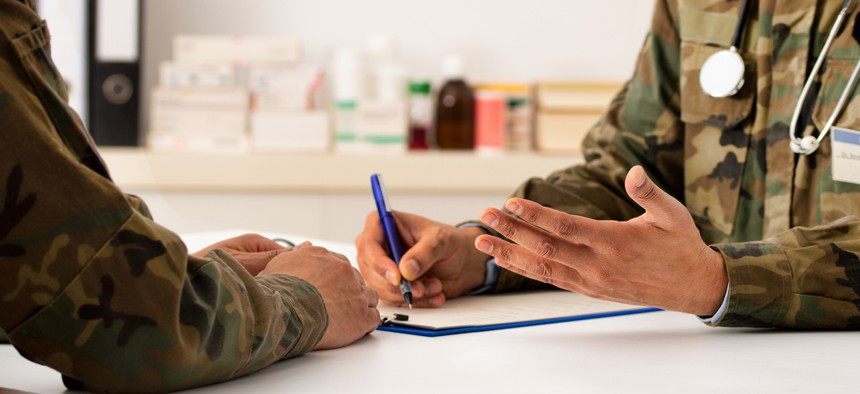 For a Ready and Resilient Military, Focus on Warfighter Total Health
Preparing service members for tomorrow's engagement requires more than just physical fitness. Today, a holistic approach to health care is essential. So what are private and public sector organizations doing to support total force readiness?
In 1998, "Crossing the Quality Chasm: A New Health System for the 21st Century" broke ground by calling for a new approach to health care — holistic health care. The study, conducted by the National Academies of Sciences, Engineering, Medicine and Research, discovered that many Americans received poor or inadequate care. 
For example, the National Academies found that of the 634 patients surveyed who suffered from depression, 19% of participants were given minor tranquilizers by their primary health care provider, an ineffective method for treating depression. 
The study concluded that to close these serious gaps in quality, "we must seek health care solutions that are patient-centered, that is, humane and respectful of the needs and preferences of individuals."
The Defense Health Agency, or DHA, adopted this approach in 2009 following the announcement of the Total Force Fitness (TFF) framework, which "focuses on a Service Member's entire health throughout their career, connecting eight dimensions of fitness to optimize health, performance and readiness holistically." Since then, holistic health has been a driving force in caring for our men and women at the frontlines; and Leidos has been there from the start. 
"Holistic health is about the whole person. When you think about health, you usually think, 'I'm going to go to the doctor to get my physical," says Jason McCarthy, senior vice president and operation manager for Leidos' Military and Veterans Health Solutions organization. "But health is more than just physical well-being. Mental, emotional, spiritual, and other factors also contribute to well-being." 
Through its work in three areas—counseling support and services, military health research support services, and on the Defense Healthcare Management System Modernization (DHMSM) program and implementation of the electronic health record MHS GENESIS—Leidos helps ensure that each aspect of the warfighter's health receives support from enlistment to retirement.
How MHS GENESIS Reduces Complexity and Ensures a Standard of Care
MHS GENESIS is an electronic health record (EHR) currently used at approximately 67% of all military hospitals and clinic commands. McCarthy estimates that the remaining 33% will be completed by the end of calendar year 2023, reaching over 9.6 million eligible beneficiaries. Although MHS GENESIS implementation is still in progress, the ability to deliver continuous care to facilities across the globe cannot be understated. 
As the National Academies report highlighted, the poor care Americans received can be traced back to two major factors: increasing scientific and technological complexity and poor standards/lack of standardized guidelines. 
Addressing inadequate care, as the National Academies surmised, requires a standardized solution that is not only simple to use, but adheres to clinical standards and is technologically adept. Failure to leverage innovative solutions that simplify the process ultimately forces physicians into antiquated methods of assessing health care, resulting in errors. 
MHS GENESIS draws upon the National Academies' findings by creating a simple, easy-to-use record that leverages the best and brightest of today's solutions. Doctors and physicians are equipped with easy-to-use clinical tools, enabling them to record important medical details such as mass vaccination and opioid tracking. 
With an emphasis on simple standards and ensuring continuity of care among all key stakeholders, MHS GENESIS is raising the quality of physical health care for our warfighters. 
"[MHS GENESIS] provides service members and their families greater flexibility. This is why I find working in healthcare so important. You're having a direct impact on people every day. It's meaningful work that improves people's lives," McCarthy adds. 
Moving Beyond Physical Health, Focusing on Hidden Health Factors
But what about the hidden aspects of health? 
Aside from helping the Department of Defense provide standardized, high-quality physical health care to service members, McCarthy and his team are working to support mental health. Mental health may only be one aspect of holistic health, but research has revealed a longstanding stigma: Service members in the armed forces often refrain from seeking help. 
"There's a stigma around counseling, especially in the military. And we're addressing this by facilitating confidential counseling services for service members," McCarthy explains. 
Supporting the DOD in its mission to combat the stigma surrounding mental health in the armed forces, Leidos has over 1,000 licensed behavioral health professionals working alongside children and family members of service members to help address root concerns and problems. This work alleviates some of the hidden stressors that are part and parcel of active duty.
The Future of Holistic Health Care in the Defense Department
McCarthy and his team are also working closely with key stakeholders at the DoD, DHA and Department of Veterans Affairs to understand how the private sector can help support initiatives in every aspect of total force fitness. Leidos understands the importance of physical and mental health care, but also that holistic care includes numerous other factors such as environmental, nutritional, spiritual, social and financial fitness.
Ensuring total force fitness and total force readiness requires collaboration, and McCarthy's team is ready to help the armed forces prepare. 
"We have positioned ourselves to assist the Department of Defense and our service members and partners [to address] the ever-changing health care environment," McCarthy says. "Health care is changing. Technology is changing. And we stand ready to assist our federal and non-federal partners to navigate the challenges and opportunities together."
Click to learn more about Leidos' military health solutions.