sponsor content What's this?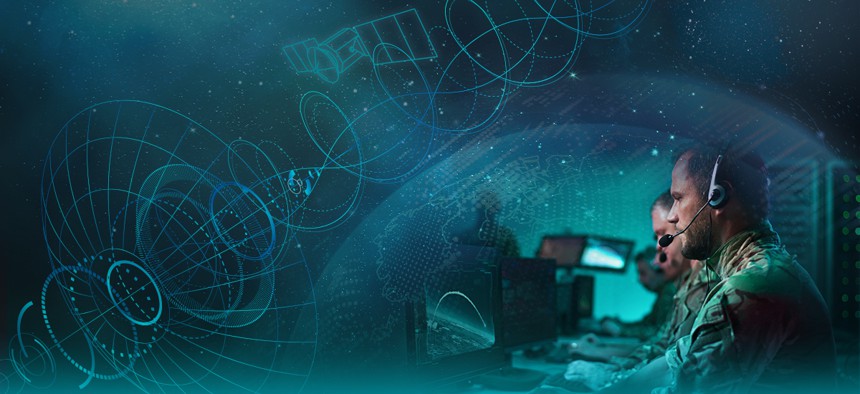 Accelerate Space Superiority with Open Data Platforms
Delivering actionable data for space missions and JADC2
Space-based sensors provide data to national security analysts, decision makers, and warfighters around the clock. Now more than ever, using modern data platforms that shorten the time it takes to get this information to end users is critical for the U.S. to stay ahead of its adversaries.
For defense leaders, open-architecture data platforms that expand interconnectivity are crucial to meet the goals of Joint All-Domain Command and Control (JADC2). Open-architecture data platforms are critical to interoperability and help establish more resilience in warfighting systems. 
Employing new approaches in data architectures—like open systems, edge processing, and artificial intelligence (AI)—is key to delivering data where and when it's needed most. As space-based sensors and communications systems rely on these platforms to turn their data into intelligence, building a strong foundation is imperative. 
Moreover, getting the most value out of satellite imagery relies on efficient, effective, and innovative analytics—and cloud-based systems using agile processes are key to achieving this. By bringing speed and innovation to the analytical pipeline, data platforms bring new capabilities to the mission faster—while unlocking the power of AI and process automation. DevSecOps plays a central role in delivering all these benefits.
Applying DevSecOps for Ground-Based Space Operations
By integrating development, security, and operations, DevSecOps enables rapid development, new capabilities, and built-in resilience. Several of the main goals of DevSecOps are to bring developers closer to operations and continuously secure critical infrastructures while reducing costs. But applying new processes is challenging to the space community, especially as the adversarial landscape grows more complex and the stakes of data compromise grow ever higher. 
At Booz Allen, our data scientists and practitioners are skilled in helping clients design, deploy, and integrate DevSecOps for national security and defense missions. We build DevSecOps pipelines, migrate legacy data architectures, and codify accreditation protocols. Our teams also partner with organizations such as the Air Force to accelerate software deployments, creating solutions such as Platform One, an enterprise-scale DevSecOps platform and pipeline. With modernized toolsets in hand, our clients speed development timelines and accelerate the process of driving data to decision making. 
DevSecOps data architectures create a continuous integration and continuous delivery (CI/CD) pipeline—so developers can rapidly deploy their newest software tools for evolving space missions. This helps overcome the time-consuming challenges of operating in the national security environment, where each new piece of software traditionally needs formal authority to operate (ATO) prior to being deployed into operations. 
DevSecOps pipelines accommodate the rigor necessary to protect sensitive data by using a combination of approaches, including containerized services, integrated security checkpoints to automate accreditations, and continuous program health monitoring and metrics. 
Another benefit of DevSecOps-based data platforms is breaking down data silos, enabling data management practices that unlock insights. By integrating capabilities like data warehousing, query tools, discovery tools, and streaming services in one platform, developers and data scientists encounter fewer barriers in finding the data and tools they need to build analytical products and algorithms, whether planning space missions or strengthening space cyber defense.
Integrated DevSecOps data platforms make it possible to standardize data formats, making organizational information more discoverable and opening ways to interface existing data with new, containerized applications. They also enable integration to achieve goals across the space domain faster, from unifying ground operations across services to integrating specialized software vendors and reducing the time to achieve ATO.
Enabling Interoperability for Information Superiority
Information superiority is one of the top goals of space operations—and a key driver of JADC2. Achieving dominance requires bringing the most advanced data capabilities to the mission quickly so analysts can use the best tools to turn data into intelligence for national security analysts, decision makers, and warfighters. 
The state of the art for space technologies—both on the ground and above the earth—advances rapidly. But often, national security organizations encounter challenges in bringing these capabilities to the fight, from sensor to ground. Proprietary data platforms, interfaces, and messaging protocols slow their ability to adapt for new missions and technologies. 
Increasingly, information superiority requires open data platforms. Open architectures remove barriers that challenge innovation by making both physical and virtual platforms more modular. This, in turn, makes it easier to add and upgrade components—keeping pace with the state of the art. To take advantage of this, many national security organizations are moving towards adopting open approaches across enterprise platforms to improve their speed of decision making. 
Open data platforms promote loose coupling (where components rely on each other as little as possible) and modularization (such as containers and microservices). This approach also allows developers and analysts to use combinations of open-source software and commercial and government off-the-shelf products. Adding flexibility enables quick, cost-effective adaptation to changing mission needs.
Open frameworks also support interoperability, central to the vision of JADC2. Government-owned, open application programming interfaces (API) enable plug-and-play connectivity. In addition, open APIs reduce vendor lock-in, simplifying network integration. 
Achieving the benefits of open data platforms relies on a breadth of expertise, including mission understanding, development and integration expertise, and analytical user knowledge. Booz Allen provides this blend of experience to our clients, helping them exploit the latest innovations while controlling their technical baseline.
Securing Legacy Ground Systems for Open Enterprise Architectures
As the Department of Defense moves towards unifying legacy space ground systems through JADC2 and other efforts, it strives to create an interconnected warfighting and decision-making force—one that's information-advantaged to achieve overmatch and decision dominance. 
In this new approach to national defense, legacy systems must be modernized to become more open and interconnected. But meeting these goals cannot come at the cost of security—the approach must continuously evolve with the latest security threats. 
Too often, security has been simply tacked on after legacy systems were built. Modern data platforms offer the opportunity to build in security and resilience from the ground up, rather than add it as an afterthought. This approach enables adaptive cybersecurity, allowing security postures to evolve ahead of the threat.
National security organizations' legacy data platforms are subject to increasingly sophisticated attacks as adversaries develop new methods to exploit and disrupt them. With more than four decades of cybersecurity expertise, Booz Allen has pioneered approaches to incorporating cybersecurity into mission systems—without compromising goals of openness and interconnection. 
Deploying Smart Processing to Protect Data at the Edge
Space-based platforms collect data continually. This data needs to get to warfighters and decision makers in time to fulfill their mission. In the contested space environment, the communication channels that deliver information may be denied or jammed, slowing or even preventing data from being processed, exploited, and disseminated. 
Moving capabilities to the edge makes the data pipeline more robust in the face of disruption or denial. New on-board capabilities such as AI-powered analytics could empower these systems to respond to attacks in real time—allowing systems to make decisions that deliver data to warfighters when it is needed most.
Adopting a Path to Rapid Modernization
Information dominance in the space domain relies on a sophisticated approach to data platforms. When developing modern data platforms, national security organizations need to establish fast CI/CD pipelines, reduce silos and vendor lock, and quickly move data to the edge while maintaining the security of critical data. 
With experience across both the space domain and data platform technologies, Booz Allen is ready to help national security organizations modernize their approach. Applying strategies and technologies that help clients transform for the world's most critical missions, we ensure clients can meet JADC2 goals and improve their ability to stay ahead of competitors—on Earth and beyond.