The Video Game That Could Shape the Future of War
The U.S. Army is developing a new way to test technologies and tactics—but first they have to get tens of thousands of soldiers to play it.
As far as video games go, Operation Overmatch is rather unremarkable. Players command military vehicles in eight-on-eight matches against the backdrop of rendered cityscapes—a common setup of games that sometimes have the added advantage of hundreds of millions of dollars in development budgets. Overmatch does have something unique, though: its mission. The game's developers believe it will change how the U.S. Army fights wars.
Overmatch's players are nearly all soldiers in real life. As they develop tactics around futuristic weapons and use them in digital battle against peers, the game monitors their actions. Each shot fired and decision made, in addition to messages the players write in private forums, is a bit of information soaked up with a frequency not found in actual combat, or even in high-powered simulations without a wide network of players. The data is logged, sorted, and then analyzed, using insights from sports and commercial video games. Overmatch's team hopes this data will inform the Army's decisions about which technologies to purchase and how to develop tactics using them, all with the aim of building a more forward-thinking, prepared force.
Operation Overmatch is, in the muted wording of the Department of Defense, an "early synthetic prototyping" effort. The game takes technologies at the beginning stages of their development, creates limited but accurate models of them, and tests these models in a virtual environment. Overmatch stands apart from previous initiatives to refine technologies through simulations in its wide network of human players who only need a computer and a .mil email address to access the game. While the game currently has about 1,000 players recruited by word of mouth and outreach from the Overmatch team, the developers eventually want to involve tens of thousands of soldiers. This milestone would allow for millions of hours of game play per year, according to project estimates, enough to generate rigorous data sets and test hypotheses.
William Hix, a major general who was involved in the early stages of Overmatch, describes the philosophy behind this model as shifting the technology-development equation from telling soldiers "what scientists and engineers think they can do, to seeing how soldiers would use [technologies under development], or whether it would even be worth it."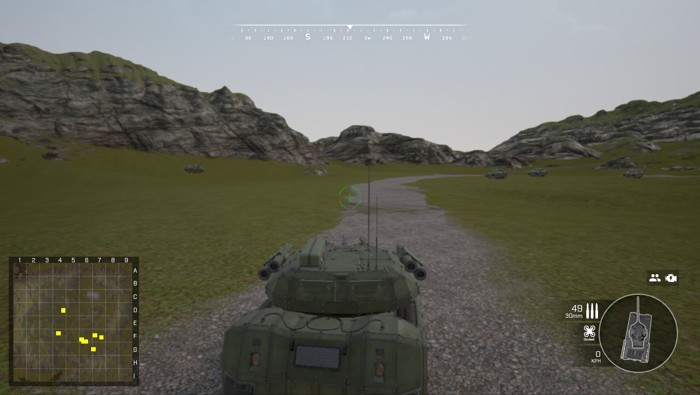 A screenshot from Operation Overmatch (U.S. Army)
---
The game's most recent version, currently in alpha testing, includes six types of armored vehicles playable across four different urban levels. Players can configure these vehicles with weapons and accessories within the bounds of physical possibility, as determined by Army scientists and engineers (that excludes the occasional coding bug). Brian Vogt, a lieutenant colonel in the Army Capabilities Integration Center who oversees Overmatch's development, spoke of how an early effort of his to attach a gun to an unmanned ground vehicle was declined because if the gun were fired, it would flip the vehicle over.
Robert Smith, a senior research engineer at the Army's Tank Automotive Research Development and Engineering Center, says that in the future, programs like Overmatch could allow the Army to become less reliant on complex, big-ticket technologies that require large purchases, and instead allow the service to field smaller numbers of vehicles or weapons tailored to specific areas or individual missions. But before these changes can occur, the Overmatch team must turn the raw data of player behavior into refined forms others in the Army can use. To that end, the Army has awarded contracts to two small businesses, SoarTech and Decisive Analytics, to convert the game's keyboard clicks and mouse movements into coherent feedback. (Two universities, the University of Southern California and Northeastern University, are also involved as subcontractors to SoarTech.)
Michael van Lent, the CEO of SoarTech, explains that the company analyzes player behavior by examining which parts of a player's in-game environment cause them to take particular actions. SoarTech uses this information to generate weblike graphs that can be used to analyze flows of behavior. A representative from Decisive Analytics declined to comment on its role in Operation Overmatch, but in a briefing given by Smith in May 2016, the company was described as grouping space-based data with time-based information. From these, Decisive develops and categorizes player behavior types, which can be used to infer future actions.
As Overmatch still has limited player data, the two companies have developed their methods from commercial video games, like Dota 2. But van Lent expects that the four classical player types as based on the research of Richard Bartle—explorers, achievers, killers, and socializers—will hold true in the Army's game.
If the team's hypothesis bears out, Overmatch could upend how business is done in defense contracting, one of the most moneyed spaces in government, by allowing small businesses to gain a foothold in the market by moving from an expensive and lengthy physical prototyping process to a partially virtual one. Overmatch does so under the banner of innovation, a phrase in line with the Silicon Valley mindset of other DOD efforts like Defense Innovation Unit Experimental and FLYPMode, a DARPA crowdsourced vehicle program that faced objections from Congress due to allegedly insufficient safety standards.
Few are quick to openly criticize these programs, which seek to improve the DOD's laborious acquisitions process. But lofty aspirations, combined with a mixed track record of success, have made some soldiers and contractors wary of such efforts. Dan Stohr, the communications director of the Aerospace Industries Association, the trade group representing many of these contractors, says the organization is behind any effort that speeds up the delivery of technologies. But, he says, the Army "will never get to a place where it doesn't buy 1,000 tanks," even if some technologies become more tailored as a result of programs like Overmatch.
Hix believes much of the suspicion of using a video game, specifically, comes down to generational differences. Those who play the game, who include young privates to colonels, generally seem to agree. Messages in Overmatch's online player forums are oftentimes about issues relating to the game's development, as one might expect from a game in the alpha stage of testing. However, they also show an active and engaged set of players. Hix and Vogt recognize that down the line, leaders of the Overmatch program will have to accompany the novelty of the game and community surrounding it with tangible results that show players their in-game efforts have an effect on the future of the service.
When I met Vogt, it was at the Association of the U.S. Army's annual conference, a gathering whose convention floor of helicopters and self-propelled artillery platforms encapsulates the service's reliance on a small group of suppliers for its largest and most technologically advanced vehicles. But instead of looking forward, he framed his mission around the past. "Right after World War I, we had technologies like aircraft carriers we knew were going to play an important role," he said. "We just didn't know how to use them. That's where we are and what we're trying to do for robots."