Author Archive
Caroline Houck
Staff Correspondent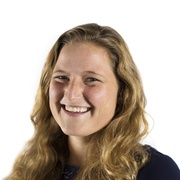 Threats
Just because a country is relatively small doesn't diminish the threat, or the difficulty of mustering a counter-effort.
Threats
The change is symbolic, defense officials say, but it emphasizes the U.S.'s commitment to new partnerships.
Science & Tech
A medium-earth-orbit satellite contract hints at AFRICOM's data and connectivity needs.
---
Threats
It's about managing expectations: ours about the timeline, the foreign population's about governance.
Policy
Working to ease continental worries deepened by Trump's Iran-deal decision, a top U.S. diplomat says America is as committed as ever to the alliance.
Threats
Ben Watson, Caroline Houck and Bradley Peniston
Policy
Experts say that the conversation's been too focused on how much allies are putting toward defense, not on what they get for it.
Threats
The latest NDAA tries to stop potential adversaries from recruiting talent and stealing innovative technology on campus.
Threats
Withdrawal will help the U.S. develop a 'more compelling' deal on a range of issues, SecDef told lawmakers.
Science & Tech
As the icecap melts and activity rises in the high latitudes, the commandant says his force needs better situational awareness.
Threats
Prevention-and-reporting leaders want the U.S. military to be a "bit more strategic" in how it talks to troops about sexual assault.
Policy
The secretary asked senators to punch a hole in the sanctions law they passed last year.
Policy
Mattis and Dunford have open hearings at the Armed Services Committees, but will talk over their $686.1 billion request with House appropriators in private.
Threats
A subcontract with a Huawei partner has the secretary looking for an 'institutional algorithm' for spotting dicey partnerships.
Threats
The current leader of U.S. Fleet Forces command says he would work on the U.S.-India relationship "with great energy."
Threats
No surprise that Democrats questioned Friday's retaliatory strike, but even a few GOP defense hawks wondered aloud.
Threats
The National Security Council discussed options with the president for responding to the attack, but the administration was still syncing up with allies Thursday evening.
Threats
At least two SOF components are on a 'glide path' to the Pentagon's desired optempo.
Threats
A key Republican senator thinks so, and is pushing to send one of the U.S. Army's new advising brigades there.
Science & Tech
Super-strong materials, cyber defenses are on the agenda as the Army Research Lab launches new partnerships.