Author Archive
Courtney Bublé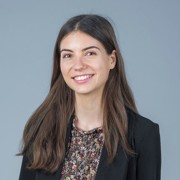 Courtney Bublé is a staff correspondent who covers the federal government with a focus on oversight, management, contracting and regulations. In 2022, she won the American Society of Business Publication Editors' Young Leaders Scholarship and was selected for the Poynter-Koch Media and Journalism Fellowship for 2022-2023. Before joining Government Executive in July 2019, she worked for NBC News. Courtney graduated from The George Washington University in 2018.
Policy
Legislation aims to reduce over-classification and the mishandling of secrets.
Policy
A new paper, based on consultations with government officials and others, looks at what the National Geospatial-Intelligence Agency has done in recent years.
Policy
Lloyd Austin told Sen. Tommy Tuberville, R-Ala., that holding up 160 promotions and appointments "creates a ripple effect through the force that makes us far less ready than we need to be."
---
Policy
The investigations into handling of sensitive documents by former presidents and vice presidents have brought problems with the classification system back into the spotlight. 
Policy
"I shall continue to be true to the principle of nonpartisanship that is a hallmark of the IG system," Robert Storch said during his confirmation hearing.
Business
The proposed rule is part of the Biden administration's larger environmental agenda, but it comes with costs for contractors. 
Threats
A review begun last August has expanded "based on concerns identified during the audit," acting DOD inspector general tells Congress.
Policy
The IG report follows congressional concerns about oversight and efforts to coordinate with State and USAID.
Patrick Tucker and Courtney Bublé
Policy
Activists say this would be a practical step to help ensure all the best candidates are getting considered for intelligence jobs. 
Threats
A 2020 report to state and local governments was delayed and altered, a new IG report finds.
Courtney Bublé and Patrick Tucker
Threats
More than 500 DHS personnel are providing support for this year's game.
Policy
Following last week's preliminary injunction for three states, the temporary move throws Biden's entire executive order into question.
Policy
The inspector general and independent public accounting firms conducted this year's audit of DoD's $3.2 trillion in assets and $3 trillion in liabilities.
Threats
Companies doing business with the federal government must name a person to coordinate implementation and compliance with the vaccine mandate for covered employees.  
Business
The department has met its goals in that area, but is looking to do even better. 
Policy
For more than a decade, the Special Inspector General for Afghanistan Reconstruction has been warning about "ghost soldiers" and corruption to anyone willing to pay attention.
Policy
"It's the best way to keep veterans safe, especially as the Delta variant spreads across the country," said VA Secretary Denis McDonough.
Policy
These are the first cancellations under DHS's month-old plan for unobligated border wall funds. 
Policy
The administration is also looking to repair damage in border communities. 
Policy
The 193-year old agency has a large budget and workforce, but lacks transparency mechanisms.