Author Archive
Frank Konkel
Vice President, Editorial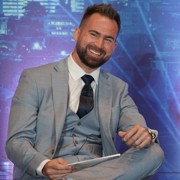 Frank Konkel is vice president of editorial and an editor at large for Nextgov/FCW. He writes about the intersection of government and technology. Frank began covering tech in 2013 upon moving to the Washington, D.C., area after getting his start in journalism covering local and state issues at daily newspapers in his home state of Michigan. Frank was born and raised on a dairy farm and graduated from Michigan State University.
Science & Tech
Expanding its reach from startups to established players, this year's event seeks satellites that are more autonomous, maneuverable, and safer from debris.
Threats
Sean Kirkpatrick, who heads the Defense Department's All-Domain Anomaly Office, briefed the Senate Wednesday.
Policy
Bipartisan bill follows FBI warnings about Beijing's sway over the world's largest social-media platform.
---
Business
All four had been shortlisted for JWCC, DOD's do-over of its giant JEDI cloud contract effort.
Policy
"Reducing America's dependence on gas and oil is critical to U.S. national security," DepSecDef Hicks said.
Threats
Active "cyber operations against government and commercial networks" may seek to take advantage of defenders' focus on Russia.
Threats
The White House also announced sanctions to limit Russia's access to cutting-edge technologies.
Threats
As the amount of data soars, so does the burden of reviewing classified data for its eventual declassification.
Business
The new cloud's data centers are "more than 1,000 miles" away from the northern-Virginia complex that serves U.S. intelligence and defense agencies.
Policy
A Microsoft protest of the decision has revealed some details about the U.S. intelligence community's second multi-billion dollar cloud award of the year.
Business
The Defense Department will opt for a new multibillion-dollar, multi-vendor contract.
Mila Jasper and Frank Konkel
Policy
The Defense Department previously said lengthy litigation could threaten the contract's future.
Business
The decision follows a months-long legal challenge filed by Amazon Web Services.
Frank Konkel and Aaron Boyd
Threats
The risk-averse agency has cracked small-scale remote handling of secret and top-secret information. The challenge is doing it at scale.
Science & Tech
The Defense Department says it wants to further discuss Microsoft's and Amazon Web Services' pricing.
Threats
FBI Director Chris Wray says China is increasing its illegal activity to subvert the U.S. during the pandemic.
Science & Tech
Just "one database contained more than 13 terabytes of data." Amazon moved the entire system in 10 months, eight ahead of schedule.
Science & Tech
Step one: teach the Defense Department's HR staff to find and hire experts in artificial intelligence.
Science & Tech
Among other things, the Joint Artificial Intelligence Center needs someone to format data about H-60 helicopters in a way that an AI can learn from it.
Business
In response, Microsoft blasts Amazon Web Services for trying to force a do-over for the multibillion-dollar cloud contract.