Author Archive
Jacqueline Feldscher
Senior National Security Correspondent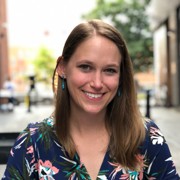 Jacqueline Feldscher is senior national security correspondent at Defense One. Previously, she was national security and space reporter at Politico. Before that, Feldscher covered defense issues in Congress and at the Pentagon for the Washington Examiner, the Washington Times, and Navy Times, covering the Navy and Coast Guard. She's a graduate of Boston University, and holds a master's in journalism from the Medill School of Journalism at Northwestern University.
Policy
His first presidential Pacific crossing aims to convince wary leaders that Washington is not losing focus on China.
Tara Copp and Jacqueline Feldscher
Policy
Colorado politicians, however, are not giving up.
---
Policy
Senators voted no because of problems domestically, a lack of oversight, and a high price tag.
Policy
"This is a step that rationalizes what was essentially an irrational arrangement that we inherited," a senior administration official said.
Business
Marcus Weisgerber and Jacqueline Feldscher
Threats
Ben Watson, Jacqueline Feldscher and Jennifer Hlad
Policy
"Right now we have an unbroken streak of one," a Senate aide told Defense One.
Threats
"We think at this point we're throwing good money after bad," Chief of Naval Operations Adm. Michael Gilday told the House Armed Services Committee.
Policy
Lawmakers boosted funds for replenishing American weapons' stocks and supporting European Command operations.
Threats
Ben Watson, Jacqueline Feldscher and Jennifer Hlad
Policy
Just six weeks after requesting $773 billion for 2023, the Pentagon's No. 2 acknowledges the military may need more money, due to inflation.
Policy
"If a woman is considering enlisting, I would highly encourage her to rethink that choice," said one veteran.
Exclusive
Policy
More than a dozen members of the House Armed Services Committee asked appropriators to bring the Pentagon's 2023 spending proposal up to INDOPACOM's request.
Policy
The bill will cut red tape to get weapons to Ukraine quicker.
Policy
Politics threaten to derail the request on Capitol Hill.
Threats
Ben Watson, Jacqueline Feldscher and Jennifer Hlad
Policy
It would be just a "technical step" for the militaries to formally join, a Swedish military official said.
Policy
The White House will ask Congress for more money next week to keep weapons flowing.
Policy
The ambassador said European allies will face "tremendous pressure" to return relations with Russia to normal after the war.