Author Archive
Jacqueline Feldscher
Senior National Security Correspondent, Defense One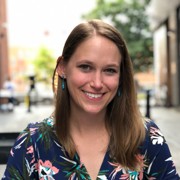 Jacqueline Feldscher is senior national security correspondent at Defense One. Previously, she was national security and space reporter at Politico. Before that, Feldscher covered defense issues in Congress and at the Pentagon for the Washington Examiner, the Washington Times, and Navy Times, covering the Navy and Coast Guard. She's a graduate of Boston University, and holds a master's in journalism from the Medill School of Journalism at Northwestern University.
Policy
An NDAA amendment that would give troops the time and money to cross state lines for an abortion has 23 Democratic co-sponsors.
---
Exclusive
Policy
Using personal planes, off duty, and out of uniform, the pilots say it's their "patriotic duty" to help Americans.
Threats
Day Two of the Air, Space, and Cyber conference led off with a keynote by the outgoing Space Force commander—and a new song.
Threats
Ben Watson, Jennifer Hlad and Jacqueline Feldscher
Policy
The song honors the "invisible front line" of warfighters keeping watch "beyond the blue."
Jacqueline Feldscher and Bradley Peniston
Policy
"Whether you're developing a workforce to build it or those to operate it, the sooner we begin that training pipeline, the better off we will be," Rep. Donald Norcross said.
Policy
RAND says it's "not unreasonable" that the lack of abortion access will make women more likely to leave service.
Policy
The 1914 monument "is problematic from top to bottom," the Naming Commission's vice chair said.
Defense Systems
The Space Force will "need to look at other opportunities" as launch cadence grows, Lt. Gen. Chance Saltzman told lawmakers.
Jacqueline Feldscher and Lauren C. Williams
Policy
"This new package will prolong a fight that lacks an American dog, allowing regional allies to shirk their security responsibilities yet again," one former Trump official said.
Threats
King Charles III succeeds Britain's longest-serving monarch and most prominent global leader.
Policy
The administration has used about three-quarters of the $40 billion Congress authorized in May.
Policy
Less than one-quarter believe the two-decade conflict made America safer.