Author Archive
Jacqueline Feldscher
Senior National Security Correspondent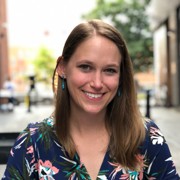 Jacqueline Feldscher is senior national security correspondent at Defense One. Previously, she was national security and space reporter at Politico. Before that, Feldscher covered defense issues in Congress and at the Pentagon for the Washington Examiner, the Washington Times, and Navy Times, covering the Navy and Coast Guard. She's a graduate of Boston University, and holds a master's in journalism from the Medill School of Journalism at Northwestern University.
Policy
More than 200 Afghans are expected to spend a week at Fort Lee before being resettled.
Threats
Officials met for the first time in Geneva on Wednesday. They're set to come together again in September.
Policy
US needs to 'divert more of our body on threats in China and Russia,' says Joint Chiefs Vice Chairman Gen. Hyten
Tara Copp and Jacqueline Feldscher
---
Policy
Sens. Ted Cruz and Kirsten Gillibrand have introduced a bill to give pregnant students at military schools more options.
Policy
Legal experts say the Biden administration must fix the sluggish trial process to actually close the military prison.
Policy
Arriving families will stay for the moment in barracks or other housing; the State Department will pick up their food and medical costs.
Tara Copp and Jacqueline Feldscher
Policy
Biden will likely discuss the future of the American troop presence in Iraq when the prime minister visits Washington this month.
Tara Copp and Jacqueline Feldscher
Policy
If Biden is to persuade Germany — and NATO's European allies — to take a more aggressive stance toward China, he may have to do it before Angela Merkel steps down.
Threats
The new agreement shows that counterterrorism will still be a top focus for the Pentagon.
Policy
Rejecting critics, President Joe Biden said the United States isn't responsible for Taliban gains, civilian deaths, or worsening women's rights after American troops leave.
Policy
Withdrawal from the mammoth base comes as officials continue to seek access elsewhere in the region.
Tara Copp and Jacqueline Feldscher
Policy
Improving victim care, focusing on prevention and removing prosecution from the chain of command are some top priorities of the 300-page report.
Policy
It's the latest step Sen. Tom Cotton has proposed to stop "culture wars" within the military.
Policy
Some lawmakers are using Sunday's strikes in Iraq and Syria to push for keeping a two-decade-old statute, but law experts say their arguments don't hold water.
Threats
President Ghani leaves Washington empty handed, as Biden rejects Republican calls to reverse U.S. troop withdrawal.
Policy
No decision yet on where and how Afghans and their families will be housed and fed as they await U.S. visas.
Tara Copp and Jacqueline Feldscher
Threats
Service branches differ in their engagement with anti-Black extremism or anti-Semitic conspiracy theories, internet research firm says in upcoming report.
Policy
Still, experts say, the White House meeting will be an overdue show of support for the Afghan government.
Policy
Review could reshape cooperation with domestic agencies, consequences for troops' social media posts, and more.
Policy
The agreement reached during the summit between President Joe Biden and Russian President Vladimir Putin is "a positive first step," according to one analyst.