Author Archive
Robert Gard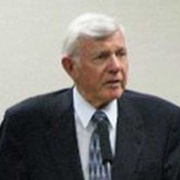 Lt. Gen. Robert G. Gard, Jr., (ret.) is chairman of the board of the Center for Arms Control and Non-Proliferation.
Ideas
There are plenty of ways the Pentagon could spend its money more efficiently.
Robert Gard and Angela Canterbury
Ideas
Despite the wishes of two key Congressmen, more nuclear weapons in Eastern Europe is a bad idea.
Robert Gard and Greg Terryn
Ideas
New leaders in Congress and the Pentagon should fix how the US funds warfare, not continue budgetary tricks. By Robert Gard
---
Ideas
The U.S. has trained the Iraqi military for years. But there's one thing you can't teach an army to do. By Lt. Gen. Robert Gard