Author Archive
Marcus Weisgerber
Global Business Editor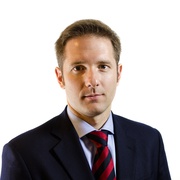 Marcus Weisgerber is the global business editor for Defense One, where he writes about the intersection of business and national security. He has been covering defense and national security issues for more than 16 years, previously as Pentagon correspondent for Defense News and chief editor of Inside the Air Force. He has reported from Afghanistan, the Middle East, Europe, and Asia, and often travels with the defense secretary and other senior military officials. Marcus' work has been cited by the New York Times, Washington Post, Los Angeles Times and many other U.S. and international publications. He has provided expert analysis on BBC, CNN, Fox News, MSNBC, NPR, SiriusXM and other television and radio networks. In 2018, he won a Neal Award for his coverage of the Pentagon and defense industry. Marcus served as vice president of the Pentagon Press Association from 2015 to 2022. An avid hockey fan, Marcus earned a bachelor's degree in English/Journalism from the University of New Hampshire.
Policy
This "unfunded list" comes on top of the $9.1 billion the Pentagon requested for "Pacific deterrence" in its 2024 spending proposal.
Ideas
Chief of Staff Gen. Charles Q. Brown sat down with Defense One's Marcus Weisgerber to discuss priorities for the year ahead, lessons from Russia's Ukraine invasion, and more.
---
Business
The move comes as the military looks to increasingly bulk buy munitions.
Business
The failure of Silicon Valley Bank presents the Defense Department with warnings—and opportunities.
Patrick Tucker and Marcus Weisgerber
Policy
The plan also calls for Australia to buy three American-made Virginia-class submarines, with options for two more.
Policy
The spending plan includes $315 billion to develop and buy new weapons.
Policy
The Defense Department says it wants to use more multi-year munition buys in future years as well.
Business
But the new jets won't have any polished metal.
Policy
The spending plan also proposes industrial-base investments.
Policy
21 Warthogs are going away this year, and service leaders hope Congress will allow more.
Marcus Weisgerber and Audrey Decker
Policy
Stealthy new tanker jet should arrive in the 2030s, service's top weapons buyer says.
Policy
Recommendations are expected soon on adapting a decades-old way of doing things for the modern era.
Exclusive
Business
The Pentagon's top buyer offers a "targeted list" of weapons to help solve a problem decades in the making.
Threats
It appears the Raptor just got its first air-to-air kill.