Author Archive
Marcus Weisgerber
Global Business Editor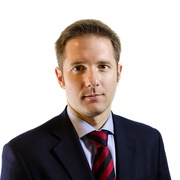 Marcus Weisgerber is the global business editor for Defense One, where he writes about the intersection of business and national security. He has been covering defense and national security issues for more than a decade, previously as Pentagon correspondent for Defense News and chief editor of Inside the Air Force. He has reported from Afghanistan, the Middle East, Europe, and Asia, and often travels with the defense secretary and other senior military officials.
Business
Boeing, which saw no defense revenue growth last year, takes another financial hit from the tanker program.
Business
Yet industry executives believe foreign arms sales will remain a priority of the new administration.
Policy
Former Army Secretary Eric Fanning says it's time for Congress to pass a law that protects transgender servicemembers.
---
Business
The coaxial helicopter is based on the companies' Defiant prototype.
Business
But he was interested in the new Air Force One's paint job.
Business
The commitment is a huge win for Sen. Elizabeth Warren and other progressive Democrats pushing for stricter lobbying laws.
Policy
The Air Force acquisition chief says he keeps politics out of his work at the Pentagon — and that the U.S. will lose against China without agility.
Business
The retired general picked the investment firm over opportunities at defense companies.
Science & Tech
With one week left on the job, Secretary Barrett picked Huntsville. The decision, however, is not final.
Patrick Tucker and Marcus Weisgerber
Science & Tech
U.S. admirals made the case for the new ship during a virtual conference this week.
Policy
The timing of the departure has numerous logistical implications, including the plane's call sign.
Breaking News
Business
Michele Evans, who was executive vice president of Lockheed Martin Aeronautics, had taken two medical leaves since 2019.
Policy
After passing on Flournoy, Biden taps Kathleen Hicks and Colin Kahl to be Austin's deputy defense secretary and undersecretary for policy.
Patrick Tucker and Marcus Weisgerber
Business
The new administration will weigh in on a further consolidation of the U.S. defense industry.
Policy
VP Pence revealed the moniker for Trump's oft-teased newest military service branch to stand alongside soldiers, airmen, sailors, and Marines.
Exclusive
Policy
Critics say the bulked-up fleet plan would cut dangerously into Army, Air Force budgets — if Congress and the Biden administration followed it.
Marcus Weisgerber and Katie Bo Williams