Author Archive
Marcus Weisgerber
Global Business Editor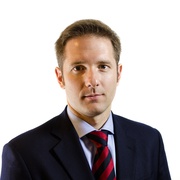 Marcus Weisgerber is the global business editor for Defense One, where he writes about the intersection of business and national security. He has been covering defense and national security issues for more than 16 years, previously as Pentagon correspondent for Defense News and chief editor of Inside the Air Force. He has reported from Afghanistan, the Middle East, Europe, and Asia, and often travels with the defense secretary and other senior military officials. Marcus' work has been cited by the New York Times, Washington Post, Los Angeles Times and many other U.S. and international publications. He has provided expert analysis on BBC, CNN, Fox News, MSNBC, NPR, SiriusXM and other television and radio networks. In 2018, he won a Neal Award for his coverage of the Pentagon and defense industry. Marcus served as vice president of the Pentagon Press Association from 2015 to 2022. An avid hockey fan, Marcus earned a bachelor's degree in English/Journalism from the University of New Hampshire.
Breaking News
Business
Bell beat the Defiant-X pitched, a compound coaxial helicopter offered by a Sikorsky-Boeing team.
Policy
But the secretary left inflation, supply chain, and worker woes out of his speech to the Reagan National Defense Forum.
---
Science & Tech
Hundreds of VIPs and thousands of Northrop employees applauded as tail number 0001 was shown off with help from lasers and fog machines.
Exclusive
Business
If U.S. officials can broker a deal, Kyiv won't have to wait for factory-produced interceptors.
Threats
Most want to continue helping Ukraine—and most don't think there's a clear China strategy, according to the Reagan Institute poll.
Threats
Ben Watson, Marcus Weisgerber and Jennifer Hlad
Business
The company is including optional armor and making it easy to add counter-drone technology.
Business
Some of the Northrop Grumman employees building the secret plane also worked on the B-2 bomber.
Business
Some observers say industry and government are moving too slowly to capitalize on a unique opportunity.
Science & Tech
It's part of a Pentagon trend of wringing surprising performance out of existing weapons.
Business
The reorganization is part of a wider culture change pushed by the business unit's new CEO.
Science & Tech
Hermeus' engine successfully shifted from turbojet to ramjet power during trials at Notre Dame Lab.
Exclusive
Threats
The standard practice of inscribing serial numbers during inspections turns out to be counterproductive.
Business
CEO Ted Colbert says reducing groupthink is part of the path to a nimbler, networked weapons company.
Science & Tech
The newest service's acquisition chief also calls for more fixed-price contracts and fewer classified programs.