Author Archive
Philip Breedlove
Former NATO Supreme Commander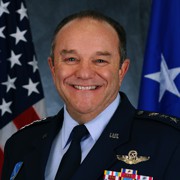 Philip Breedlove, a retired Air Force general, has commanded Supreme Allied Command, Europe, and U.S. European Command.
Ideas
DOD's concerns about "reciprocity" should not constrain U.S. efforts to help Ukraine pursue justice.
Philip Breedlove, Wesley Clark and Ben Hodges
Exclusive
Ideas
"Now is the time for America and its allies to dig deeper to get Ukraine what it needs to win."
Wesley Clark, Joseph Ralston, James L. Jones, James Stavridis, Philip Breedlove, Curtis M. Scaparrotti and Tod Wolters
Ideas
Russia has no right to dictate who may fly into and out of Ukrainian airspace.
Philip Breedlove and Barry Pavel