Author Archive
Ret. Lt. Gen. David Barno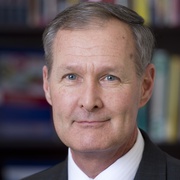 David Barno is a Distinguished Practitioner in Residence at the American University School of International Service. Previously, he served as senior American commander of U.S. and coalition forces in Afghanistan from 2003–2005 before moving on to become a senior fellow at the Center for a New American Security.
Ideas
Future wars will be won far more by out-thinking enemies than by out-muscling them, and including women in every part of the U.S. military makes America's defenses stronger.
Nora Bensahel and Ret. Lt. Gen. David Barno

, The Atlantic
Business
The Pentagon worries its rigid personnel system is driving away the leaders it will need for the conflicts of the 21st century.
Nora Bensahel and Ret. Lt. Gen. David Barno

, The Atlantic
Ideas
The Pentagon must think more creatively about how to structure and when to use reserve forces. By Ret. Lt. Gen. David Barno
Ret. Lt. Gen. David Barno