sponsor content What's this?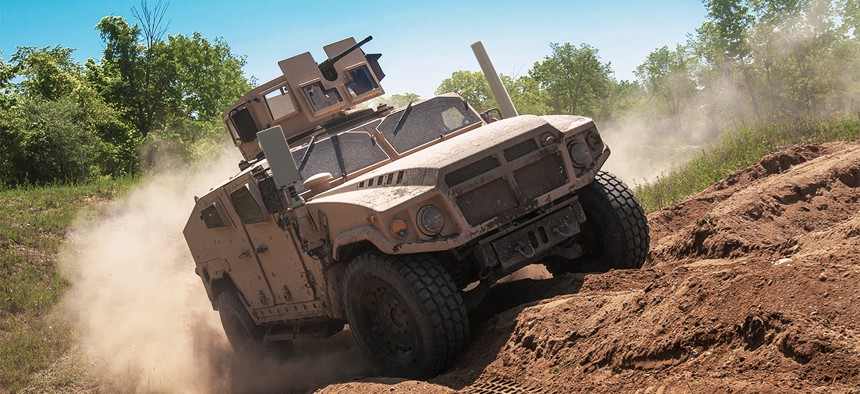 Ground services continue to play a prominent role in our military exercises and training at home and abroad, and the Joint Light Tactical Vehicle (JLTV) program has an essential role. It's one of the few major Army and Marine Corps acquisition projects to maintain funding and prominence in a time of budget cuts and drawdowns.
The program will "reshape the ground vehicle market," Capital Alpha Partners analyst Byron Callan told Defense One in an October story. JLTV will be awarded to one of three bidders this year: Oshkosh Defense, Lockheed Martin or AM General.
AM General has more than 50 years of experience building light tactical vehicles and partnering with the U.S. military. The company has diversified their business with other programs, including a private/public partnership with the National Guard and a commercial production partnership with Mercedes Benz. AM General also fulfills other commercial contracts, upgrading and up-armoring vehicles for military customers around the world, and will continue to work with the Army and Marine Corps throughout the JTLV's lifecycle.
"Being a good partner is our top priority. We listen to what our customers need, adapt and deliver," says Charlie Hall, AM General's CEO. "In my 40 years of experience in ground vehicle programs, I have never seen a company so dedicated to meeting the challenges and customer requirements of a program as important as JLTV."
The company is the only JLTV bidder with a hot production line that can deliver their JLTV offerings right away, says Chris Vanslager, AM General's JLTV project lead. "It's very rewarding to work in a company that focuses on delivering the highest-quality products," he says. "We are prepared to start production on day one, and won't lose focus on being a truly reliable, responsive resource for our customers in the Army and Marine Corps."
"We know that the vast majority of fulfillment happens after our JLTVs drive off the production line," Vanslager says. "Being a good partner is more than designing and manufacturing the safest, most maneuverable vehicle possible. AM General is ready to support and partner with depot and maintenance for years to come. Lifecycle costs are an important part of vehicle design, and we're committed not just to building the fleet – but to sustaining it."
To date, AM General has delivered more than 300,000 vehicles to the U.S. military and has managed acquisitions programs along the way, ensuring a lean, efficient process. And, the company has built a supply chain of 1,400 vendors in 43 states, with small business participation.
"I am proud to lead these efforts, working with our committed ownership, management, engineers and our UAW represented employees. Their collective efforts have resulted in the BRV-O," Hall says. BRV-O, which stands for Blast Resistant Vehicle-Off road, is the name of AM General's JLTV solution. "We are building the safest, most maneuverable JLTV possible, that protects warfighters today and is adaptable to meet future requirements. And, we're looking forward to serving customers now and into the future. BRV-O is not just a new product line. It is the heart and soul of our company."