Author Archive
Kevin Baron
Executive Editor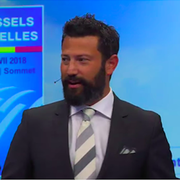 Kevin Baron is the founding executive editor of Defense One. Baron has lived in Washington for 20 years, covering international affairs, the military, the Pentagon, Congress, and politics for Foreign Policy, National Journal, Stars and Stripes, and the Boston Globe, where he ran investigative projects for five years at the Washington bureau. He is a frequent on-air contributor and previously was national security/military analyst at NBC News & MSNBC. Baron cut his muckraking teeth at the Center for Public Integrity and he is twice a Polk Award winner and former vice president of the Pentagon Press Association. He earned his M.A. in media and public affairs from George Washington University, his B.A. in international studies from the University of Richmond, and studied in Paris. Raised in Florida, Baron now lives in Northern Virginia.
Ideas
His ticket doesn't need another foreign-policy expert — nor another easy Obama-era target.
---
Ideas
An even sleeker look with design upgrades, new features, and improved navigation.
Threats
Kevin Baron, Ben Watson and Katie Bo Williams
Threats
Kevin Baron, Ben Watson and Marcus Weisgerber
Ideas
Part 1: Here's what the world should expect from Joe Biden.
Ideas
The GOP's reelection effort to deflect criticism on 'Beijing Biden' is destroyed by Trump's former national security advisor.
Ideas
The Joint Chiefs chairman now says he was wrong to walk with the president. Will he survive to push back a second time?
Threats
After days of civil unrest and several Esper missteps, each one of the service branch chiefs has begun to speak out.
Kevin Baron, Marcus Weisgerber and Bradley Peniston
Ideas
Gen. Milley and Secretary Esper accompanied the president to a photo op — and right into his American war.
Ideas
'Beijing Biden' is a baseless political smear, trivializing one of America's most complicated challenges.
Policy
Most respondents feel "less safe" because of the president's actions. Esper gets higher marks, but many fear premature reopening.
Ideas
The military's nostalgic WWII-style posters urge face masks and national unity, but they're not reaching Trump and his disbelieving followers.
Ideas
Republicans have been hating on international organizations for decades. This is just a convenient excuse to take another shot, and it harms American security.
Ideas
Acting Navy Secretary Modly's Trumpian approach to the military and his firing of a carrier captain has gone over like a lead anchor. Now members of Congress are calling for his own firing.
Threats
Acting Secretary Modly's Thursday decision to sack the skipper of Theodore Roosevelt was quickly criticized as retaliation for embarrassing Navy leaders.
Kevin Baron and Bradley Peniston
Ideas
We have to isolate ourselves from the virus. He doesn't have to isolate us from the world.