Author Archive
Kevin Baron
Executive Editor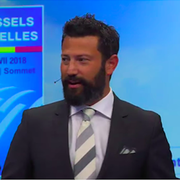 Kevin Baron is the founding executive editor of Defense One. Baron has lived in Washington for 20 years, covering international affairs, the military, the Pentagon, Congress, and politics for Foreign Policy, National Journal, Stars and Stripes, and the Boston Globe, where he ran investigative projects for five years at the Washington bureau. He is a frequent on-air contributor and previously was national security/military analyst at NBC News & MSNBC. Baron cut his muckraking teeth at the Center for Public Integrity and he is twice a Polk Award winner and former vice president of the Pentagon Press Association. He earned his M.A. in media and public affairs from George Washington University, his B.A. in international studies from the University of Richmond, and studied in Paris. Raised in Florida, Baron now lives in Northern Virginia.
Threats
In a marked change, the president read off a list of grievances — and discussed the potential for additional nuclear arms controls.
Policy
Combatant commanders are to send plans and best practices within two weeks.
Ideas
It's a shame, and a missed opportunity — not despite recent events but because of them.
---
Ideas
The Capitol riot was just the latest tell for propaganda outlets masquerading as newsrooms.
Ideas
The mob riot on the Capitol Building was disgusting, violent, and deadly. It's still not a coup. And that matters.
Policy
For the Confederacy, conservative speech, and the desire to bring troops home, Trump rejected the $700 billion NDAA at the last minute before Washington breaks for Christmas.
Threats
"We are faced with a very hard and difficult dilemma," NATO Secretary General Jens Stoltenberg said in an exclusive interview.
Ideas
You don't want a general, a man, a war veteran — and everyone in the defense industry is evil?
Policy
Austin, the last commander of the Iraq War, would be the nation's first Black defense secretary.
Ideas
Under Trump, the Pentagon's 'service secretary' in charge of SOF has changed hands eight times between seven people.
Ideas
A long time ago, before the pandemic, he promised to convene free-world leaders. It's still a good idea.
Ideas
This was a dangerous day.
Ideas
The first president anticipated political misinformation, division, and attempts to subvert the rule of law in the pursuit of power.
Ideas
America's national security depends on our ability to turn today's hyperpartisan division into tomorrow's cooperation.
Threats
Kevin Baron and Bradley Peniston
Ideas
Companies keep choosing to serve the Chinese market — and that's likely not good news for the Pentagon.
Ideas
People vying to become, or stay, vice-president should be ready to explain their vision of America's role in the world.