Author Archive
Lawrence J. Korb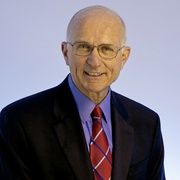 Lawrence J. Korb is senior fellow at the Center for American Progress and was the Assistant Secretary of Defense for Manpower, Reserve Affairs, Installations, and Logistics from 1981 to 1985. He has also held senior leadership positions at the Council on Foreign Relations, the American Enterprise Institute, and Brookings.
Ideas
The new defense secretary needs to stand up to his boss, who is inappropriately meddling in a Pentagon contract.
Ideas
A former assistant defense secretary argues the Trump administration's bump-up was unnecessary, and in fact counterproductive, to national defense.
Ideas
Analyzing the events of the past 15 years reveals at least four reasons for the current mess.
---
Ideas
There is no Russian resurgence. Washington is playing on your Cold War fears to get you to pay for something the U.S. does not need and can't afford.
Lawrence J. Korb and Eric Goepe
Ideas
If the Pentagon wants good people, it needs to put good people in the top Personnel slot.
Ideas
Presidents don't always listen to their top military leaders when it comes to matters of national defense. And that's not always a bad thing. By Lawrence Korb
Ideas
The 50th anniversary of the Gulf of Tonkin incident should give pause to those advocating for aggressive, immediate action to meet today's challenges. By Lawrence J. Korb
Ideas
Why the pivot to Asia is the wrong model for an 'Obama doctrine' and how the president can get it right. By Lawrence J. Korb
Business
Here are six reasons why it is hard to make an argument that the U.S. government is not acting in good faith for the men and women in uniform. By Lawrence Korb and Katherine Blakeley
Lawrence J. Korb and Katherine Blakeley
Business
Deputy Defense Secretary Ash Carter is right to dismiss sequestration, but don't buy his 'Better Buying Power' defense. Carter was on the watch. By Lawrence J. Korb