Author Archive
Lisa Disbrow
former acting Secretary, U.S. Air Force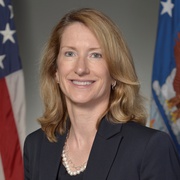 Lisa Disbrow is a member of the Board of Directors for SGS, and of the Board of Directors of Mercury Systems, Perspecta, and BlackBerry, and several other defense-related companies. She is a Senior Fellow at the Johns Hopkins University Applied Physics Laboratory. She formerly served as the acting Secretary of the U.S. Air Force.
Ideas
Artificial intelligence tools promise, among other things, to make the Pentagon more efficient.
Robert O. Work and Lisa Disbrow
Ideas
Pass a bill, top leaders tell Congress, warning another delay would 'reverse' badly needed expansions, upgrades, and readiness needed to fight the ISIS War.
Lisa Disbrow and Gen. Dave Goldfein