Author Archive
Chuck Hagel
Former Secretary of Defense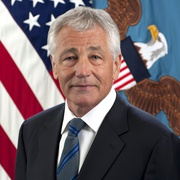 Chuck Hagel served as the 24th U.S. Secretary of Defense from 2013 to 2015.
Ideas
Four former U.S. defense secretaries issue a warning about China and a wake-up call to Americans on artificial intelligence.
Ash Carter, Chuck Hagel, Leon E. Panetta and William Cohen
Ideas
As our military adapts to new threats, so must the defense enterprise from top to bottom, writes Defense Secretary Chuck Hagel.
Ideas
Why the pivot to Asia 'remains front and center in our national security strategy.' By Defense Secretary Chuck Hagel