Author Archive
Vikram J. Singh
Senior Fellow, Center for American Progress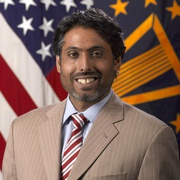 Vikram J. Singh is a Senior Fellow for national security and international policy at the Center for American Progress. He served as the deputy assistant secretary of defense for South and Southeast Asia at the Pentagon from 2011-14.
Ideas
The defense secretary should pave the way for more and deeper defense trade and technology cooperation.
Vikram J. Singh and Joe Felter
Ideas
Both countries can help each other in a rapidly changing Asia — if they can pick their way past several looming obstacles.
Ideas
The U.S. must be clear: Russia's help fighting ISIS won't ease sanctions over Ukraine
Vikram J. Singh and Julianne Smith
---
Ideas
If the U.S. really cares about China's territorial claims, now is the time to say it. By Vikram Singh and Ely Ratner
Vikram J. Singh and Ely Ratner