A Look Back at Chuck Hagel's Tenure as Defense Secretary
In the 21 months that Defense Secretary Chuck Hagel was on the job, he faced everything from the budget crisis in Washington to the rise of ISIS. By Kedar Pavgi
When he leaves office, Defense Secretary Chuck Hagel's short tenure may be defined by the sheer breadth of challenges and crises he was forced to address.
When he began his term in February 2013, Hagel was faced with the looming budget crisis and sequestration cuts that threatened billions in military spending. He will leave office with the military hanging on in Afghanistan, returning to Iraq to confront the spiraling threat of the Islamic State, also known as ISIS or ISIL, tackling terrorism and Ebola across Africa, and heading off a newly belligerent Russia.
Here's a look at the 24 th Defense Secretary, and President Barack Obama's third since taking office in 2008:
February 2013: Hagel faces two difficult confirmation hearings and is the first defense secretary nominee to be filibustered by the Senate. He is eventually confirmed by the body, 58-41.
March-May 2013: Hagel takes on Obama's defense budget fight with Republicans and tries to alleviate across-the-board-cuts from sequestration. He is forced to manage and mitigate the morale losses and uncertainty in the civilian ranks caused by possible furloughs. He orders up the Strategic Choices and Management Review (the "scammer"), a major review of the Pentagon's strategic choices and budget.
July-September 2013: Hagel takes on a Middle East facing multiple crises at once. Violence in Egypt erupts as the Muslim Brotherhood is forced from office. Egyptian military leader Gen. Abdel Fattah al-Sisi takes power, and Hagel takes the lead in communicating with him, albeit to limited success . Meanwhile, Syrian president Bashar al-Assad is rumored to have used chemical weapons in August 2013, bringing the U.S. to the knife's edge of missile strikes in the Middle East.
October 2013: Back in Washington, the Pentagon is shuttered by a government shutdown and the furlough of thousands of civilian workers. Hagel brings thousands of DOD employees back on the job after Congress passes a bill to allow many employees to return to work .
November 2013: Hagel begins to lift self-imposed media restraint and appears at the inaugural Defense One Summit . In a media blitz, he delivers major policy speeches and interviews.
December 2013: Hagel grapples with the lack of a Bilateral Security Agreement with Afghanistan and pushes then-President Hamid Karzai to sign a deal that would keep U.S. troops in the country beyond a planned 2014 deadline. Meanwhile, he cuts staff from his front office as part of a plan to save $1 billion in personnel and administrative costs.
January 2014: Hagel addresses the growing crisis in the country's nuclear force and orders a review of the entire enterprise. He goes on a tour of several of the military's nuclear facilities.
February-March 2014: Hagel presents new $500 billion defense budget, along with the latest iteration of the Quadrennial Defense Review .
March-May 2014: The Russian military invades the Ukrainian territory of Crimea. Defense Secretary Hagel contacts Russian counterpart, Sergei Shoygu, and implores him to pull back forces from the peninsula. Hagel oversaw an increase in the show of force towards Russia, including additional troops in Eastern Europe, exercises and other measures to counter a belligerent Moscow.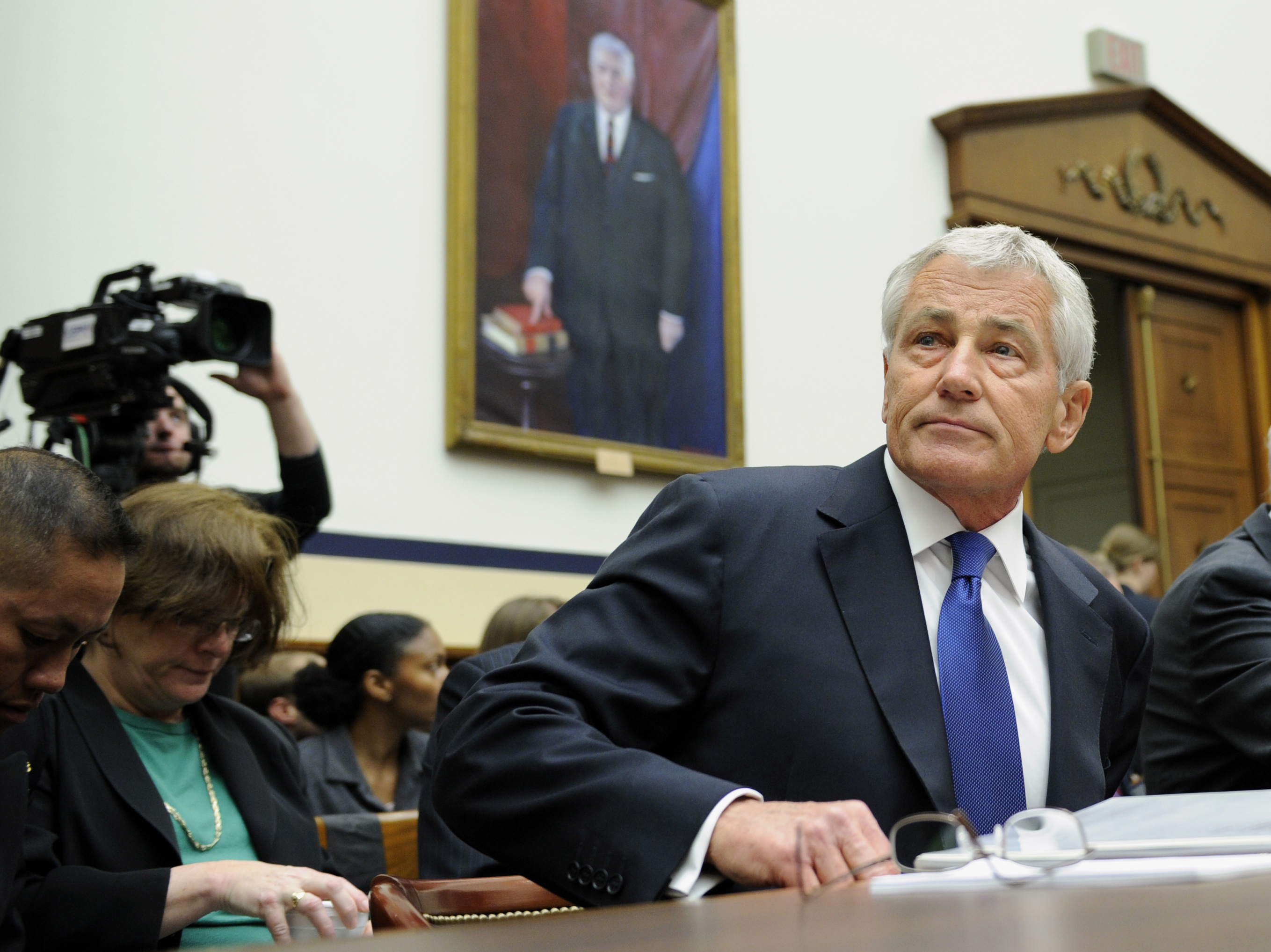 Late May-Early June 2014: U.S. Army Sgt. Bowe Bergdahl, who was held as a prisoner of war in Afghanistan by the Taliban for five years, is released in a prisoner exchange . Hagel appears in front of the House Armed Services Committee to defend the Obama administration from criticism over the swap.
Mid June 2014-September 2014: ISIS floods into Iraq and controls large swaths of territory across Iraq and Syria. U.S.-trained Iraqi security forces surrender major cities to the insurgency, including Mosul and Ramadi. Pentagon leaders, including Hagel, say that there was little the U.S. could have done to stop the movement. In July, Hagel declared ISIS a " clear and imminent threat " to U.S. national security. The military would later begin air strikes against the group in Iraq in August, and in Syria in late-September.
October: U.S. troops are ordered to West Africa to fight the spreading Ebola epidemic.
November 2014: With Hagel's standing within the administration faltering, a series of reports suggest that President Obama wants to shuffle his cabinet, starting with Hagel's job. At the same time, a Defense One poll finds that Hagel's approval rating among national security workers stood at 26 percent.
(Photos via Office of the Secretary of Defense)