Author Archive
Kedar Pavgi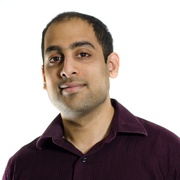 Kedar Pavgi is an M.A. candidate at Johns Hopkins University's School of Advanced International Studies. He was previously a Digital Editor at Defense One, and has worked at Government Executive, and Foreign Policy magazine. He has written for The Diplomat, The World Politics Review, and the Foreign Policy Association. He received his bachelor's degree from the College of William and Mary, where he studied economics and international relations.
Ideas
It's time to digest the lessons of Haiti and Ebola and get ready for the mega disasters ahead.
Kedar Pavgi and Peter Kouretsos
Policy
Even as tensions in the South China Sea heats up and online thefts increase, military-to-military contacts have been rising for five straight years.
Science & Tech
Former DHS Secretary Michael Chertoff joins the league of technologists who have come out against the FBI's push to put holes in privacy technology.
---
Threats
The original vision for the Defense Clandestine Service was scaled back, but Michael Vickers says the new agency is still building up.
Policy
The alliance's easternmost members are ratcheting up their budgets as Russian threats loom.
Threats
Coalition forces are going after smaller targets in missions designed to support Iraqi forces.
Threats
The Pentagon's latest data release finally includes airplanes that were destroyed in fall 2014.
Policy
Washington is really planning to avoid dealing with the budget caps, and boost defense spending anyway.
Kedar Pavgi and Molly O'Toole
Threats
Five months, 1,689 strikes, and more than 3,200 targets, the campaign against the Islamic State rumbles on. By Kedar Pavgi
Threats
At the turn of the century, a group of intelligence officers offered up what they thought conflict would look like in 2015 would look like. By Kedar Pavgi
Business
In the 21 months that Defense Secretary Chuck Hagel was on the job, he faced everything from the budget crisis in Washington to the rise of ISIS. By Kedar Pavgi
Threats
Over 50 nations have joined the U.S. in the fight against ISIL in Iraq and Syria, but only five have taken major military action. By Kedar Pavgi
Policy
A brief explainer on Haider al-Abidi, who was picked Monday to replace Nouri al-Maliki as prime minister of Iraq. By Kedar Pavgi
Business
But the reductions will still only save the Air Force a small fraction of the $50 billion required by the 2011 Budget Control Act. By Eric Katz
Eric Katz and Kedar Pavgi
Threats
Finding more than 270 kidnapped girls will be a challenge in Nigeria's lawless northeast. By Ben Watson and Kedar Pavgi
Kedar Pavgi and Ben Watson
Threats
A decentralized al-Qaeda focused on less global objectives, while Syria honed its reputation as both factory and battleground for new fighters. By Kedar Pavgi and Ben Watson
Kedar Pavgi and Ben Watson
Threats
One university team may have found a way to predict the world's next genocides. By Ben Watson and Kedar Pavgi
Kedar Pavgi and Ben Watson
Threats
Twenty-three nations have doubled their defense spending in the past decade. By Ben Watson and Kedar Pavgi
Kedar Pavgi and Ben Watson
Threats
There's hardly a spot on the globe that the intelligence community isn't tracking. Here's a map that shows the top concerns for U.S. spies. By Kedar Pavgi
Science & Tech
DARPA Director Arati Prabhakar says the national security community is facing a crisis caused by the spiraling cost of sending military assets into orbit. By Kedar Pavgi